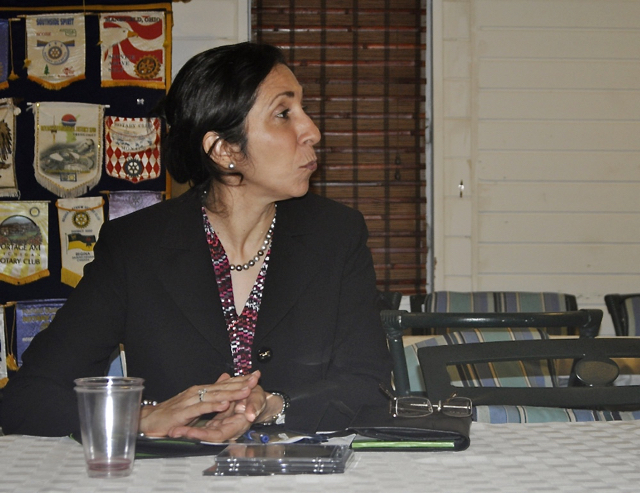 Former judge and gubernatorial candidate Soraya Diase Coffelt said increased focus on literacy programs can be a crime prevention measure Wednesday night at a weekly meeting of the Rotary Club of St. Thomas East.
Coffelt, along with VIPD Sgt. Bridget Conow and gang expert LaVelle Campbell, told Rotarians about the need for increased community focus on crime "prevention and rehabilitation" rather than "prosecution and incarceration."
"One of my passions is the issue of literacy, and I see literacy as really the most important weapon in fighting our high crime rate," said Coffelt.
Coffelt said that during her time as a judge she noticed a familiar pattern in many of the juvenile cases that came before her. In many cases the teenage and preteen defendants lacked basic reading and writing skills and were frustrated with school and dropping-out. No longer attending school, many were getting involved in crime, including gangs.
At Wednesday's meeting Coffelt cited a 2013 Kid's Count study done in the Virgin Islands that determined that by the end of third grade, fifty percent of students in the territory cannot read at grade level. She said that once students got that far without basic reading and writing skills it was hard to catch up, leading to increased drop-out rates and higher crime rate among juveniles.
Coffelt said that one literacy program she believes the territory should be involved in is Reach Out and Read, a non-profit that was founded in 1989 by a group of doctors and educators. Reach Out and Read brings volunteers and books into the waiting rooms of pediatric health clinics, and partners with doctors to help promote early literacy outside of school.
After hearing about the program on PBS, Coffelt was able to start a Reach Out and Read program on St. Thomas in partnership with the East End Clinic. Due to her 2014 gubernatorial run and a change in administration at the clinic, the Reach Out and Read program on St. Thomas is no longer active, but Coffelt wants to bring it back.
"It's a way to think outside the box and get books into the hands of children, especially the more disadvantaged children who are going to [free and low-cost] clinics."
Coffelt, Conow and Campbell all agreed there is a population of young men in the Virgin Island who are in "a serious crisis" and that the territory's current strategy of incarceration is not going to solve the problem. Coffelt said that a 2011 study found incidents of violent crime committed by V.I. youth 10 to 17 years old was 610 per 100,000 individuals, a rate much higher than the national average.
"There is no rehabilitation that I know of going on at Golden Grove [prison], and very little at the Youth Rehabilitation Center" Coffelt said. "We need to have the prevention aspect not just prosecution and incarceration."
Coffelt reminded her audience, with the help of statistics provided by Campbell, that in addition to the ten homicides that have occurred this year in the territory, there have been an additional ten shootings in which the victim did not die. Coffelt attributed many of these incidents to gang activity and called the number of shootings "shocking."