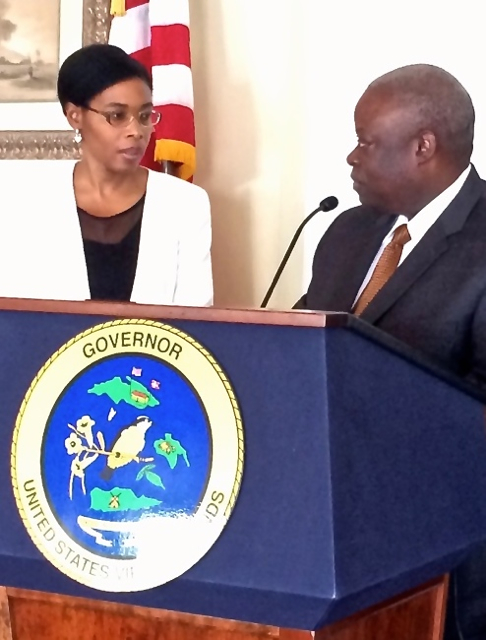 Gov. Kenneth Mapp announced two latest additions to his cabinet Monday morning, inching closer toward filling all key cabinet positions for his administration.
To lead the Department of Planning and Natural Resources, Mapp nominated Dawn Henry, an attorney who has worked as legal counsel in the department's Division of Environmental Protection for the last 10 years.
While serving as legal counsel at DPNR, Henry drafted more than 250 notices of violation that resulted in some $400,000 in penalties being collected for government coffers, according to documents provided by Government House. She also created a process for managing requests for proposals and worked on more than 200 contracts.
Henry's stint at DPNR came after another decade of work as attorney in various public and private agencies, including her own law offices. She holds a bachelor's degree in political science from the University of Oklahoma, which also granted her juris doctorate.
"You're certainly going to have your hands filled," Mapp said to Henry during the announcement. "There are a lot of issues in protecting the environment and balancing the need for the territory to grow its economy and to build on its infrastructure, and to widen and expand assets in the private sector."
Henry declined to comment after Monday's press briefing.
Former Mapp rival Mona Barnes got the nod for the executive directorship of the V.I. Territorial Emergency Management Agency. Barnes ran as an independent gubernatorial candidate against Mapp during the 2014 general election.
"I know it was a good fit," said Barnes about her nomination.
Barnes served in the V.I. National Guard for more than 20 years, as first sergeant from 1986 until her appointment as state command sergeant major in 2010. Barnes spent the last two years as chief executive officer of New Life Senior Resort, an independent living facility for the elderly in Estate Barron Spot on St. Croix.
Barnes holds a bachelor's degree in psychology from Fisk University and a master's degree in management and leadership from Webster University.
When asked what her focus will be for VITEMA, Barnes said she still has to make an assessment.
"The biggest thing is ensuring that the community knows that a disaster can happen at any time," said Barnes. "We have the mindset that it's only during hurricane season," emphasizing more public education about the area.
Mapp said he is sending Monday's nominations in an official transmittal to the Senate on Tuesday morning.