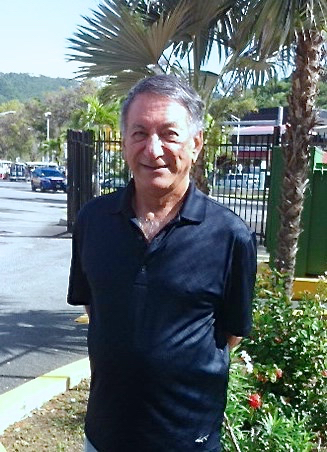 One of the most powerful businessmen on St. Thomas and, before his retirement, one of the most prominent, Nick Pourzal casually slides into a booth at a popular island breakfast grill.
"I'm so swamped," says the Man of Leisure. "It just drives me crazy that I go to bed every night with things still in my in-box."
If you thought the long time former manager of Marriott Frenchman's Reef Hotel was ready to take it easy now that he's entering his golden years, forget about it.
He owns and manages an array of residential properties, does his own investment trading – "No more brokers" – and until recently, did a lot of business consulting. He also makes it a point to keep physically active.
"I do a lot of boating, diving, fishing," he said. "As a retiree, I've taken on a lot more physical things than mental. It's forced exercise." No personal trainer for him, "I'd rather go free diving. I can free dive 60 feet."
He said he tried the leisure route and "within a week or two I just felt like a rusted piece of machine. Regardless of who you are, if you don't create hobbies that force you to move, you'll die sooner rather than later."
He credits his wife, Karen, with subtly introducing him to water sports many years ago. "She gave me a fishing rod and that's how it started. I said, 'I can't have a fishing rod and not have a boat.' I tell you, she's a psychologist. "
Now, he said, when he comes back from a sea outing, he washes down the boat himself.
"It's a big boat; it's two hours of intensive exercise."
It's work he used to pay someone else to do. With a laugh, he added, "Three days last week I was varnishing. I'm sure there are dozens of people who saw me, saying 'Nick must be really hurting.' "
A native of Iran, Pourzal said he first got the idea of coming to the United States when he was about 11 years old. Having been born into a traditional Moslem family, he says he thought it would be easier to meet girls in the U.S. than at home. He kept quiet about that motivation, but he began to lobby his father to send him to America for college. At significant sacrifice, his father did so.
"He wanted me to be an engineer," Pourzal said. "At that time, in Iran, there were three professions: doctors, engineers, and bums. There was no other."
Pourzal arrived in the U.S. in January 1960 and for a while he wasn't so sure he'd made the right decision.
"I didn't know a soul, and I had about 20 words of English. Needless to say, I cried a lot. Why did I come to this country?"
He did get his engineering degree from the University of Akron in Ohio and even worked for an engineering firm. But he was drawn to business and so switched careers and went back to school to study management, incurring his father's wrath.
"He was so mad he didn't talk to me or write to me for six months," Pourzal recalled. It took years for him to realize his son hadn't thrown away his education and slipped from engineer to bum.
When Pourzal's parents made their first visit to St. Thomas in the early 1980s, it became clear.
"That's when he apologized to me," Pourzal said.
By that time, Pourzal was firmly in place at the helm of Frenchman's Reef and was a prominent community leader. He is widely credited with saving the hotel from a quick extinction.
In what has become hospitality industry legend, Pourzal recalled, "I came 13 months after it opened, and I came to close it." The owners were convinced they had made a bad investment because of the timing. In the early '70s, they were facing fall-out from the highly publicized mass killing at Fountain Valley which discouraged travel to the Virgin Islands as well as the oil embargo which discouraged travel anywhere.
But Pourzal says the real problems were internal. The organizational structure was wrong. The main switchboard operator had a heavy accent that most guests couldn't understand; the night manager was too elderly to make rounds all night; the kitchen was using a potato scrapper that lost about 10 pounds for every 50 pounds of potatoes it processed. Moreover, there was almost no entertainment and little for guests to do.
"They thought it was for golden age people," he said. "At 8:30 at night you could shoot a cannon in that lobby. Nobody was there."
He also devoted a lot of effort to the hotel staff. It wasn't always hearts and flowers – "They used to call me the Shah" in the early years, he recalled – but soon he built a reputation for loyalty, both to and from employees.
"If you put the employees first, the business takes care of itself," he said. "They will feel it and they'll reward you."
Hotels and the food and beverage business are "nickel and dime" industries, Pourzal said. With a small profit margin, small changes can make a big difference.
After nearly 30 years of watching the small details, it's second nature to Pourzal. When he took a short break from this interview, he returned to the table with an observation: the restaurant is using old toilets that require many gallons of water to flush. With a quick calculation in his head, he came up with an estimate of how much the owners could save if they'd invest a few dollars in low-flush toilets.
"I used to make a lot of money for people I consulted for," he said with a smile.
There's nothing in his trim and fit appearance to suggest a health problem, but Pourzal had heart surgery last summer, and he has some implied advice for anyone tempted by cigarettes.
"I just had a double by-pass, thanks to my smoking," he said. Although he gave up tobacco in 1994, its effects linger. When he made the rounds of doctors, some 20 years after his last puff, "First thing they say, 'You used to smoke, didn't you?' "
Pourzal and wife Karen have made several trips to Iran and to neighboring countries where they visit family members. He has four brothers and a sister living in Iran, and nieces and nephews in Germany and in Washington, D.C. He also has an adult daughter from a previous marriage, Nicole, who visits St. Thomas several times a year. "We're close. We talk every night," he said.
So far, Pourzal says it's been a good life. He has no regrets and he's looking forward to the next adventure – which no doubt will involve a lot of physical activity.