The soft green hills leading up to the Bordeaux Farmers Market were covered with cars as hundreds of people came out for the18th annual Bordeaux Farmers Rastafari Agriculture and Cultural Vegan Food Fair Saturday, the first day of the two-day celebration.
The fair runs from 10 a.m. 12 a.m. both days with non-stop reggae music and entertainment. The charge is $3 for adults and $1 for children 14 and younger.
The new pavilion was filled with energy. As the All Star Steel Orchestra was setting up, the Echo People performed their drumming.
The theme of this years fair is "Know Your Farmer, Know Your Food," with a seemingly endless community of farmers eager to share their bounty. These people work hard every day of the week, rising before the sun each day to tend their crops. All of them love what they do. It's their life. No one would work this hard for anything less.
The love shows in the beautiful, healthy crops they grow, nurtured out of water and soil conditions far less than ideal.
Two of these farmers, Drina and Simon Anthony proudly displayed the fruits of their labors from Drina's Farm, a three-quarter-acre plot of land on a North Side hill where every square-inch of soil is is utilized.
Their stand overflowed with pomegranate, papaya, spinach, bags of bright green arugula, kale, carrots, and bouffant lettuces. They had been setting up since early Saturday morning, and were all smiles, talking about the produce.
"Here, take a couple more," Simon said as he proffered a bag of passion fruit to a happy customer.
Drina and Simon sell their produce every Saturday morning at Market Square.
The enjoyment was palpable, as if everyone from vendors to the tiniest visitor munching on a piece of sugar cane knew it was the day to just savor all there was: the smells of roasting corn, the piping hot soups and stews bubbling away in huge stone pots. Kiddies ran to and fro, not knowing whether to learn planting in Victoria Palmer Children and Family Center or take part in finger painting.
Mario Francis is one person who knows the fair and agriculture like the back of his hand. Many of the farmers are his former students of the Junior Gardening and Ecology Academy that Francis has led for 23 years.
"It's so satisfying to see them tending their own farms," he said.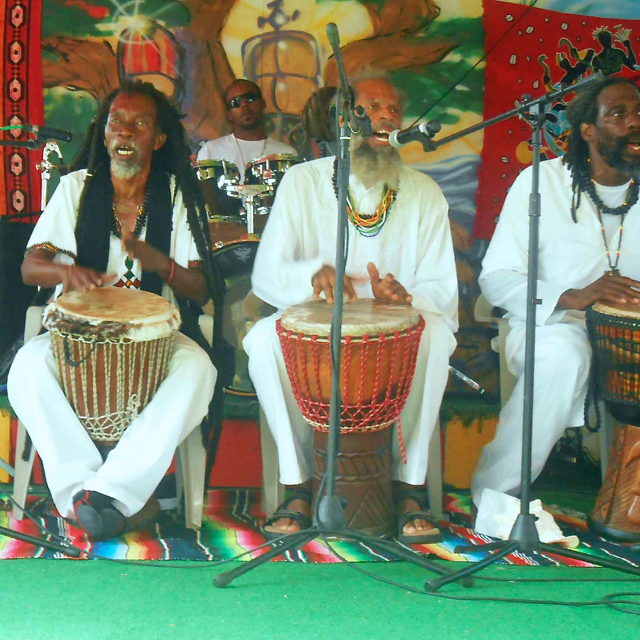 President of the Hibiscus Society, chairman of the V.I. Urban and Community Forestry Council, founder and director of the St. Thomas Audubon Society, Francis is always up to his ears in projects. Saturday was a rare day to find him relaxing, but he has something on the burner.
"Do you know we are the only U.S. territory or state without its own tree?' he asked. "I have drafted legislation to get the new senators to name the lignum vitae. It's native to the Virgin Islands, hard wood, and termite resistant. It's perfect."
With that, Francis eyed an old student, now a farmer, and was off.
The fair is strictly vegan, raw food and drink. Maubi, carrot juice, sweet honey drinks, kale smoothies, fresh ginger drinks. If it can be blended into submission, it can be drunk.
While nibbling on corn fritters or vegetable pates, there was plenty to do. Demos from bee keeping to broom making, dances, drumming, comparing the greenery, plants of all manner from fruit trees to brilliant hibiscus. Or, just chatting with old pals.
For years, the Bordeaux farmers collective We Grow Food Inc. has held its monthly market on the last Sunday of each month, offering high-quality fresh, local produce. But the annual fair is the group's time to shine.
If Saturday was any indication, this year's fair will be the largest yet. Hundreds of folks were still streaming in late in the afternoon.