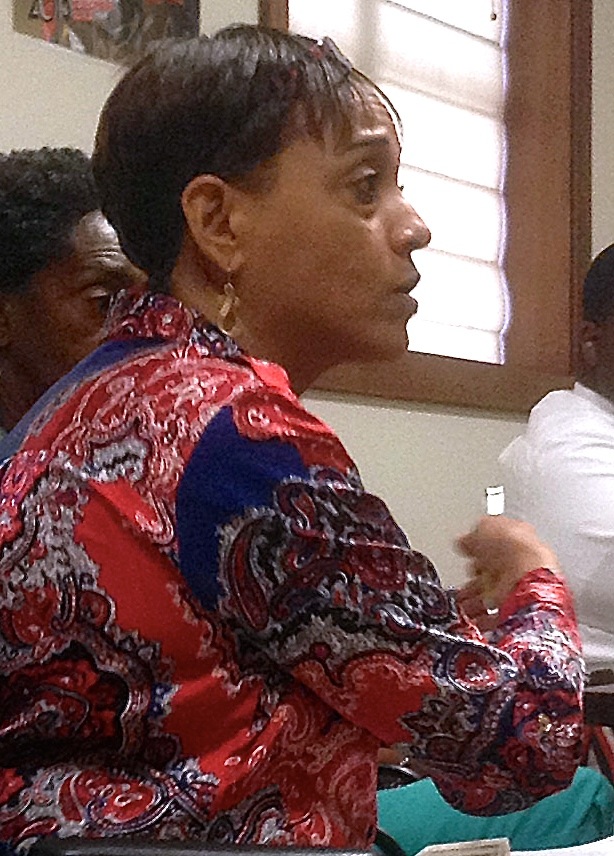 Using federal grants and local funding for loan guarantees may be a cost-effective way to boost commercial bank lending for business startups and capital projects, an investment advisor said Wednesday during a roundtable economic forum hosted in Christiansted by Sen. Diane Capehart and IBCVI & Co.
Capehart and IBCVI & Co's managing director, Abbelle Bakr, invited participants from Synergy Group, The St. Croix Strategic Economic Development Initiative and an array of community development organizations to the roundtable.
Darnell Carpenter, managing director of Synergy Group, gave a presentation highlighting the types of resources that may be available and the obstacles standing in the way of getting them. He said banks have been frustratingly unwilling to lend in the territory, even when the investments fit well within the institutions' policies.
With federal and local money for direct investment in short supply, one way to potentially spur banks to take that leap and make a loan is through loan guarantees, Carpenter said, asserting that through monetary awards and the allocation of tax credits, the Community Development Financial Institutions Fund promotes access to capital and encourages local economic growth in urban and rural low-income communities.
The greatest challenge facing the local business community is access to capital, he said, and banks do not have any dedicated personnel or commercial lenders experienced in community lending. Carpenter said financial institutions may therefore feel it is cost-prohibitive to facilitate access to CDFI and related programs.
One large, economically viable project that could spur the economy and is ready to proceed, he said, would be a new nursing home and assisted living facility. Carpenter said Synergy Group has done preliminary work for a $60 million loan package to present to lenders. Loan guarantees would be a low-cost way to help spur banks into lending for the project, he said.
Capehart and Sen. Sammuel Sanes both suggested a bill before the Senate right now might be amended to help. Capehart said she wants any new nursing home to be on St. Croix and said she would support legislation for new incentives.
"If we can do this for hotel development, perhaps we can provide similar benefits for a nursing home," she said.
The CDFI Fund has as its core mission providing access to capital to underserved communities. The United States and its territories are subdivided into populated areas, or census tracts, that are defined under terms such as: Qualified, Severely Distressed and Not Qualified. The overwhelming majority of St. Croix and most of St. Thomas are designated as areas eligible to receive financial resources from the CDFI Fund.
Both Sanes and Capehart pointed to a bill currently before the Senate that would guarantee up to $20,000 in lease payments for new hotels as a way to help spur long-stalled hotel projects, such as Golden Gaming's plans for Great Pond and the proposed resort at Estates William and Punch on St. Croix. (See related links.)
Sanes said he and Capehart would propose amendments to that bill, which was voted out of committee
Aug. 11, to expand its scope beyond hotels.
Carpenter described some of the programs and incentives that are available:
– Bond Guaranty Program: Provides in excess of $100 million in guaranteed bonds collateralized by the U.S. Treasury (not the Legislature / People of the U.S. Virgin Islands);
– New Market Tax Credit Program (NMTC), making available 30 percent of a proposed deal costs in grant equity. This is the incentive for the lender of the long-term debt, as the grant equity is very flexible and is often used to fund operating and interest reserves, as well as subsidizing the costs directly;
– Bank Enterprise Award: $2 to $10 million grant for commercial activity in eligible areas;
– Technical Assistance Grants: Up to $2 million for start-up Community Development Financial Institutions (CDFI's);
– Federal Home Loan Bank of New York http://www.fhlbny.com: The FHLB-NY is statutorily required to distribute a large portion of the bank's earnings in to grants and community development lending.
Carpenter said that a Community Development Entity, or CDE, is an originating point for many forms of financial resources to reach the community. The inception of a CDE, or a domestic corporation or partnership that is a bridge for the provision of financial products such as loans and development capital in low-income communities, would open doors to many levels of projects and growth options, he said.
At the present time, no certified CDE exists in the Virgin Islands, hindering development of programs, incentives and connections for organizations and businesses to access available funding, he said.
Carpenter said guarantees would likely have a big impact. All an outside bank wants to know is that "there is something protecting their backside," he said, later adding "the most benign way to do that is with some sort of loan guarantee."