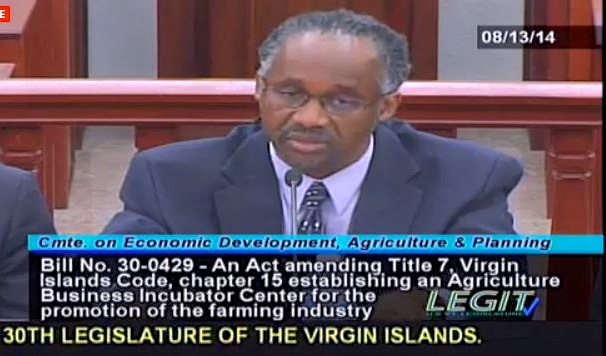 The U.S. Virgin Islands will have a law creating an agricultural "business incubator center" that duplicates the existing Small Business Incubator Program, but without funding or personnel, if a bill approved in committee Wednesday becomes law.
Senators discussed paring the bill down to avoid the duplication and make use of the existing program with some agriculture-focused changes, but voted to send the bill on anyway without making any changes at this point.
The bill sponsored by Sen. Janette Millin Young envisions having the Agriculture Department build a center on government land, staff it and offer extensive support services to farmers. The existing incubator program is overseen by the Economic Development Authority, while this new one would be overseen by the Agriculture Department.
Introducing the bill, Young said her goal was to help farmers and the agriculture industry to grow and be more profitable, both to help the economy and local incomes and to promote food security in the territory when disaster strikes or the economy is suffering.
Agriculture Department and EDA officials both testified that agriculture could benefit from incubator services and that the Agriculture Department's expertise would be invaluable in providing assistance. Both agencies ultimately supported the measure, while also saying it is covered in existing law and that Agriculture would need money and people it does not currently have.
Frederick Handleman, special assistant to EDA Chief Executive Officer Percival Clouden, said an incubator would be "a positive step."
"However, there is no need for new legislation when there is already legislation and a policy," Handleman said. There is a business incubator program under the direction of the Small Business Development Center, he said.
Agriculture Commissioner Louis Petersen Jr. testified in support of the concept, saying an incubator program "could be a significant improvement" because it would have trained staff at a central location.
Petersen repeated that there was already legislation creating an incubator program but said a center devoted to agriculture is needed and his department is best suited to oversee it, if it can get funding and staff.
Critical to the success of such a program "is the need for adequately sized and trained staff to attend to the needs of the program recipients," Petersen said. But he said the bill "addresses that need through fiscal year budget requests. "
The bill [30-0429] does not appropriate, allocate, find or create any actual funding for this proposed new government institution and associated buildings and equipment. It says, "The commissioner shall include in the department's fiscal year budget proposal non-lapsing funding for the ABIC sufficient to carry out purposes of this chapter." Including a request for funding in a budget proposal does not create funding.
Currently the V.I. government projects it will not have sufficient revenues for the current year's budget and may face a sharp cash crunch at the end of the fiscal year, in September. The government has had several years of back-to-back budget cuts. The Senate Finance Committee has heard in budget defense testimonies for Fiscal Year 2015 from the courts, the territory's hospitals, the Office of the Public Defender and many other agencies saying they need millions of dollars more than is in the budget in order to fulfill their basic functions and make payroll.
Sen. Tregenza Roach asked Petersen about the provision in the bill calling for a new building. "Do you have any money in your budget like that?" Roach asked.
"No I don't," Petersen said. He later said 99 percent of the department budget goes to wages and salaries and they currently have no personnel in their marketing department.
Millin Young said, "We have been hearing from the testifiers and the commissioner about the need for more money," asking about possibly modifying the bill to use the existing resources of EDA, with an agricultural focus and expertise from the Agriculture Department, to achieve the same goals.
Handleman said, "We have that capability at EDA now. The only holdup at this point would be any funding for equipment or any training or technical expertise," he said.
All the senators and testifiers were in support of the concept of an agriculture-focused incubator program, if funding can be found.
"The one concern almost everyone shared is funding," said Sen. Sammuel Sanes. He said he supported the bill nonetheless, and he and other senators said it may be amended at a later point.
"There is no such thing as a perfect bill. There is always room for improvement," Sanes said.
Voting to send the bill out of committee were Sanes, Millin Young, Sens. Clifford Graham, Myron Jackson and Nereida "Nellie" Rivera-O'Reilly. Sens. Diane Capehart and Shawn-Michael Malone were absent. Roach also attended although he is not a member of this committee.
The bill will be considered next by the Rules and Judiciary Committee.