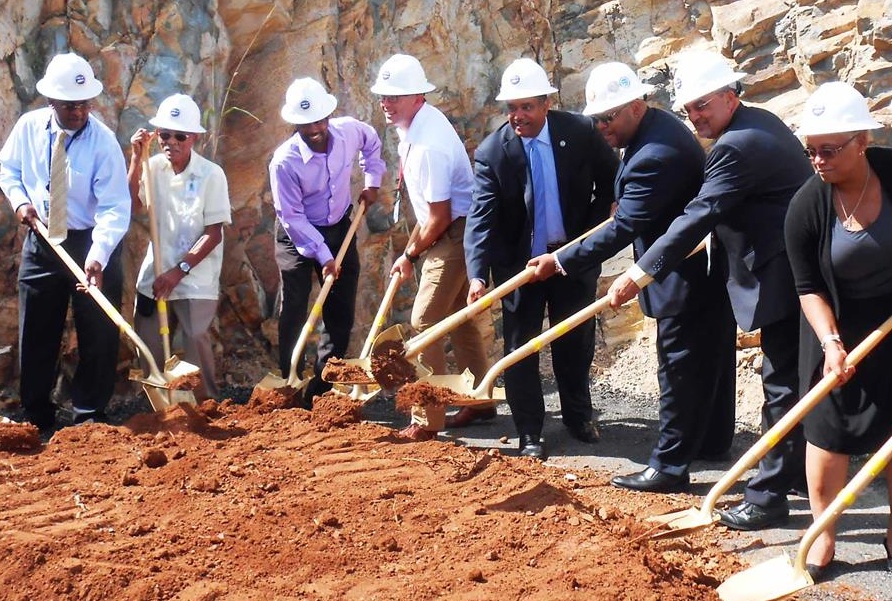 "They said the day would never come," WAPA Executive Director Hugo Hodge said with a huge smile Thursday afternoon as ground was broken for the Randolph Harley Power Plant propane facility overlooking Krum Bay.
The day not only arrived; it arrived in high style, greeted by almost every dignitary in the territory, what appeared to be goodly number of WAPA employees, along with the Vitol V.I. Corporation staff and any number of senators, commissioners and folks just plain happy to witness the occasion.
After a lengthy and competitive bid process, WAPA selected Vitol, one of the world's largest independent physical traders of oil and natural gas projects, to partner for the utility's switch from fuel oil to propane.
All upfront capital costs to complete the conversion, including infrastructure design, construction and turbine conversion, will be financed by Vitol, which has already committed approximately 55 percent of the total project cost, estimated at $91 million.
At the final Coastal Zone Management permit hearing in February, Hodge said, "This project will lower our electricity bills, make us more competitive, create economic growth and help us along the path to economic recovery."
He asked the committee expedite the ruling, which it did.
To say Hodge was a happy man Thursday is an understatement. Hodge, beaming at his audience, began: "I say we've made progress," he said. "When the project was first announced, everybody said, 'They'll never get it done.' Now, they say, 'They'll never get it done on time.' Now, that's progress," he said. "It's a done deal. Vitol is a company that gets it done."
"We expect ratepayers to see a 30 percent smaller fuel bill," Hodge continued. "Some months, it will be even 40 percent. The governor has made me see the wisdom of coming up with a figure." Hodge proudly revealed WAPA's pet name for the switch to propane. "It's 'Project Game Changer,'" he said.
Hodge said, "We've had calls from as far away as Africa asking about this project. We've had at least 15 or 16 calls from other nations." And, getting to the heart of the matter, he said, "The rate payers should expect to see at least 30 percent less on their bills by the fourth quarter this year."
Juanita Young, WAPA board vice chairwoman, seconded "Project Game Change."
"It's going to mean so much to the economy, the residents, the hotels, the businesses," she said. "And in a few months when we start running Project Game Changer, it will be our 50th anniversary."
Richard Elliott, Vitol V.I. Corp. project manager, spoke about Vitol's role. "This indeed is a game changer," he said. "We will make sure we move as quickly as we can. Our primary goal is to make sure that everybody comes home each evening safely. It will be the safest facility we can build."
Speaking later, Elliott, who is from the Netherlands, expressed his pleasure about working in the territory, which he said is a new experience for him. "Normally I work on private projects with the big oil and gas companies, the Esso's, BP's, but this is the public sector. I feel I'm becoming a part of the community."
"This is a treat," Elliott said. "Usually you're stuck somewhere building a refinery in the desert. You don't come across a project of this magnitude very often."
Pausing for a moment, Elliott added, "I've often wished I could work on a small, sunny island. Now I am." He grinned. "Whichever way you look at it, it's a treat."
Gov. John deJongh Jr. concluded the remarks, bringing more than a little levity. Addressing his comments to Hodge, the governor said, "If you see my teardrops it's not because of WAPA; it's because the now the press won't have anyone else to blame and it'll all come back to us again."
"Every time after a Public Utilities Commission meeting, we are so relieved because WAPA is on the front page," he continued. "Now we're back on the front page."
Turning serious, the governor briefly recalled the several years in the 80s when he was WAPA board chairman, commenting on the problems WAPA faced at that time, which have only worsened.
He lauded WAPA's current progress and the benefits it will bring to the community.
DeJongh said, "Percy Clouden, CEO of the Economic Development Commission, said potential EDC companies want to know about the territory is two things; education and the cost of energy."
"Percy told me recently that the inquiries have increased significantly with this new project and the resultant reduction in energy costs," the governor said. "It has changed the dialog."
Looking directly at Hodge with a calculated smile, deJongh said, "Now, that's about 35 percent, Hugo, right?" Hodge, however, stuck to his guns, replying, "Thirty percent."
Sen. Donald Cole, who has served in one capacity or another on the PSC for the last 10 years, is more than intimate with energy matters. He appeared a happy man Thursday. "We have always prodded WAPA to convert to another energy source. The switch from oil to propane will reduce bills 30 to 40 percent."
WAPA board member Donald Francois, chief operating officer and director of engineering and environmental affairs for WAPA from 1981-1994, had a substation named after him in 2012.
He also looked pleased Thursday chatting with all the assembled utility royalty, of which he is certainly a member. "I'm very happy to be associated with this project," he said.
Karl Knight, director of the V. I. Energy office, lauded the project as a "milestone." And he said more good news is on the way. "We will begin using solar this summer on St. Croix and St. Thomas."
Hodge said the switch would also advance a number of initiatives to modernize existing facilities, increase the use of efficient technologies and make continued investments in the use of renewable energy sources.