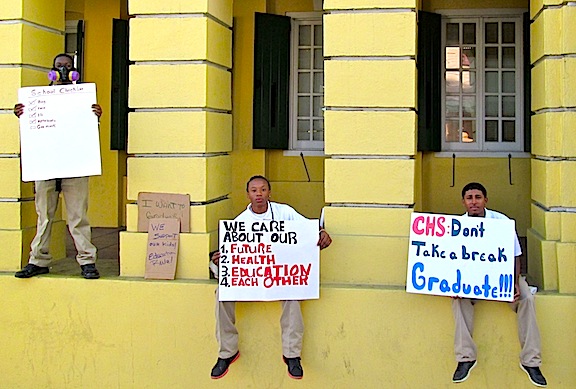 As Central High School and the Department of Planning and Natural Resources scramble to figure out what has caused foul odors to repeatedly drive staff and students from campus, several students took to the street to express their first amendment right to protest and ask for answers.
Central High has been closed for a week after several worsening incidents where a revolting odor has washed over the school grounds. In the most recent incident, more than 30 students sought medical attention at the Gov. Juan F. Luis Hospital complaining of dizziness, nausea and vomiting.
Tenth-graders Roshaun Bergan and Tariq Lionel and senior Christian Parilla protested in hopes of instilling a sense of urgency to solve both the odor problem and the problem of keeping class studies on schedule, they said while carrying signs with such messages as "CHS: Don't Take a Break, Graduate!" and "I don't want to grow three eyes, find the source!"
The smell is vile and needs to be dealt with, the students agreed. "It basically smelled like sulfur or rotten eggs," Parilla said.
Bergan said he was worried that if there is any extended confusion it could affect his classwork and chances for a good college when he graduates in 2016. He said he had heard Central and St. Croix Educational Complex might start doubling up at Complex. And while that would not be ideal, if it is going to happen, it should happen soon, he said.
Bergan and Parilla both said they wanted to know how they were going to make up the week of lost classes.
Parilla said he felt in the dark. "They are not telling us what is going on," he said. There is a meeting tonight and hopefully they will learn more then, but so far school seems to be in limbo, he said.
"I'm concerned if we are going to graduate in June," Parilla added.
Such incidents occurred several times in 2011 and were thought to be caused by either sulfur dioxide emissions from the Hovensa refinery or fragrant volatiles from the Diageo distillery. With Hovensa's closure and the incidents largely confined to the vicinity of Central High, both explanations and solutions have been hard to come by this time. DPNR is currently looking at part of an abandoned, defunct sewer system as a possible source, but nothing had been determined for certain as of March 24.