Some 70 hotel and tourism operators and entrepreneurs from all over the territory gathered at the Ritz Carlton on Friday for the U.S. Virgin Islands Hotel and Tourism Association's 2014 general membership meeting.
USVIHTA Board Chairman Trudie Prior started the meeting with a report from focusing on "the barker issue."
"Barkers are a problem downtown and they're a problem for me out at Coki Point," said Prior, who also heads Coral World Ocean Park. "They create an unpleasant environment for visitors and there has been a real push to get something done," Prior said.
Various bills have been proposed, according to Prior, but the Hotel and Tourism Association is now pushing for "an absolute ban" on barkers. With enforcement as one of the biggest problems on current laws relating to barkers, USVIHTA President Lisa Hamilton has been working with the St. Thomas/St. John Chamber of Commerce on some legislation that would also include shorelines and beaches, Prior said.
"Our next big push will be to contact individual senators to encourage them to push for a full ban rather than some of the halfway measures that have been proposed in the past," said Prior, saying they are pushing for the enforcement of laws currently in the books while waiting for new legislation that would eliminate barkers.
Jeffrey Vasser, chief executive officer and director general of the Caribbean Hotel and Tourism Association since Nov. 2013, gave a keynote presentation on new initiatives for the Caribbean's private tourism sector, as well as the different focal points of his leadership.
Advocacy is one such focus, according to Vasser, with emphasis on making CHTA a repository for data, statistics, research and best practices in the industry.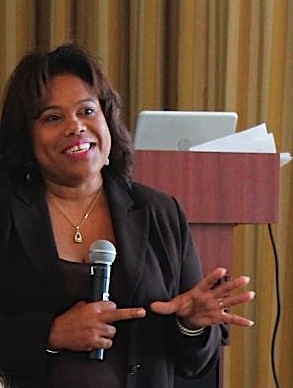 "Let's say, hypothetically speaking, we have a transportation issue at the airport," Vasser began, gaining laughs from the members. "Why should you reinvent the wheel on how to attack that? Maybe there are other islands that have dealt with a similar issue. What I think CHTA should be is that go-to organization that would say, 'Who else has dealt with this type of situation?'"
Vasser is also pushing for higher rates of arrivals in the region, as well as making the industry more sustainable by reviving the Caribbean Alliance for Sustainable Tourism.
Another focus of CHTA under Vasser is tourism-enhancing events, including the June 2014 "Taste of the Caribbean" in Miami and the Caribbean Hospitality Industry Education Forum in Puerto Rico in October.
Regional marketing is a priority, said Vasser, who lauded initiatives by the Caribbean Tourism Development Company, a joint venture of CHTA and the Caribbean Tourism Association.
The Internet is proving to be a major marketing venue. Vasser noted the Caribbean tourism website – www.caribbeantravel.com – as the region's main marketing assets. The Caribbean is also gaining a large following on social media, including Facebook, Google Plus, Twitter and YouTube, according to Vasser. A "draft" television spot promoting the region earned applause from members.
Finally Vasser put forth education as one of the most important emphases of CHTA, whose Education Foundation, he said, has awarded over $1.5 million in scholarships since its founding in 1987.
"I truly think that's something we all believe in and share, and that is embracing the future of the next generation of our operators, and that is in education," said Vasser. "I think it's fantastic that here in the USVI, we have a new four-year hospitality program and we should support that."
Commissioner of Tourism Beverly Nicholson-Doty thanked the CHTA and USVIHTA for their contributions to local and regional tourism and shared some good news from within her department, including the continued service of Delta Airlines between New York's John F. Kennedy Airport and St. Thomas.
Initially, Nicholson-Doty said, the Delta service was supposed to end in May 2014, but recent news indicated it would continue in the middle of August 2014.
"Growing our air capacity is a critical component," Nicholson-Doty said. "At the end of the day, we can't have a tourism industry without increased capacity, so I'm really pleased that we're up 20,000 seats into St. Thomas this year."
The commissioner also shared Tourism's recent announcement of a partnership with local V.I. artist Pressure, who performed the single "Virgin Islands Nice" in partnership with the V.I. Department of Tourism. According to Nicholson-Doty, Tourism is working on a four-pronged campaign that goes beyond commercials, "a real change for the department."
"We're going to be having "Nice" packages," shared Doty. "We'll be coming to you in the hotel industry and all of our partners in tourism. We will be having 'It's Nicer to Dive in the V.I.' packages, 'It's Nicer' romance packages, or 'It's Nicer' family packages, as well as value-added packages to drive business this summer."
USVIHTA also held its board of directors election, which went smoothly with all seats uncontested.
The results of the board of directors election follow:
Chairwoman: Trudie Prior
Hotel-Timeshare Directors: Nikolay Hotze, Caneel Bay Resort; Joel Kling, Best Western Emerald Beach; Mike Ryan, Westin St. John Resort; Alex Tamas, Bluebeard's Beach Club; and Panna Utpaul, Marriott Frenchman's Cove.
Allied Directors: Susan Warren, Leeward Islands Management Co.; William Newbold, Island Business Graphics; Charlie Irons, Yacht Haven Grande; and Sam Rey, Host U.