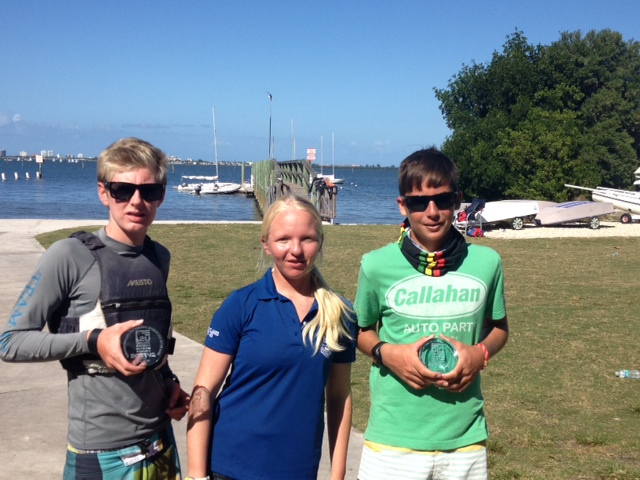 St. Thomas' Scott McKenzie, St. John's Paige Clarke and Tortola's Sam Morrell earned berths to represent their respective countries in sailing at the Second Youth Olympic Games (YOG) this past weekend in Jensen Beach, Florida. The YOGs will be held in Nanjing, China, in August, 2014.
The qualifying regatta that determined the four male and four female North American berths to the Youth Olympics was the North American Byte CII Championship and YOG Qualifier held over four days. The competition included 28 sailors representing 14 countries, and it consisted of ten races, which varied tremendously as wind conditions changed substantially each day.
McKenzie, a 15 year-old freshman at Peter Gruber International Academy, St. Thomas, garnered two bullets, i.e., first place finishes, in the course of the 10-race event, finishing fifth overall, and fourth in the male qualifying series, earning a male slot to represent the U.S.V.I. in Nanjing.
Morrell, also 15, is a freshman at Antilles School, St. Thomas, and finished third overall and second in the male qualifying series.
Clarke, a 15 year-old sophomore at Antilles School, finished 19th overall and second in the female qualifying series.
YOG is a series of athletic contests, begun in 2010, organized by the International Olympic Committee (IOC), which features competitions by top athletes 15-18 years of age from around the world in sports customary to the summer Olympics. Athletes qualify by sport within their continent, with a limited number selected to attend the YOGs.
Four male and four female sailors were capable of qualifying from North America, with open berths available for top performers in the world championship held last summer. Additionally, a limited number of "wildcard" berths were offered by the IOC.
The boat in which the would-be Olympians compete is the Byte CII, a 12-foot racing dinghy, which is not widely sailed outside Youth Olympic circles.
"It's a great honor to be able to attend the games, one which I worked hard to achieve," said U.S.V.I.'s McKenzie. "I've been sailing since I was four, training since I was 11, and focused on training in this Olympic-class boat for the past seven months. I'm ecstatic that I qualified," he said.
All three sailors are veteran champion Optimist sailors, having competed at world and continental events. Last summer, McKenzie placed third in the 2013 North American Optimist Championship in Bermuda consisting of more than 150 sailors from throughout North America.
Each sailor also sails for their high school sailing team. McKenzie is the "A" skipper for the PGIA sailing team and Morrell and Clarke are leading Club 420 skippers.
The 2010 Youth Olympic Games were held in Singapore, and St. Thomas' Ian Barrows won the gold medal in sailing in that event.