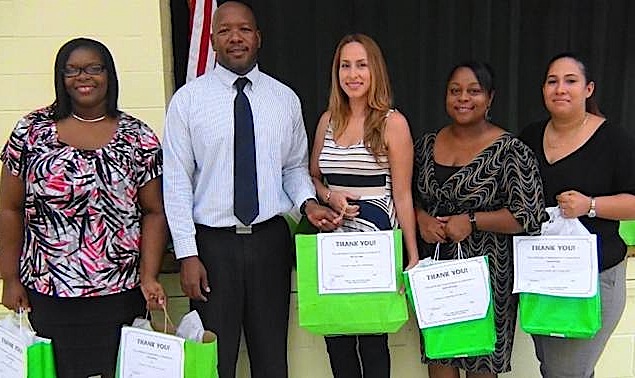 The early morning routine of Pearle B. Larsen Elementary School was disrupted – in a good way – Wednesday when officers of the Parent-Teacher's Association said "thank you" to the teachers and staff with a donation.
PTA President Giselle Cintron, Vice President Lisa Harris and Treasurer Yadira Tirado brought to the school a supply of paper, pens, pencils, sharpeners and other school-related materials loaded in green bags printed with the words "Thank You."
The school's PTA raised more than $500 to meet a promise, Cintron said, adding it was a gesture of giving back to the school for the tremendous task the faculty and staff undertake in delivering quality education to students and to help fulfill a wish list forwarded by teachers and office staff.
Cintron said the PTA's goal was to supply "everything the kids usually need during the day. And we have kids that might not be able to afford these things we were able to provide those. Our hope is to continue this during the year so the teachers and the school have more support from the PTA."
Pearle B. Larsen School Principal Rodney Moorehead and Assistant Principal Avion Matthew-James expressed gratitude to the PTA officers on behalf of the faculty, staff and students.
"We know that for the school to be successful we definitely need the help and support of all the parents, and we have a real life situation here where parents really have stepped up and supported the teachers in the classroom," Moorehead said.
"On behalf of all the teachers here at Pearle B., we are happy to have the support and all the resources that definitely benefit the students and their education within the classroom."