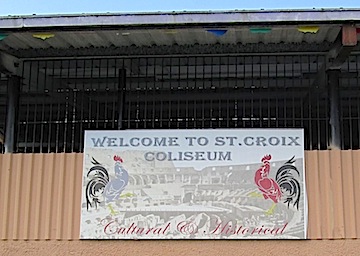 A provision of the 2014 Farm Bill would make attending a cockfight a crime, creating an apparent conflict with local law and tradition that has the U.S. Virgin Islands and Guam seeking clarification.
The provision is a small part of the massive annual bill on its way to the president's desk, which also includes agriculture subsidies and reduced Food Stamp funding. It makes attending a cockfight punishable by up to one year in jail and a $100,000 fine. Bringing a minor up to the age of 16 to a cockfight can land someone in prison for up to three years with a $250,000 fine.
Delegate Donna M. Christensen said Wednesday she has been in contact with the U.S. Department of Justice and is seeking clarification of what the law means for jurisdictions such as the U.S. Virgin Islands, Puerto Rico and Guam, which have legal cockfighting.
"We want to bring some certainty to this, so people know what they can and can't do," Christensen said.
The delegate said she spoke with Ronald Sharpe, U.S. attorney for the Virgin Islands, who contacted the Justice Department in Washington, D.C. "They are not issuing any guidance on this. … Their position is they will take it on a case by case basis," Christensen said.
While it sets penalties for attending fights, the bill never makes cockfights themselves illegal, creating some uncertainty in interpretation of the law, she said. The way Christensen sees it, the goal was to give federal resources to help states that ban cockfighting, comparing the situation to the ambiguous enforcement situation regarding marijuana in the two states that have legalized it, she said.
"Now that still leaves us in some degree of uncertainty as to what could happen – in that Justice is not issuing any guidance," Christensen said. Her office is awaiting feedback from the Department of Agriculture, which has some jurisdiction, as well as from the Congressional Research Service, she said.
"For the time being we are going on the Congressional Research Service and how they have interpreted the law and how it is being interpreted in the other territories," she said.
Asked about cockfighting and whether it should be banned, Christensen said it was a controversial issue with strong feelings on both sides.
"I have lived in St. Croix pretty much all my life, since about 3 months, and my father raised fighting cocks as well as being a lawyer and a judge," she said. "It's very much a part of the culture and isn't something that easily changes. So there will be very strong advocates to have it continue and I know the animal rights activists will have the exact opposite position," she said.
While many people may be outraged at the idea of the fights, Christensen said "if you drive past the cockpit in (Estate) Glynn" when there is a fight, "you will see cars lined up a mile up the road."
"And they are my constituents as well. … Cockfighting people are not only my constituents but are among my staff," she said.
Christensen said she is avoiding taking a position on the underlying question and is just seeking clarification of the law.
V.I. Sen. Alicia "Chucky" Hansen has also asked V.I. Attorney General Vincent Frazer and U.S. Attorney General Eric Holder to weigh in on the matter.
"The federal laws and our territorial laws do not align, and so our people are rightfully concerned about whether they can participate in this activity that has been a part of the Virgin Islands culture and tradition for many, many years," Hansen said in a statement.
Hansen took a shot at Christensen over the fact that the provision criminalizing attending a cockfight entered the bill.
"We had expected our Delegate to Congress to obtain an exception to the new federal cockfighting laws for the Virgin Islands based on the cultural significance of the activity for us. However that did not happen, and now there's confusion," Hansen said.
Frazer said he would not comment on the question until his department finishes its review.
Jean Greaux Jr., a spokesman for Gov. John deJongh Jr., said this week that the administration would be guided by Frazer's opinion.