Hearing the cheers emanating from the Antilles School campus Friday afternoon, it would appear a Hurricanes sporting event was in progress. Not so. The event in the Prior-Jolleck Hall was much more subdued.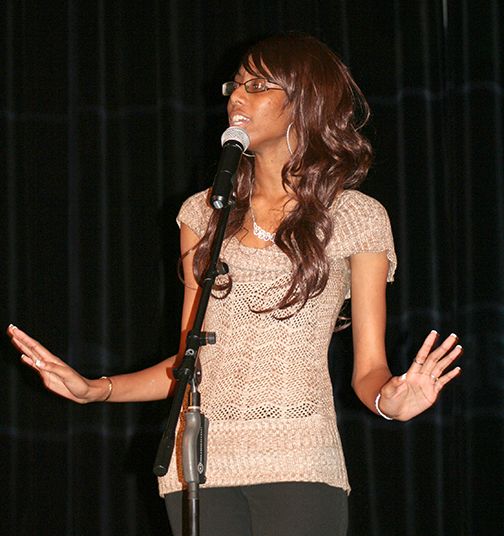 These cheers were for Poetry Out Loud, poetry read with passion, humor and occasional solemnity. Aside from the intermittent cheering, the auditorium was utterly silent.
Reading poetry on the printed page is one experience; listening to the spoken word is another. To stand alone before a full auditorium of your peers and interpret the meaning of the poet takes a special gift and a certain amount of grit.
That gift was abundant Friday as 12 Antilles School students brought to life the words of a raft of poets, speaking from the heart. Not an easy task.
First the 12 students read one poem each. The six finalists read an additional poem. And finally three were chosen.
Speaking of things she understands well beyond her years, Ce'jae Hodge, a senior who took first place, had the audience in her hip pocket as she spoke with grace and solemnity the lines of Cornelius Eady's "I'm a Fool to Love You," of lost fathers and the blues.
Hodge is a tall young woman, beyond poised as she stands erect reading the concluding lines: "this is the way the blues works / its sorry wonders / makes trouble look like / a feather bed / makes the wrong man's kisses / a healing."
Amid a circle of cheering and hugging fans, Hodge said that reading over the selection of poems the students had to choose from, Eady's words "stood out to her," as they did with everyone in the auditorium.
Second place was taken by 10th-grader Camren Bunn, who, in "In the Basement of the Goodwill Store" by Ted Kooser, spoke of a much older man, one who stands "trying on glasses, lifting each pair / from the box like a glittering fish / and holding it up to the light / of a dirty bulb."
The words coming from such a sincere young man were just that much more poignant.
Naamah Leerdam, a junior, took third place. She bravely took on the words of Emily Dickinson's poem, "I felt a Funeral in my Brain (340)," a daunting choice, called a "dark poem," which leaves many wondering over it's meaning. Leerdam said later that Dickinson's words spoke to her.
All the students performed wonderfully, throwing all they had into their readings. Program facilitator John Riggle said that even the students who hadn't been chosen to perform didn't lose the spirit. "They wanted to read their poems one more time in class, just to show their ownership of them. They're amazing."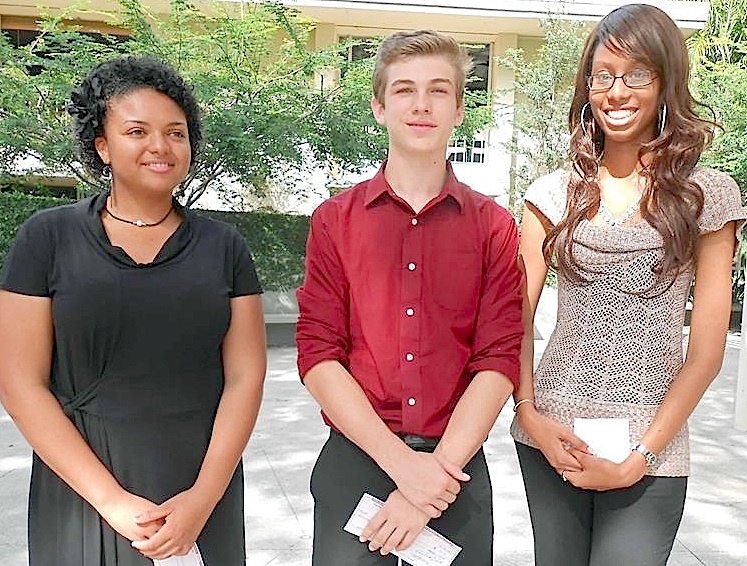 After the first 12 students read, while the judging was going on before the six finalists appeared, Riggle showed a four-minute film his students had made. It was a group effort, he said, with all senior students and teachers happily donating time.
Titled "Poetry is Everywhere," the film is a magic, exhilarating moment with students letting their imaginations run wild, dancing, performing and having fun. However, it's very professional fun, which can be seen in the editing.
After successful pilot programs in Washington, D.C., and Chicago, Poetry Out Loud was launched in high schools nationwide in the spring of 2006 and has grown to involve millions of students across the country.
Poetry Out Loud uses a pyramid structure that starts at the classroom level. Winners advance to a schoolwide competition, then to a regional and/or state competition, and ultimately to the national finals. Each winner at the state level receives $200 and an all-expenses-paid trip with an adult chaperone to Washington to compete for the national championship.
The state winner's school receives a $500 stipend for the purchase of poetry books.
The first runner-up in each state receives $100, with $200 for his or her school library. A total of $50,000 in awards and school stipends is awarded annually at the national finals.
The following students read:
Grade 9
Michael Caracciolo: (1) — "Invictus" by William Ernest Henley and (2) — "Recuerdo" by Edna St. Vincent Millay
Cyril-Anthony Connor: (1) — "La Figlia che Piange" by T.S. Eliot and (2) — "Cartoon Physics, part 1" by Nick Flynn
Marina Parlato: (1) — "Advice to a Prophet" by Richard Wilbur and (2) — "Sea Fever" by John Masefield
Grade 10
Camren Bunn: (1) – "[i carry your heart with me (i carry it in]" by e. e. cummings and (2) – "In the Basement of the Goodwill Store" by Ted Kooser
Franzso Severre: (1) – "I Knew a Woman" by Theodore Roethke and (2) – "The Bad Old Days" by Kenneth Rexroth
Hala Suid: (1) – "Broken Promises" by David Kirby and (2) – "The Rain" by Robert Creeley
Grade 11
Alice Barber: (1) – "Her Kind" by Anne Sexton and (2) – "Time Does Not Bring Relief: You Have All Lied" by Edna St. Vincent Millay
Leayrohn King: (1) – "Caged Bird" by Maya Angelou and (2) – "Romance" by Claude McKay
Naamah Leerdam: (1) – "I Felt a Funeral in my Brain, (340)" by Emily Dickinson and (2) – "All Hallows' Eve" by Dorothea Tanning
Grade 12
Ce'jae Hodge: (1) – "I'm a Fool to Love You" by Cornelius Eady and (2) – "Candles" by Carl Dennis
Tyler Percell: (1) – "I Am the People, the Mob" by Carl Sandburg and (2) – "Song After Campion" by Robert Fitzgerald
Arthur Williams: (1) – "On Quitting" by Edgar Albert Guest and (2) – "After working sixty hours again for what reason" by Bob Hicok
The territorial/state POL will be held on St. Croix on March 8 at a venue to be announced.