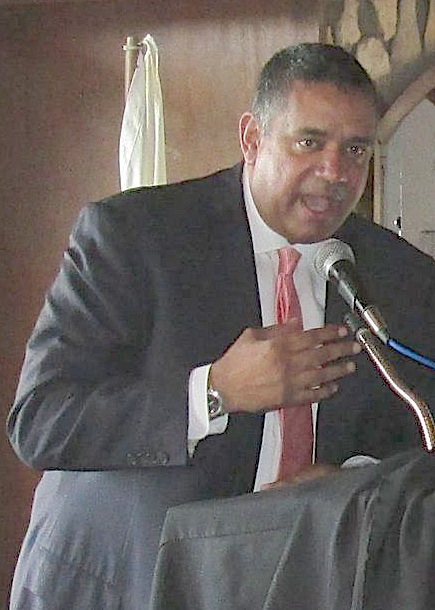 The U.S. Virgin Islands' problems are serious – a deficit looms, the pension system is failing, and the closure of Hovensa still reverberates – but the territory stands and is moving forward, Gov. John deJongh Jr. told the St. Croix Chamber of Commerce on Thursday.
"There is a famous quote from (Friedrich) Nietzsche that 'When you gaze long into an abyss the abyss also gazes into you,'" deJongh said to the packed hall at the Palms at Pelican Cove. But the full quote is longer, and says when you fight monsters take care not to become a monster, deJongh said.
Nietzsche "meant when you gaze too long, you may let it defeat you, and we have gazed into the decline of the economy and we have not let it defeat us," deJongh said.
As he did in his recent state of the territory address, (See related links below), deJongh emphasized that the territory is facing a serious deficit.
"We still have an operating deficit of $70 million this year that we must address," deJongh said. In the state of the territory address, deJongh proposed a budget crisis summit between the Legislature and members of his financial team. "The Senate is meeting with my financial team today," deJongh told the chamber members.
Although budget cuts and revenue-increasing measures are going to be needed, government employment has been from around 7,000 employees to roughly 5,000, which deJongh said was enough. "We can no longer cut" jobs, he said.
But deJongh said the cuts that have taken place, and the jobs that have been moved off of the General Fund onto special funds or federal funds, have set the government on a good footing going forward. "I believe more than anything that we in fact have set a foundation," he said.
Grave though it is, the situation is worse elsewhere and primed to start improving, he said.
"Over 10 municipalities have declared bankruptcy and several others have been downgraded. We have at least avoided that tragedy," he said. DeJongh said his administration was able to ameliorate the financial crisis for several years by getting Diageo to build its refinery on St. Croix, then borrowing operating revenues, using future Diageo revenues as collateral.
Reiterating points from his state of the territory address, deJongh talked Thursday about the potential for online gaming in the territory, once the V.I. Next Generation Network is fully in place, and long-term plans to expand the Christiansted boardwalk towards Gallows Bay and the abandoned Ralph DeChabert housing project, the sports complex plans at Paul E. Joseph Stadium and other avenues for development.
Plans to dredge the Christiansted harbor will enable small cruise ships to dock there, allowing St. Croix to host more ships total and to pursue smaller cruise ships as well as the biggest ones, he said. "That broadens our attractions and gives us both markets," he added later, when a chamber member asked about the plans.
DeJongh's administration is also talking with cruise lines about a proposed adventure park near Frederiksted, to gauge their interest and get their feedback on what passengers will like, he said.
The governor said there was strong interest in the shuttered Hovensa refinery and he was optimistic the property would be put to good use and again employ substantial numbers of Virgin Islanders.
"Even though it was first built in the 1960s, it's actually one of the most modern plants in many respects. … We are confident in a short period of time the interest will be crystallized," he said.
Business will get a little easier later in 2014, when the V.I. Water and Power Authority finishes converting to propane fuel, he said. WAPA is still firm that the conversion will be complete and rates will come down by as much as 30 percent of the cost of fuel, or around 25 percent of customers' total bills, he said.
DeJongh ticked off a list of what he felt were some of his administration's accomplishments, from getting all the public high schools accredited to spearheading the viNGN broadband expansion project.
He pointed to reduced federal oversight of the V.I. Police Department, Bureau of Corrections and soon, the V.I. Housing Authority, which he said "will transition this year from the federal government to the local government."
There is a lot to be done over the next year, he said. Aside from fixing the budget deficit, the government has a serious problem with its employee retirement system, he said. His administration created a task force, which prepared recommendations, which now await action by the Legislature, he said.
Before deJongh's talk, the Chamber gave awards to some of its members and officers and discussed ongoing projects. St. Croix Chamber President Mark Eckard also announced the Chamber board of directors voted recently to create an annual scholarship in honor of deJongh. The scholarship will start at $1,000 per year, to go to a rising senior attending the University of the Virgin Islands. To be eligible, the candidate must have graduated from a St. Croix high school, Eckard said.