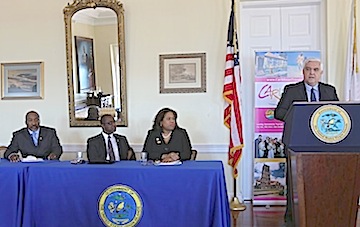 There's been progress over the last year but more has to be done to get the Caribbean's tourism industry on more solid footing, Caribbean Tourism Organization officials said during a press conference Monday.
The annual press conference, which was held on St. Thomas this year, allowed the current CTO chairwoman – V.I. Tourism Commissioner Beverly Nicholson-Doty – to give her state of the industry address.
The speech focused on 2013 tourism data, along with industry trends and overall performance within the Caribbean, and a forecast for 2014. The data is based on visitor spending, hotel statistics and cruise ship arrivals, among other things.
Nicholson-Doty spoke Monday about a "record number" of overall arrivals in 2013, which allowed for an increase in visitor spending – what she described as the "strongest indicator of progress." During 2013, visitors to the region spent over $28 billion, an increase of 2.3 percent over 2014, she said.
The hotel sector did better, showing a 7.5 percent increase in room revenues, Nicholson-Doty said, adding that the "progress" is also due in part to the increase in visitors from South America, who are "coming to the Caribbean in record numbers."
Overall the Caribbean brought in more than 25 million stayover visitors in 2013 – 3 million in March alone – and showed growth in stop-over arrivals during the summer season (May to March.)
Dutch Caribbean countries showed higher performance figures than most other Caribbean countries – boosted by an 18 percent uptick in visitors from South America and an approximately 3.5 percent increase in arrivals from the U.S. – while other destinations, such as Cuba, the Dominican Republic, Haiti and Suriname dominated the market with 44 percent of the region's total arrivals in 2013, according to CTO figures.
French Caribbean countries showed a slight decrease in arrivals, while the U.S. territories fared better, counting nearly four million arrivals in 2013, Nicholson-Doty said.
"However, these positive signs are tempered somewhat by the fact that the overall growth rate slowed last year in comparison to 2012," she added. "Mixed performance among the destinations resulted in a 1.8 percent rise in tourist arrivals – a lot slower than the 4.9 percent rise in 2012."
She said there were "wild fluctuations" in cruise arrivals in 2013, with islands such as Grenada seeing a nearly 22 percent fall in passenger visits, while others such as Curacao saw a 45 percent increase over 2012. Overall nearly 22 million cruise ship passengers touched down in 2013 – an increase of 2.75 percent.
After the press conference, Nicholson-Doty spoke to the Source about increasing the territory's relationship with local cruise lines and showing officials that work is being done to enhance the V.I.'s product.
Nicholson-Doty said that she, along with Gov. John deJongh Jr., and officials from Public Works, the V.I. Port Authority and West Indian Company met with the president of Carnival Cruise Lines, who spoke positively about ongoing construction in downtown Charlotte Amalie.
One of the things that the Carnival president said was that he had been to St. Thomas over the holidays and that he was "extremley pleased to see the construction that was going on because it spelled development and showed in investment in the historical district that has been talked about for so long actually coming to fruition," Nicholson-Doty said.
Dialogue also continues about the inclusion of water transportation downtown – which Nicholson-Doty said presents an opportunity for more partnership between water transportation providers and local taxi associations – and creating a model that will help traffic flow and relieve congestion for anywhere from five to 20 years into the future, she said.
During the press conference, Nicholson-Doty and other speakers – including Caribbean Hotel and Tourism Association President Richard Doumeng – spoke about some of the challenges regional experts and officials have to address in order to help build the tourism product, including securing more airlift, reducing energy prices and getting around an air passenger duty tax that affects visitors flying from British airports.
Doumeng also spoke about making it easier for people to travel between islands – including easing up on certain travel restrictions.
The press conference wrapped on a positive note, with speakers forecasting a stronger 2014 season as long as efforts to support and boost tourism continue within the region.
"Tourism will accelerate globally," CTO statistician Winfield Griffith said to the group. "What is important is that we in the Caribbean put in place the necessary strategies to maximize our benefits and make our countries better – given all that we have seen, we expect at least a 2 percent increase of arrivals in the Caribbean, but we anticipate that even more will be spent in 2014, and we will move further out of the difficulties we've seen in the region in the past."