Agriculture Accepts Solar Donation from Energy Office and Solential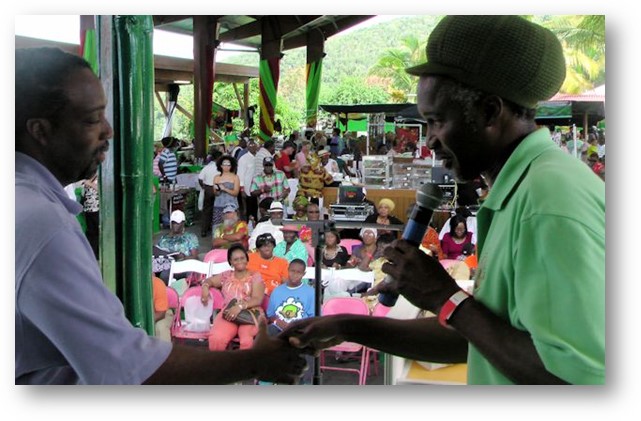 Nothing is more natural than getting energy from the sun, so, naturally, at the Bordeaux Farmers Rastafarian Agricultural and Cultural Food Fair the agriculture community celebrated a new solar installation at the fairgrounds.
The system, turned on and tested two days earlier, was made possible by donations from the Virgin Islands Energy Office (VIEO), and Solential West Indies and its partners. The 4.5-kw photovoltaic system installed on the roof of the market shelter came at no cost to the farmers.
Sixty 75-watt panels were provided by VIEO. Solential West Indies donated wiring, support racks and labor. Chint Power donated the inverter. The system will be net metered and should provide a savings of approximately $285 a month.
The benefactor of these savings will be We Grow Food Inc., which operates out of the market. If We Grow Food Inc. had to install the system, it would have cost the organization over $20,000.
Commissioner Petersen said, "This contribution demonstrates the Administration's continued commitment to the development of the farming community in the Virgin Islands."
James Shaw of Solential said, "Solential is pleased to be able to contribute to a vibrant and fundamental part of the Virgin Islands community." He added, "We could not have done it without our partners — Florida Welding, James Adams Electrical and Chint Power."
Karl Knight, director of VIEO, also commented on the partnerships that made the project possible. He said, "Our efforts to be self-sustainable in energy and with agriculture make all Virgin Islanders natural partners. "
Commissioner Louis Petersen Jr., Department of Agriculture; Director Karl Knight, V. I. Energy Office; and James Shaw, Solential West Indies, made brief statements to an audience of about 40 persons seated and others just passing by and enjoying the fair.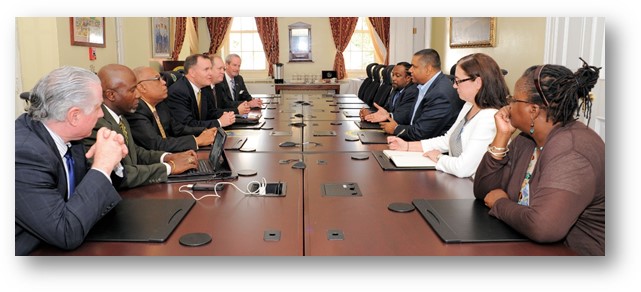 V.I. Hospitals Receiving Energy Audits and Upgrades
Gov. John P. deJongh Jr. and members of the Virgin Islands Energy Office (VIEO) met with officers of FPL Energy Services at the end of January to go over the contracts for energy retrofits of the hospitals. With Gov. John P. deJongh Jr. signing an agreement with FPL Energy Services Inc. (FPLES) recently, a concentrated process to cut energy costs at the Gov. Juan F. Luis Hospital, Myrah Keating Smith Community Health Center and the Roy Lester Schneider Hospital has begun.
In a meeting, immediately prior to the signing, deJongh questioned the principals of FPLES about the project timeline, auditing procedures and what specifically may be involved in the energy retrofits. Gov. Juan F. Luis Hospital and the Roy Lester Schneider Hospital chief executive officers Dr. Kendall Griffith and Dr. Bernard Wheatley also questioned FPLES principals about the projects, which will include energy generation measures as well as energy conservation measures.
The agreement between the Virgin Islands and FPLES for this work is similar to the contract the government has with Energy Systems Group, for energy retrofits at 34 public schools and education facilities, signed last year. An energy-saving performance contract is an agreement between a building's owner and an energy service company to guarantee energy-saving improvements. The company conducts an audit of the facility, identifying energy-saving improvements, then designs and installs what meets the owner's needs. The audits are to begin at the hospitals Monday.
After the signing, Gov. deJongh said, "This is another step in this administration's effort to bring the Virgin Islands into a future of clean and sustainable energy use. The hospitals will benefit tremendously by addressing critical maintenance needs while also reducing their energy burden."
Karl Knight, director of VIEO, said, "We look forward to a fruitful relationship with FPL Energy Services and benefitting from their knowledge and expertise."
Greg Hanlon, NextEra Energy Solutions vice president and general manager, said, "We are looking forward to partnering with U.S.V.I. to upgrade critical hospital energy systems and reduce associated hospital operating costs."
The V.I. Senate, last year, authorized the Public Finance Authority to issue $35 million in bonds to fund these projects and others, using energy-savings, performance contracts.
The history of these projects began when VIEO conducted a pilot project, partnering with the Department of Education to retrofit 11 public schools in 2011. The project was funded by $6.7 million in American Reinvestment and Recovery Act grant funds. The conservation measures included water and lighting retrofits — the installation of LED lighting and high efficiency fluorescent lighting fixtures — occupancy sensors, low-flow toilets, low-flow urinals, and push-button faucets. The project was completed in October of 2011 on time and within its budget. Savings for the first year were $1.3 million. The contractor, Energy Systems Group, had guaranteed $1.2 million each year.
Knight said, "The hospital projects present an opportunity to replace large capital equipment – boilers, chillers, freezers, coolers, laundry equipment, etc. In many instances the useful life expectancy of that equipment is nearing its end and the ability to replace them through energy savings is quite beneficial. We are excited to assist these critical facilities in applying tried and proven energy conservation measures."
The projects could include the installation of combined heat and power systems and solar arrays.
FPL Energy Services provides innovative energy efficiency, water conservation and renewable solutions for municipal, education, healthcare, federal government, commercial and industrial customers. FPL Energy Services is an indirect subsidiary of NextEra Energy Inc. (NYSE NEE), a leading clean energy company with revenues of approximately $14.3 billion, more than 42,000 megawatts of generating capacity, and nearly 15,000 employees in 26 states and Canada as of year-end 2012. Headquartered in Juno Beach, Fla., NextEra Energy's principal subsidiaries are Florida Power & Light Company, which serves approximately 4.6 million customer accounts in Florida and is one of the largest rate-regulated electric utilities in the United States, and NextEra Energy Resources, LLC, which together with affiliated entities is the largest generator in North America of renewable energy from the wind and sun. Through its subsidiaries, NextEra Energy generates clean, emissions-free electricity from eight commercial nuclear power units in Florida, New Hampshire, Iowa and Wisconsin.