Education Commissioner Donna Frett-Gregory was sworn into office Thursday by V.I. Supreme Court Justice Ive Swan in a small ceremony with family, friends, the leadership team of the V.I. Department of Education and other well-wishers at Government House on St. Thomas.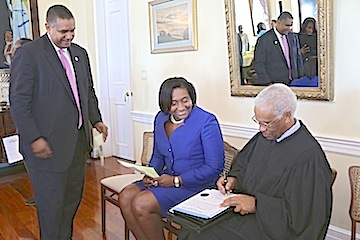 Gov. John deJongh Jr. lauded Frett-Gregory at the ceremony, calling her a friend and colleague and saying she "already has more than a year of experience in this critical job."
"I use the word 'critical' to describe the post of commissioner of Education because in many ways it is the most important in my cabinet," deJongh said. "The commissioner oversees the largest department in the V.I. Government and has oversight responsibilities for educating over 15,000 students; providing support services such as child nutrition, transportation, libraries and maintenance of educational facilities; managing a workforce of over 3,000 teachers, administrators and support staff; and administering the largest chunk of the Virgin Islands' operating budget."
"The scope of work I have just described would send many running to the hills, but Donna is extremely willing and more than able to tackle the challenges of the Department of Education," deJongh said.
He added that Commissioner Frett-Gregory has an outstanding record of service with the Department of Education and a strong commitment to the children of the territory. "She is very skilled in management and accounting, and has a sharp analytical mind," he said.
Frett-Gregory has held a number of important positions with the department including assistant commissioner of operations, deputy commissioner for fiscal and administrative services, and director of administrative services. She also served as an elected member to the Board of Education from 1997 to 2000.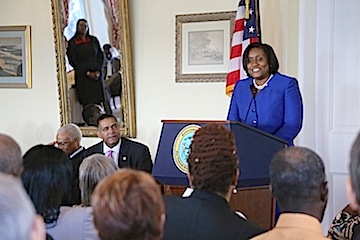 DeJongh said the improvement and development of the territory's educational systems has been one of the top priorities of his administration and that he knew Frett-Gregory would continue to build on the progress that has been made – "much of which she implemented," he added.
"We both fully realize that one of the Virgin Islands' greatest resources is its children, and that we cannot shirk or give short shrift to our responsibilities to prepare them for rich and satisfying lives," deJongh said. "Each child deserves a chance for a successful future and, for many of our children, the Department of Education provides most of that opportunity. I can never stress enough my commitment to our young people, and I know that Donna shares this strength of feeling as well."