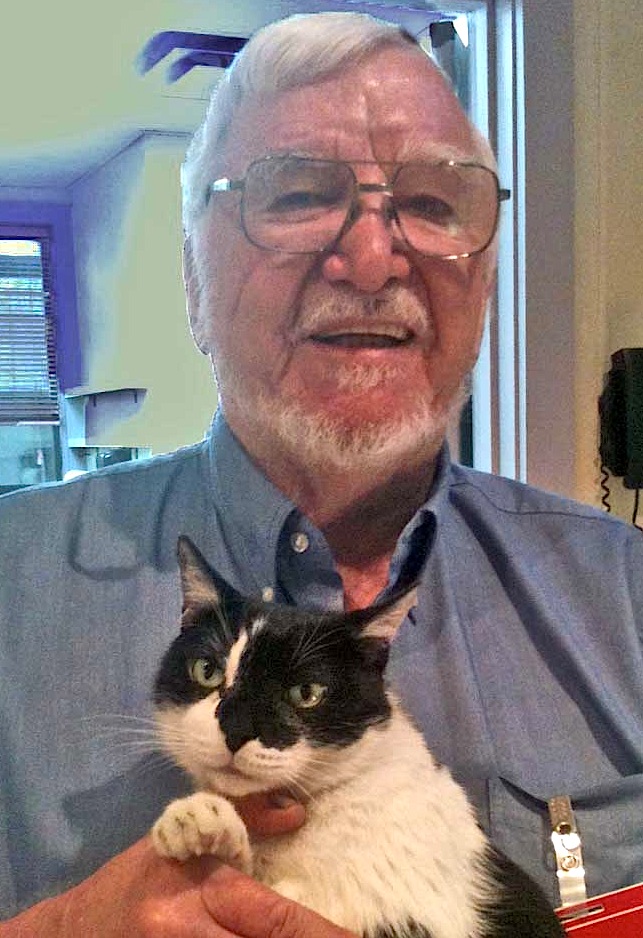 Veterinarian Andrew Williamson took a few moments out of his hectic moving schedule this week to chat about his early years as the island's only private veterinarian, among other things, and treating all manner of animals since arriving here in 1964.
"I loved diving and I'd come here to dive with John Hamber UDT Tours," Williamson said. "I got to know John and I was taken with the underwater experience and John's graciousness. I also met Howard and Betty Jackson, whose son was going to prep school in Connecticut near where I lived at the time. They urged me to move to St. Thomas, which appealed to me."
"I did some investigating and a couple years later I made the move," he said. "The man I worked for wanted me to buy his business, but I wanted to be in business for myself. I wanted a challenge: something on my own." He chuckles, "I had no idea that take the next 50 years of my life."
And it's been a caring life carving a niche for himself in the island's four-footed and feathered –and sometimes scaled – history. And he said he has loved every minute of it.
"The years have been very rewarding, doing something I love and getting paid for it," Williamson said. "I've had a very full life, raised a daughter, Lara, and son, Scott, and now my wife Mardi and I have a granddaughter old enough for college. We're moving to Oregon, but St. Thomas will always be our home."
Williamson speaks with humor and affection of his first years on the island. "We started a small practice at Tillett Gardens where we rented from Rhoda and Jim Tillett, great people. Two dentists, doctors Donald Pomeranz and Bruce Shrallow, were in the same building. That was lots of fun, we're friends to this day."
"We had a large animal practice too, so I was always all over the island," he said. "We stayed at Tilletts through Hurricane Hugo in 1989, but after Marilyn in 1995, the building was too damaged. That's when we moved to the Frenchman's Bay location where we are today – or packing to leave today."
As he spoke, the finality of his move came to the foreground now and again.
"One chapter ended today," he said. "I got involved in sailing in 1973, made the switch from diving, and bought a 30-foot Cheoy Lee. I've sailed it all over. I was going to sell her, but looking at her, I decided to give it to my godson Murray Kahn" in Seattle.
And Williamson said he'll be visiting his godson and his boat from Oregon.
Williamson, who officially announced his retirement last fall, said it's the people "I'll miss the most."
"Every day I run into people who have been very gracious. That makes it easier."
He has treated every manner of beast from iguanas to large animals and several goats, in fact.
Dan Stecher recalled Williamson's suggestion for his pet goat Charlotte, who had been abandoned and suffered problems with her front legs not being straight. "Andy said to attach tongue depressors to her legs and hold them on with an Ace bandage," Stecher recalled. "It worked beautifully and she was even in the Moby Dick troupe carnival float."
Williamson said he has had problems interviewing veterinarians to take over his practice. "The profession has changed. The people I've interviewed want a 40-hour week with all sorts of benefits and half a dozen other vets to work with."
This is clearly not Williamson's style. For one thing, he adamantly doesn't own a cell phone. "And I've never had an answering machine. My emergency number is my home number in the book. The phone is right here next to my bed connected to the wall with a cord."
He thinks it over. "I don't know if it's obsolescence or just stubbornness," he mused.
Williamson and Mardi are moving to Mulino, a small town in Oregon. "We've also got a cabin on the river in a town called Rhodendron we've been going to for years. Mardi is a climber. Mulino is a very rural horse town, lots of rodeos," he said.
As for the island he calls home, William said, "I've had more fun than hardships. I can tell you don't know how you measure a life; we've kept our sense of humor. People ask how do I feel. Not good, it's bittersweet. My impression of the island as a whole with the cost of living rising and these trucks tearing down the road is sad." He paused to hear the racket one truck was making.
"We are losing our 100-year-old trees. Civilization, if that's what you want to call it, is pressing in. I don't want to leave with a mad on, though. I'm glad to be leaving while I'm active and healthy and ready to raise bees and chickens in Mulino."
Williamson, a founding member of the Humane Society of St. Thomas, will be honored at the Society's Valentine ball Feb. 15 at St. Peter Mountain Great House for his 50 years of service.