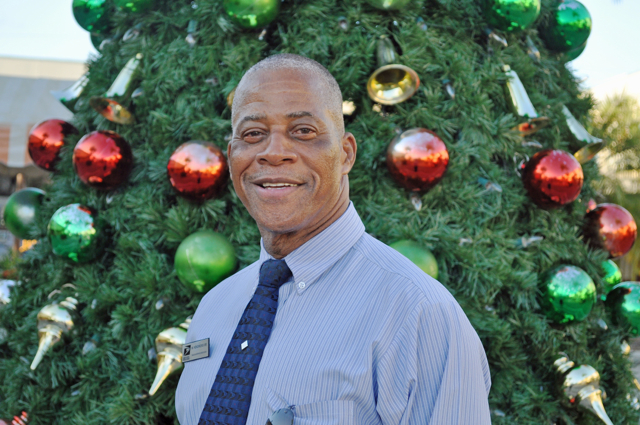 He just might be the most recognized man in the Sunny Isle Shopping Center. He's certainly the most famous when you walk into the U.S. Postal Service's Sunny Isle office.
What makes Mario Hendricks, Sr., so unforgettable and a downright pleasure to be around is, no matter who you are, no matter what time of day it is, no matter if the office is busy or not, Hendricks doesn't just greets people walking through the door with a "Good morning" or "Good afternoon," he generally holds a conversation with that person, too, in English or Spanish. And not only his customers, but also those passing through whom he might not even help. Hendricks pretty much talks to everyone, and nearly everyone speaks to him like he's an old friend of the family.
Some joke with him, some complain, some engage him in conversation.
As Hendricks put it once when asked why there is no fast line for picking up packages – "We don't discriminate here."
That's pretty much his attitude with customers as well. He talks to them all.
"If someone's in a nasty mood, you can't join them," he said of his knack for dealing with customers. "You have to kind of bring them to your side."
He added, "I have a lot of customers who treat me pretty nice so I have no reason to be any different."
Almost like he had his own mantra, he even said at one point, "What you give is what you get."
During a 30-minute interview held in the courtyard of Sunny Isles, Hendricks must have said, 'Hello' or 'Seasons greetings' to a few dozen people. It seemed the norm for people to come up and shake his hand.
He'd point at people and rattle off their postal box number, or recall a time when he helped a customer with a particular issue. He even recalled a tale or two of customers switching their post office boxes to Sunny Isles because they enjoyed the atmosphere there more, or of other customers with boxes in Sunny Isles being disappointed when Hendricks wasn't there because nobody said good morning or good afternoon to them.
"We're there for the customers, and sometimes they have a long wait," Hendricks said. "But it makes it very reassuring and peaceful and relaxing for them if the atmosphere is enjoyable for them."
Hendricks said he knows almost all the people who walk through the post office's doors daily. He called that ability an "inheritance" from his late mother, Theresa "Bess" Hendricks, who raised Mario and his dozen younger siblings, then went back to school to become a nurse and eventually obtain her GED diploma.
"She could tell you the history of her people that were older than her," Hendricks said. "Thirteen children and she could give you the date they were born, the day of the week and the time of the day it was until the day she died at 81. She could give the 50 states with their capitals, too."
Hendricks joked he learned his Spanish from his mother.
"She was black, but she worked as a housekeeper for some Puerto Ricans and she could speak better Spanish than some Puerto Ricans, I tell you."
He added, "She joked that she got a 96 in Spanish and a 69 in English on her GED exam."
Hendricks traces his lineage on St. Croix back the three generations, and said his ancestors prior to his "mother, grandfather and great-grandmother" came from "maybe Antigua" or another island in the vicinity.
What's probably the most surprising in talking to Hendricks is discovering his age. He's 68-years-old, and could pass easily for 25 years younger than that.
"The blessings of life, sir," he said in response to the compliment, also attributing his young looks to his passion for bodybuilding and biking. "I'm fortunate. It's surprising because I grew up in an age where the lure of liquor and hanging like that, you know,… well I've seen a lot of my friends who've left because of eating bad, but mostly because of drinking."
While he admits he dabbled a little with liquor and smoking, he said what put him on the right path when he was younger was music. He repeated 7th grade three times, not because he was dumb, he said, but because he didn't care. Then he discovered the trumpet, and had to maintain good grades to stay in the school band (Christiansted High Class of 1966), and it was "smooth sailing after that."
"My most enjoyable thing is playing music," he said.
Prior to joining the U.S. Postal Service in 1990, he worked as an electronics technician in a host of different jobs. But that all started with Hendricks voluntarily joining the military as opposed to being drafted during the Vietnam era. That stint took him for two years and three months to a base outside Frankfurt, Germany.
Then he moved to New York for 10 years. His two grown sons were born there; Mario Jr. and Myron, age 34 and 37, now live in suburban Atlanta. His third son, Marquis, was born to his second wife in 2012 here on St. Croix.
With his two boys in Georgia having both recently made him a grandfather, Hendricks said he may move there with his new wife and young son when he retires in two to three years. But no matter where life takes him, his favorite job has been with the post office in his beloved homeland.
"These are people here I've known since I was a little boy," he said. "They could tell me my history."
But only Hendricks could tell them their post office box number.