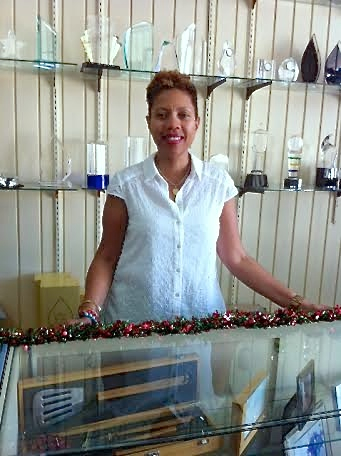 Joann and Berisford Lynch, who recently celebrated their 17th anniversary, have made more than a marriage work; the St. Thomas couple own two businesses that appear to be thriving even in the economic doldrums gripping the island.
Joann Berisford said they had been married just a few months and "we were looking for an opportunity" when one popped up right next door.
At the time, Berisford worked in a bookstore in Wheatley Center. If Frankie Jarvis, the founder and owner of the adjacent sign and engraving business had to leave his small shop unattended for a few minutes, she'd keep an eye on it for him.
"We developed a friendship" Lynch said. When Jarvis and his wife decided to sell, the newlywed Lynch's were in business.
VIP Awards & Engraving, Inc. is still in the same location, but it has expanded.
"We've taken the business to the next level," Lynch said.
They've expanded the types of engraving they do, and added other services, including rubber stamps, faxing and notary services.
There are three full-time staff, including Lynch, who manages the operations and is the notary, and generally one or two part-time workers. Berisford Lynch fills in as needed;
"He says this is his non-paying job," his wife laughed. His primary job is at the couple's other business, the moving company, Viking Corporation.
At VIP, trophies of every size and configuration stand in neat displays on shelves encircling the store. There's an array of desk sets, clocks, crystal and other gift items, including a specially designed, non-tarnish brass steel pan replica and a clock in wood featuring the outline of the Virgin Islands. Customers can purchase items, or they can bring in their own pieces to be engraved.
While most customers want engraving to personalize a gift or to memorialize an achievement, these days, Lynch does a fair amount of engraving on iPods, iPads, games and other electronics for people who want a measure of security against theft, she said. She can work in wood, glass, brass, jewelry, marble, acrylics … almost any material.
Most orders are completed in three to five days, Lynch said, but added that "we can do same-day service." Prices vary, depending on the job and whether or not it's a rush.
"The end of the year is always busy," she said. That's when many hotels and other businesses are giving awards to their employees. So is the end of the school year, Carnival, Mother's Day, Valentine's Day and just about any holiday.
Situated near the West Indian Co. cruise ship docks, VIP gets a lot of notary business from crew members as well as considerable engraving business from the cruise lines, Lynch said.
Meanwhile, a lot of the store's products also end up on other islands – not just St. Croix and St. John, but Antigua, St. Kitts, Tortola and Haiti, she said. Recently it supplied trophies for a major soccer tournament in St. Lucia.
Lynch said she is fortunate to have good employees and loyal customers, who support the economy by buying locally.