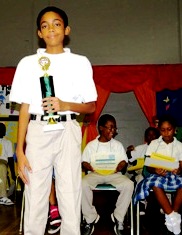 Evincing much promise sixth-grade speller Khaien Donawa outlasted about 19 other competitors at the Claude O. Markoe Elementary School Spelling Bee on Tuesday and, after more than 10 rounds of stiff competition, Donawa correctly spelled the word "evince" to prove he's the school's best speller. The word "evince" means to show or express clearly.
Second-place finisher fifth-grader Yazirah Encarnacion wasn't an easy walkover. She quickly spelled words like "expunge," "insinuate" and "lambasted" before succumbing. St. Croix district Language Arts coordinator Cheryl Jerimiah-Ambrose served as master of ceremonies and congratulated all the spellers, proclaiming that the spelling bee was "an overwhelming success."
Ambrose expressed best wishes to Donawa as he moves on to the district spelling bee in February.