The warden at the Golden Grove Adult Correctional Facility on St. Croix saw his "Shop with a Cop" initiative fulfilled last Sunday. The goal was to allow underprivileged kids a chance to shop with law enforcement officers and volunteers and to pick out what they wanted for Christmas within a $100 limit per child.
Warden Basil Richards introduced the idea of making the Christmas season just a little more special for elementary kids throughout the island of St. Croix. As the first ever "Shop with a Cop" event in the Virgin Islands, the Charles H. Emmanuel, Claude O. Markoe, Evelyn Williams and Juanita Gardine elementary schools assisted in the selection of the children.
Through their efforts 77 kids got a chance to participate in the program and have a memorable experience this holiday season. The event began at the University of the Virgin Islands and ended with the shopping spree at Kmart west.
The key organizers for "Shop with a Cop" were Bureau of Corrections staff members LPN Dianne Howard and Correction Officer Stacie Richards, who were determined to make this event a success and make Richards' vision realized. Almost $8,500 was raised, thanks in part to a $5,000 donation.
"I hope that this will be a lasting program," Warden Richards said. "It was an overwhelming first effort and I was very pleased with the results. The support from the other law enforcement agencies was unbelievable."
Some of the other agencies/organizations that participated were Human Services, Fire Services, U.S. Marshalls, V.I. Police Department, V.I. National Guard, St. Croix Motorcycle Club and UVI. There were games, food, a canine demonstration by VIPD, a bouncer provided by VING and Santa even came in on a fire truck.
The kids were excited and the joy of seeing them so happy was worth the effort, according to the volunteers.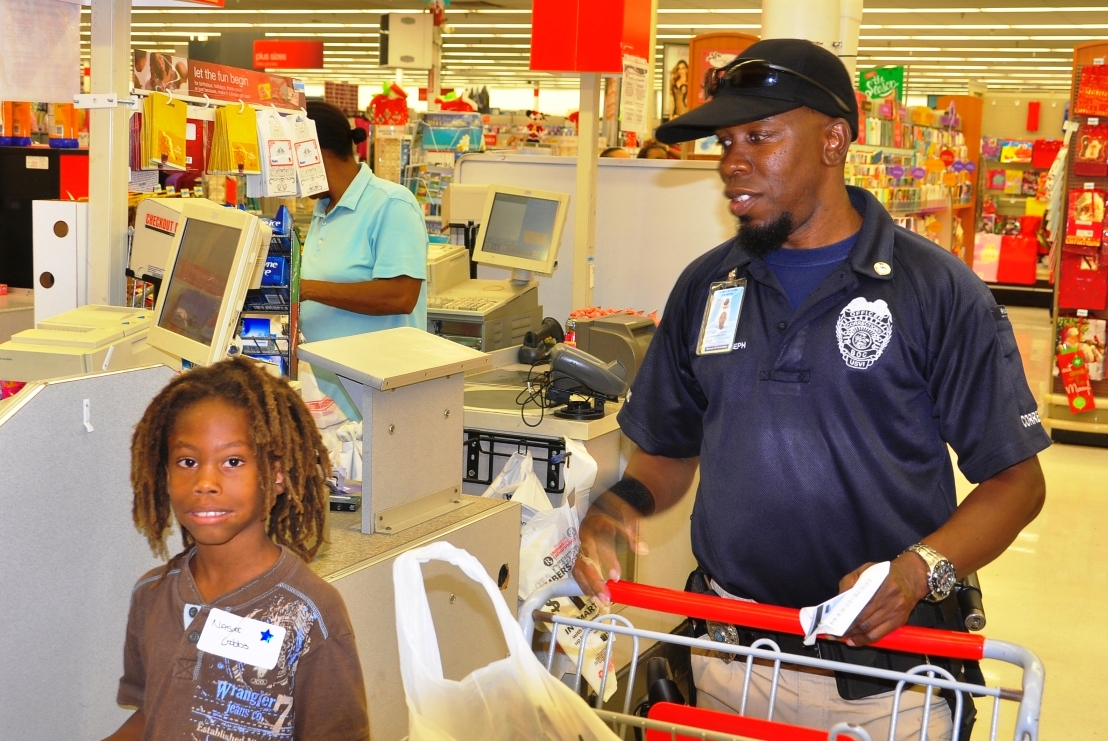 Officer Richards said, "The weather held up, the day was wonderful, and the kids had a ball, meeting Santa and playing in the bouncy. Just the look on the children's faces when they were in the motorcade and shopping at Kmart was great."
The children left with bikes, remote controlled cars, dolls, crayons and whatever items they could put their hands on. Their parents were also excited for them and were very thankful. Kmart management and staff were delighted and had great reviews for the event; saying they cannot wait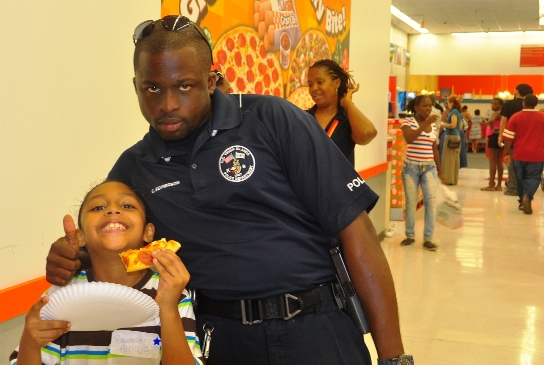 to participate next year.
According to volunteer Officer Sharon Williams, "Kmart surprised the kids with pizza, drinks and a Santa corner. One thing no one forgot was that this event was all about the kids."
Warden Richards said he hopes "Shop with a Cop" expands to include other schools on St. Thomas and St. John next year. He also wanted to thank the many volunteers and donors that made this event a success.