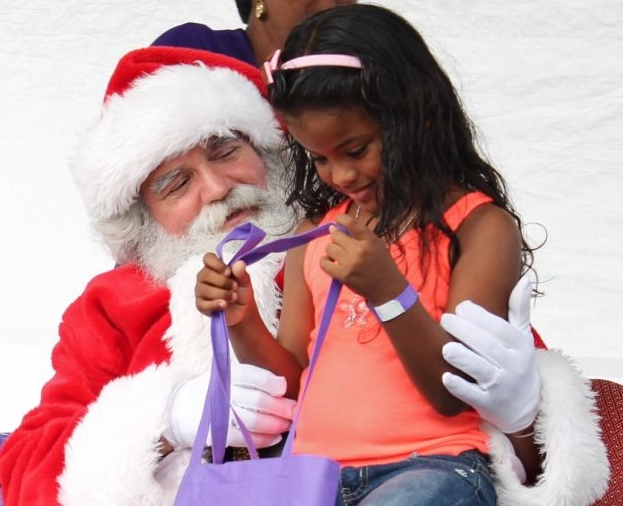 Some 500 children and parents on Sunday occupied the Franklin Delano Roosevelt Virgin Islands Veterans Memorial Park, which was transformed into holiday-themed playground for the 2013 Annual Children's Holiday Party hosted by Gov. John de Jongh and First Lady Cecile deJongh.
All over the park were tents designated for different children's activities. Some children lined up to have their faces painted with Christmas designs while others flocked to a cookie-decorating area, turning plain cookies into colorful stars and candy canes.
The Kid's Workshop tent, sponsored by Home Depot, was a hit for older children. Dressed in orange aprons, children could be seen bent thoughtfully over working tables, hammering away at wooden blocks and wheels to create their toys, from cars to sailboats to miniature buildings.
"It's basically an interactive party where the children get to do their own thing," said event organizer Armecia Martin, who works as protocol coordinator at the governor's office. "They get to build their own stuff, decorate their own cookies, and have fun with all the different activities we're having."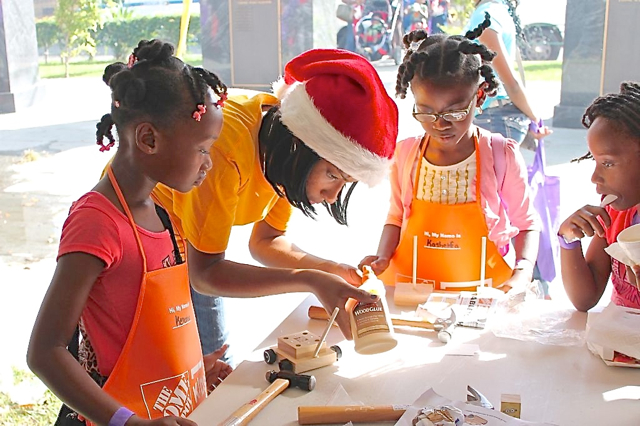 Martin walked around the party with a big yellow roll of raffle tickets, which also had been pre-sent to different schools. This year's prizes include an iPad mini for one lucky child, and a hotel stay at Marriott's Frenchman's Reef for lucky parents as a reward for bringing their children to the event.
Parents seemed equally pleased with the many activities available for children, as well as the free treats and snacks for kids wielding Tasty treat tickets given out during the free registration.
"I think it's well organized," said parent Eloise Maynard, while watching her 10-year-old daughter, Dasmine, cobble together a toy. "The lines were long when you first come in, but you move pretty quickly. I like the different stations where you could go get a burger, you could go get a frako and ice cream."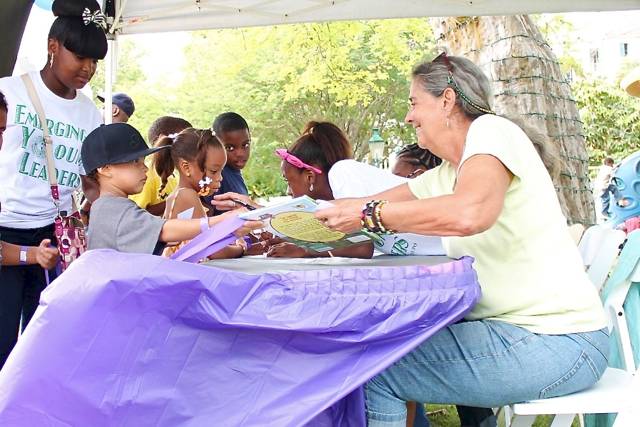 For the smaller children, the main man was a storybook Santa, fully dressed in a red-and-white, fur-lined suit, who sat on stage, patiently taking wishes from children. At any given time during the afternoon, the long line to see Santa spanned half the perimeter of the park. Santa gave each child a gift bag containing an illustrated children's book, "Hope is Here," by local author Christina Kessler, and a pair of binoculars, which went with the book's bird-oriented theme.
"Instead of giving away gifts or toys, we switched it to match our Summer Reading Challenge," said Gov. deJongh, who credited his wife, Cecile, for the idea. "What we do now is make sure we have a book that we give away, that the book is done by a local author, the illustration is done by a local illustrator, to show kids that they can write their own books and do those things."
Cecile deJongh shared, "We decided to do books, because really, what we want to do is increase the literacy level in the Virgin Islands. I was a little hesitant at first thinking that the children would be upset about not getting toys, but they're very excited about getting the book."
Toward the end of the event, children gathered in front of the stage for the different contests. A creative set of kids tried their hand at Christmas tree decorating and gift-wrapping, with parents not far behind them furtively whispering instructions, eager to join the fray.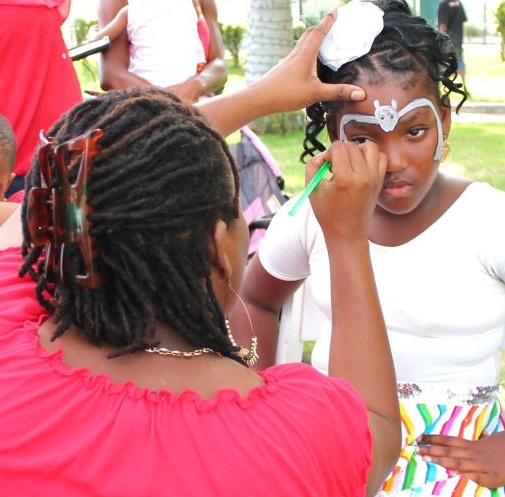 While the annual holiday party has been a tradition for the Office of the Governor, this is only the second year, according to Martin, that the party was opened to the public, the first year having been at Emancipation Garden.
"I think each year we have been getting better and better," said Martin. "More children and parents are coming out to the event. It's now turning out to be one of the big events that everybody looks forward to end off the year in a good holiday spirit."
Volunteers have much to do with the successful organization of the event, Martin added. She thanked JROTC students from both Charlotte Amalie and Ivanna Eudora Kean High Schools, the Community Foundation of the Virgin Islands, the University of the Virgin Islands' University-Bound students, and Emerging Youth Leaders from the Alpha Kappa Alpha sorority.
"We have a mix of different individuals from the community, but what I like is that we use student volunteers who make it even a little bit more fun, and kids can interact with teenage students from our leading high schools," said Martin.
Easier fundraising also helped make this year's event bigger and better, according to Cecile deJongh.
"We had better fundraising," she said. "It seemed easier this year to fundraise. We started fundraising in June for the book and I have to say businesses were very generous."
According to Gov. deJongh, the increasing number of parents getting involved every year is crucial to the event's success.
"Really, the children being involved is tremendous," he said, "but the parents' involvement is key, and that is something that we try to push just as much."
Some parents have already made the Annual Holiday Party a Christmas go-to for their families.
Maynard shared: "It's been a tradition for years. We've been coming regularly, and it's something we'll always continue to go to."