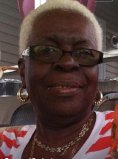 Heatherlina Destouche, also known as "Etta," of Estate Mon Bijou died on Nov. 25. She was 67 years old.
She was preceded in death by her mother, Drucilla Lynch; father, Alphonso Lynch; brother, Alphonso Lynch; and niece, Icilma Lynch.
She is survived by her daughters: Charlene Gordon, Arlene Destouche, Alycia Destouche and Desiree Destouche; grandchildren: Shaqualla Gordon, Destyne Gordon, Cory Destouche, Llyod Irons, Steve Ambrose II, Tyrique Ambrose, Alexis Jospeh, Sh'Niyah Fenner and A'miyah Finley; great-grandchildren: Naomi Destouche and Tashaun Green; sisters: Christophene Jeffery (N.Y.), Patelina Joseph (N.Y.), Jean Matthew (Canada), Yolanda Lynch (N.Y.) and Mabel Lynch (Antigua); brothers: Anthony Lynch (Atlanta), Bryon Lynch (N.Y.), Eworth Lynch (Penn.) and Lawrence Lynch (N.Y.); and nieces: Marilyn Joseph, Deborah Maile, Genivieve Somers and Alisha Lynch.
She is also survived by nephews: Denfield Weekes, Eworth Lynch Jr., Devon Joseph, Terrence Benjamin, Desmond Maile, Kwame Lynch, Kordicilly Lynch, Donald Maile and Germaine Lynch; great nieces: Mackayla Mack and Rebecca Somers; great nephews: Lawrence Somers, Jalen Ravenell and Xavier Joseph; brother-in-law, Herma Matthew; sisters-in-law: Glenis Lynch, Eleanor Lynch and Joycelyn Lynch; special friends: Merlin Simon, Anna Brewster, Mantan Destouche, Emile Jonas, MaryJane Benjamin, Arabella Pigott, Edwin Joseph, Vivian George and Maggie Hobson; cousins and other relatives: James Martin, Loretta Jones, Joy Martin, Blondelle Grant, Vernalyn Clarke, Brenda Benjamin, Beverly Jones, Jeanie Figueroa, Euphemia Samuel and Morrison Martin; as well as other friends and relatives too numerous to mention.
There will be a viewing held at 9 a.m. followed by a funeral service at 10 a.m. on Wednesday, Dec. 11, at Faith Moravian Church. Interment will be at Kingshill Cemetery.
Professional Funeral Services is entrusted to James Memorial Funeral Home Inc.
Located at 6 AA La Grande Princesse; Telephone: 718-8663/Fax: 718-8661.