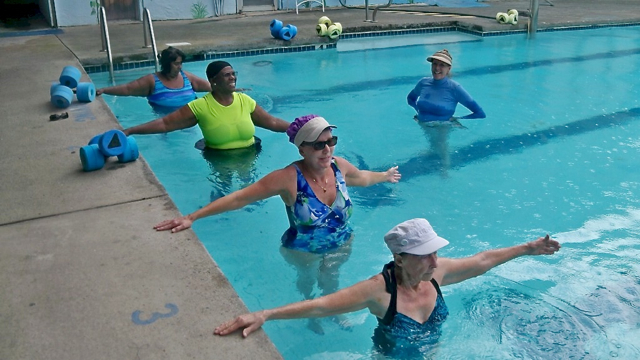 Sonja Dickerson, Poolates instructor at Beeston Hill Fitness Center, led women in slow and controlled Poolates moves in the pool Saturday. They did the mermaid stretch, a little prancing and a kick ball change in four feet of water.
Poolates is a form of the original Pilates Method done in a pool, a mind body dance-type floor exercise that promotes posture, balance, and core strength.
Dickerson said Poolates strengthens, tones and balances from head to toe. It strengthens muscles and improves posture while increasing coordination and flexibility. She said participants consistently pull in their abdominal muscles, practice core control, holding their spines straight and elongated. All while fighting the buoyancy of the water.
Dickerson, dancer and owner of Pointe Dance Academy for 20 years and a Pilates instructor for 14 years, has been teaching Poolates about five years at Beeston Hill. She was trained and certified in Miami by Rebecca Cardozo-Pfeiffer, a Pilates trainer and the developer of Poolates.
Dickerson said Poolates is a great fitness method for all ages and abilities. Whether you like doing Pilates or are in a post-rehabilitative program, Poolates can be a great addition to your fitness and wellness maintenance routine, she said.
Her students agree.
"This is the best place to be," said Beulah Lateef, 67 years old. "I love to dance, and being in the pool feels fantastic, even though I don't swim." She added that because of a genetic disorder she doesn't have any cartilage in her ankles.
Charleen Beck has been doing Poolates since Beeston Hill began offering the program about five years ago.
"I do Poolates because I love the pool and the companionship," Beck said. "And I feel energized."
Kamela Santos said she does Poolates because she wants to lose weight and to help with menopause symptoms.
Dickerson said Poolates is great for people on rehabilitative programs and those looking for weightless workouts. Poolates can strengthen while overcoming mobility limitations, muscle fatigue and joint stress. It is a safe exercise program for those with chronic injuries or illnesses, those who are overweight, and safe for prenatal women. She said the staff does medical screenings, confers with a doctor and gears routines to meet individual needs.
Priscilla Schneider, certified in Poolates and a yoga instructor at Beeston Hill, said Poolates is gentle on the body, muscles and joints while keeping with the body and mind connection of the traditional Pilates Method. Poolates benefits include toned legs, arms and core.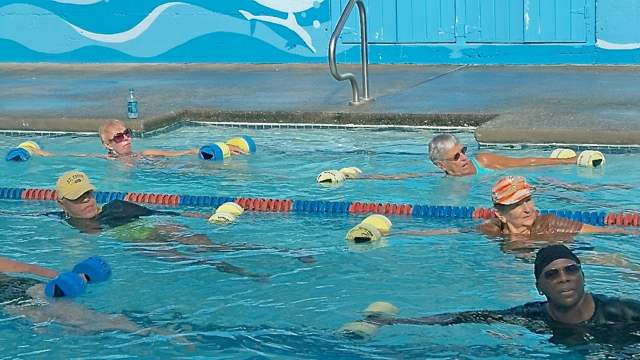 For a cardiovascular workout, men and women can join the water aerobics sessions led by Suzanne Holton. Holton is 82 years old, but doesn't look like it in the pool.
Holton has been doing water aerobics off and on since 1997. She has a congenital back problem and said the water workouts keep her vertical.
"If I didn't do this I'd be in bad shape," Holton said.
"Water aerobics is easy on the joints, it's low impact and low resistance," Holton said as she led 10 women in the "crocodile step" Sunday morning at Beeston Hill. She added she's a retired kindergarten teacher, so a lot of her moves are named for animals. She said she took water ballet in college in 1950 and water aerobics is almost the same. She said generally 15 people take the class.
Anne Rymsha, 77 years old, said she has had both knees replaced and she swears by how well water aerobics works during and after rehab. She has been doing water aerobics for about 10 years.
"Water aerobics is fabulous for my fitness routine," Rymsha said. "With other classes here I work out six hours a week, which is perfect for me."
The women hold two buoys in the shape of dumbbells and some use ankle weights for more of a workout while doing the flutter kick, frog kick and cross country running movements. The women get a total body workout.
Val Stiles says she does the water aerobics to maintain strength and her balance.
"It's important to maintain balance as we get older." Stiles said as she bobbed up and down.
Pat Oliver, in her mid seventies, believes water aerobics, Pilates and belly dancing keep her fit. She said everyone should give aerobics a try, even men.
More information about the fees and schedules can be obtained by calling Beeston Hill Fitness Center at 1-340-778-5144