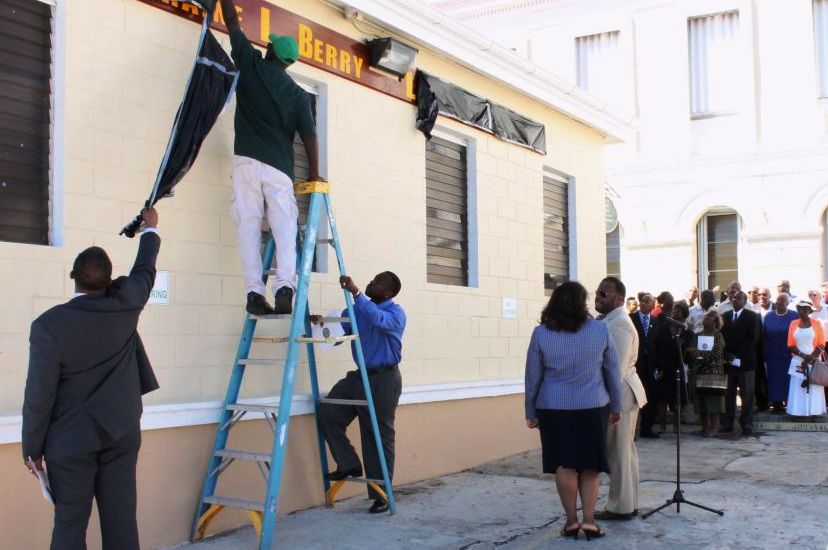 It was a day of remembering for some 70 friends, family and former colleagues of the late senator, Lorraine L. Berry, gathered at the Earl B. Ottley Legislative Hall on Friday for the official dedication of the Lorraine L. Berry Legislative Annex.
The dedication ceremony was held in chambers where Berry was recognized for being the only senator to serve 12 consecutive terms, the only one to serve as Senate president twice, and one of only two women to hold the position in the history of the V.I. Legislature. Throughout her tenure as a legislator, Berry chaired eight Senate committees, served as majority leader and drafted about 400 pieces of legislation.
Senate President Shawn-Michael Malone hailed Berry as "a champion of fiscal responsibility, of women and children's rights," as a protector of the retirement system, and a supporter of law enforcement, trade and commerce.
"What better place to name after this awesome legislator than the building that houses our legal counsel division," said Sen. Janette Millin Young, who along with Malone, sponsored the bill resulting in Act 7324, which commends Berry's years in service and names the Legislative Annex in her honor.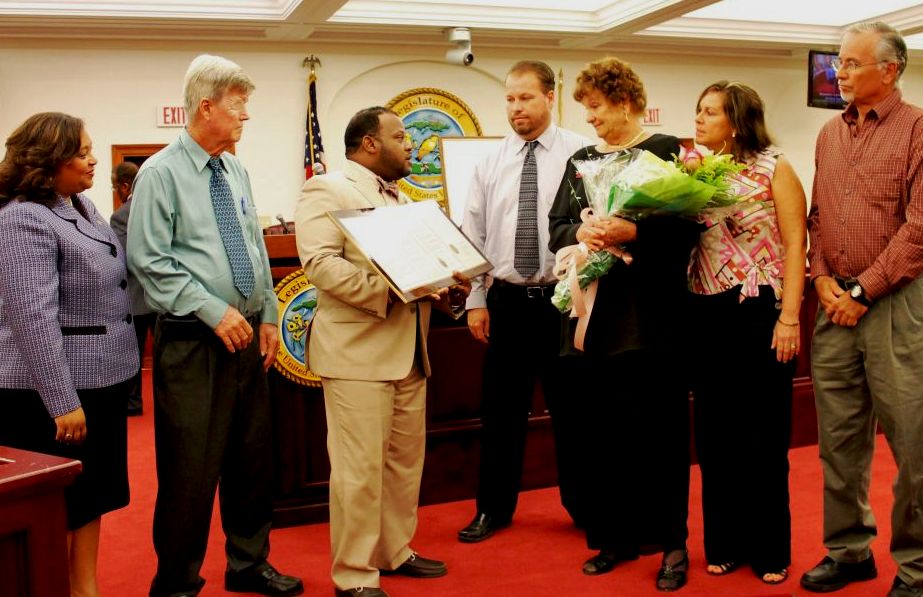 Former Sen. Iver Stridiron, who served with Berry, led the program, occasionally interjecting personal anecdotes of his dealings with Berry.
"All of us at the legislature had fun with Sen. Berry and her radio talk show," said Stridiron. "On her talk show, she would always say, 'The caller wants to know,' so she became known as 'the-caller-wants-to-know senator.'"
Stridiron was referring to Berry's famed regular radio show, the Lorraine Berry Report on WSTA, which always started off with what would later become known as her famous words, "This is Sen. Lorraine Berry, your humble servant, your voice of reason in the Legislature."
Stridiron said the talk show was Berry's way of answering her constituents' questions about pieces of legislation.
"Many people thought the questions were predetermined and the program was orchestrated," said James Francis, a close friend of Berry's. "But believe me, those questions came from the public, because her staff had to man the telephones, type up the questions and hand them to her in the studio in record time."
Francis, whom Stridiron described as Berry's "rock," said he is himself amazed at Berry's energy, which he said seemed to peak strangely around 5 p.m., when everyone else's tended to wane.
"I don't know where she got all that energy from, because by 5 p.m., I'm dead," he shared to a laughing audience. "She worked around a 10-to-15-hour weekday, including weekends."
Francis particularly commended Berry's spearheading a piece of legislation that allowed V.I. government employees to donate their sick leave hours to colleagues suffering from illnesses, especially if it was apparent that they could not use it themselves before leave credits expired.
"This is one of the pieces of legislature I feel very proud about," said Francis. "This seminal legislation had been extremely helpful to many families who would have experienced extreme economic and financial difficulties if not for this legislation."
According to Francis, when it came to legislation that Berry felt was important to her constituents, she had no qualms approaching senators from both the minority and majority in order to gain their support.
Berry's husband Richard spoke about her affection for St. John constituents, whose votes pulled Berry up from eighth place to sixth place on her first run for a senatorial seat.
"That's why she always had a special love for the people of St. John," said Richard Berry.
Lorraine Berry died on Jul. 19, 2010, at the Schneider Regional Medical Center after a brief battle with colon cancer.
Malone led a presentation of a bouquet of flowers to Berry's mother, Emelda Ledee. A plaque containing laminated copies of Act 7324 was also presented to members of Berry's family.
The audience was led downstairs to the newly named Lorraine L. Berry Legislative Annex for a brief unveiling of the signage.