The Senate Rules and Judiciary Committee gave favorable recommendations Friday to two nominees to the Nurse Licensure Board for St. Croix; a nominee to the Pharmacy Board for St. Croix; and a nominee to the Historic Preservation Commission of the Virgin Islands. The move on these four St. Croix board nominees comes on the heels of three nominees for St. Thomas board positions that the committee gave favorable recommendations to Thursday.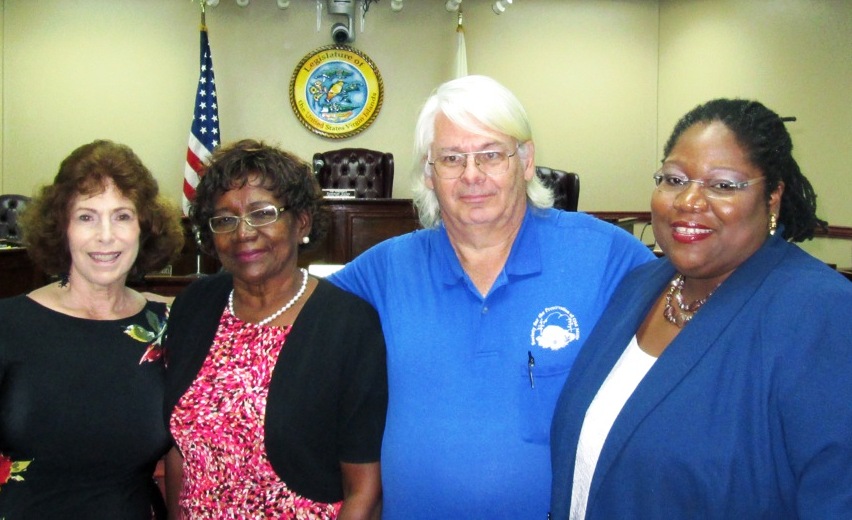 "I see no difficulties with any of the nominees," said Sen. Sammuel Sanes, setting the tone at the convivial hearing.
Laura Forbes, nominee for St Croix to the Pharmacy Board, received a bachelor's degree in pharmacy science with a minor in business administration from the Massachusetts College of Pharmacy in 1991. After passing the national and local licensing exams, Forbes worked in Virginia the next 14 years and then returned to the Virgin Islands. Since 2005, Forbes has been director of Pharmacy Services at the Gov. Juan F. Luis Hospital.
"My interest in pharmacy began in the sixth grade while watching a pharmacist, Jennifer Moorehead, work in the pharmacy at East End Clinic on St. Thomas," said Forbes. "I was mesmerized by her ability to decipher the physicians' chicken scratch and then proceed to type the labels, count pills and talk to the patients about their medicines. By the way," she added, "I mean typing the labels on a typewriter, as there were no computers back then."
David Hayes, nominee to the Historic Preservation Commission for St. Croix, served on the commission from 1988 to 1997 when he returned to college to get his master's degree in industrial archeology, which he received in 2000 from Michigan Technological University. Hayes has conducted a number of archeological surveys and has done several rehabilitations of historic buildings.
"As an archeologist, more than once I have come across land that has multiple owners and/or there has been no recorded change of ownership upon the death of the recorded owner," Hayes said, urging the Legislature to reform probate laws. "One loves one's family but issues of money can be divisive. No bank will loan money on a property with unclear title," he said.
Nursing board nominee Ann Doute received a master's degree in nursing from New York University in 1980, after receiving her bachelor's degree in nursing in 1975 from Hunter College, also in New York. She worked at Gov. Juan F. Luis Hospital from 1980 to 2006, and then at Herbert Grigg Home for the Aged from 2007 to 2010. She is retired.
Nursing board nominee Janzie Allmacher received her master's degree in nursing in 1991 from Herbert H. Lehman College of the City University of New York, a bachelor's degree in nursing in 1986 from the University of the State of New York, and she holds several specialized nursing certifications. Allmacher has chaired the University of the Virgin Islands nursing program since 2000 and is an honorary adjunct clinical nursing faculty member at Johns Hopkins University School of Nursing.
Voting yea on all the nominees were Sanes, Sens. Diane Capehart, Shawn-Michael Malone, Myron Jackson, Kenneth Gittens and Donald Cole. Sen. Janette Millin Young was absent.
The nominees will all receive final up or down votes when the full Senate meets in session Tuesday.