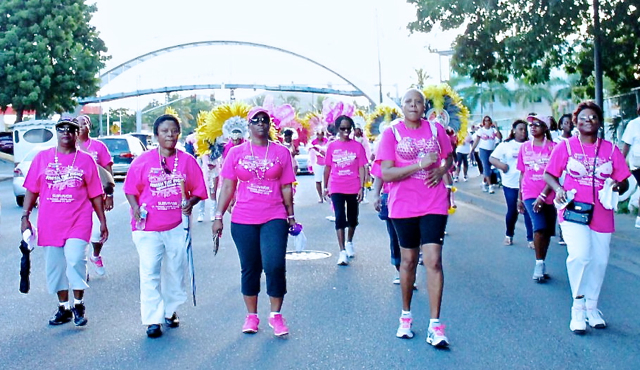 Veterans Drive was awash in pink Sunday as some 350 pink-clad marchers came out for the first Making Strides Against Breast Cancer event in the territory.
The parade portion of the breast cancer awareness event started at the Addelita Cancryn Junior High School, led by a V.I. Police vehicle that cleared all eastbound Waterfront traffic for the marchers.
Following right behind it, V.I. Fire Service officers gestured in a mixture of pride and amusement at their firetruck, decked in pink bows and ribbons.
The St. Thomas Majorettes were the first group of performers, twirling batons and showing off their pink-and-green costumes. They were followed by the Ivanna Eudora Kean Marching Band in their own pink uniforms, their clarinets, trumpets and trombones, providing rhythmic music for the marchers.
The Huggabunch carnival troupe, in full carnival attire, added extra color to the group.
Some 30 cancer survivors formed a solid group, distinguishable from the rest of the white-clad walkers by their dark-pink shirts. Many of the walkers adorned their white shirts with pink bras, festooned in rhinestones, feathers and laces, while some of the men could be seen with exotic pink ties.
All of the marchers' T-shirts bore the same battle cry: "Finish the Fight Against Breast Cancer."
Sunday's march was the territory's first local adoption of a national breast cancer awareness event, according to Lorraine Baa, executive director of the American Cancer Society's V.I. chapter.
"We used to partner softly with another group," said Baa. "But then we decided that we're going to go all pink, so this is our first year doing it."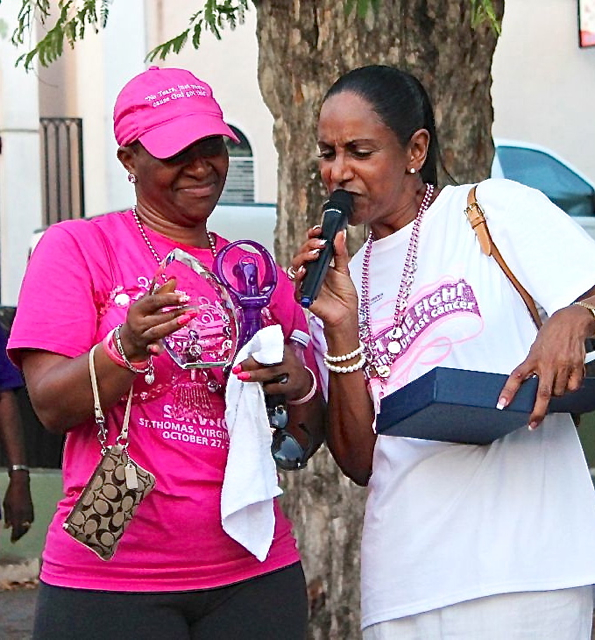 With mostly volunteer help from different organizations, particularly the local Alpha Kappa Alpha Sorority chapter, the ACS was able to organize their second major fundraiser for the year – after Relay for Life held earlier in the year – which raised money mainly through participant registration.
In its first year, according to Baa, Making Strides was able to engage more than 300 walkers, each contributing a $10 registration fee, plus those they have encouraged to voluntarily donate an additional $60.
Unlike "Relay for Life," individuals could register for Making Strides, instead of having to form full teams.
"We realized that we just had the Relay for Life in July," said Baa. "We didn't want to tax people, but, you know, every little bit helps."
Monies raised from Making Strides will go to providing free mammograms. As of October, according to Baa, ACS was able to give out 300 free mammograms, with more on the way, thanks to supporters of Making Strides.
Apart from fundraising, Baa emphasized that the main function of the event was to raise awareness about all forms of cancer, but in particular, breast cancer, which does not discriminate between sexes.
"We're making people aware of how very personal breast cancer be," said Baa. "Breast cancer is also prevalent in men, so we wanted to make them aware. It is all about breast cancer awareness."
Baa also expressed concerned about how the disease seems to attack an increasingly younger population, and what this means to the patient's immediate support group.
"What I have been seeing is more and more younger people are becoming stricken with cancer," said Baa, who told of a couple who came in with their 3-year-old, already a cancer patient. "Although we say that cancer is not a death sentence, it's very challenging for the family. They can end up spending over $200,000 a year. And god forbid, you don't have insurance."
The march ended at Emancipation Garden, where the David Monsanto Bandstand was transformed into a formal dining area for the cancer survivors
"No tears, just prayers," declared cancer survivor Raynette Cameron, who sported a custom cap emblazoned with the same words.
Cameron was diagnosed with Stage 2 breast cancer in October 2012, and has since gone through six chemotherapy sessions and 24 radiation treatments, an ordeal she described as the "worst burn you can get." She also shared a difficult decision faced by most breast cancer patients.
"Whether to remove both breasts or just do one," she related. "When they mentioned they had to take off the left side, I said to them, 'Take off the right side.'"
Cameron emphasized the value of a strong support group for cancer patients, thanking her own "Team Ray of Sunshine," family and friends supported her through the most challenging stages of treatment.
Because of this support group, according to Cameron, she could say, "I stand before you, cancer-free."
Baa agreed, pleased by the turnout of cancer survivors and their supporters, adding that this is the mission of ACS.
"What we try to do is make sure that somebody who is finding breast cancer, or any form of cancer, can celebrate another birthday," she said.