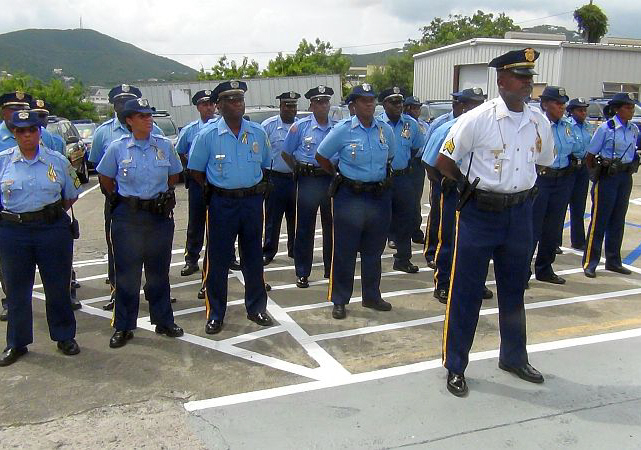 Earlier this month, a Memorandum of Understanding (MOU) between the government and V.I. Housing Authority led to the relocation of the Mariel C. Newton Command Station, which was officially reopened and re-dedicated during a ceremony Monday on St. Thomas.
The command station was located in Four Winds, but has moved to the Housing Authority's offices near the Seventh Day Adventist School in Estate Anna's Retreat. The MOU includes a lease for the new location and stipulates that the V.I. Police Department rent space in other communities run by the Housing Authority for the purpose of "implementing community policing" initiatives geared toward reducing "crime and crime related activities."
During Monday's ceremony on St. Thomas, V.I. Housing Authority Executive Director Robert Graham said the new partnership with VIPD would initially yield a "more productive, more vibrant and indeed safer" Tutu community. The new building is 3,717 square feet and will, according to speakers, allow police to be more accessible, visible, and provide a better response during emergencies.
"The police will be visible in Tutu High Rise – our police will be seen on the ground, in the common areas, in the buildings, during inspections and will be identifying problems with residents and site staff, and working toward solutions," Graham said, referring to the Hidden Valley community that police have described as a "hot spot" for crime in the Tutu and Anna's Retreat areas.
Graham said that police will be using surveillance cameras, and will be relying on information from concerned citizens along with tips from Crime Stoppers while working the area.
"To our Housing Authority staff, the police will be there, working with you and the residents to change the climate of fear into a climate of improved safety," Graham added. "And at the heart of our community policing strategy is also creating a climate of communication between the police and our residents."
While Graham said that the police's presence in the area would help facilitate the creation of a neighborhood watch program in Tutu, Lieutenant Gov. Gregory R. Francis added that officers patrolling the area would also be able to work more with the neighborhood youth and help build programs, such as Weed and Seed, that are run within the housing communities.
"I challenge the men and women in blue: work with young people in public housing," Francis said. "We need to take charge and talk to them, instill basic behavior, and use our authority to make the changes we need – any minor infractions you see, this is the time to correct them, to talk to our youngsters about them."
Francis and Police Commissioner Rodney Querrard Sr. added that residents within housing are often labeled as "troublemakers," but said that entire communities should not be written off because of "a few bad apples."
"If we don't make a difference now for the younger generations, we will all be losers in the end – and that's why we're here today," Querrard said. Francis, meanwhile, said the Housing Authority will be branching out on St. Croix by helping to bring in a Boy Scout cadet unit into the William's Delight and John F. Kennedy communities.
Wrapping up the ceremony, Gov. John deJongh Jr. called attention to the command's namesake, Mariel C. Newton.
Newton, whose family was present at the ceremony, became the territory's first female officer in 1948. During her 16 years on the force, she organized the first Police Athletic League, organized the School Safety Patrol and helped establish a local youth center, and was tapped or invited to attend several national conferences on youth and juvenile delinquency.
At a time when the local community has been seeing another upswing in violence and gun-related crimes, deJongh said the rededication of the command center in Newton's honor was "timely."
"And, as we went back and forth on this MOU, we wanted to make sure it was not just something for public relations purposes," deJongh added. "We wanted to make sure that each and every clause would result in action being taken. We wanted to make sure that we had enough officers to do what is necessary, and that we had the resources to help them do what is necessary."