The challenges continue but successes also abound at Ivanna Eudora Kean High School, according to Kean Principal Sharon McCollum, who spoke at Rotary St. Thomas East's meeting on Wednesday.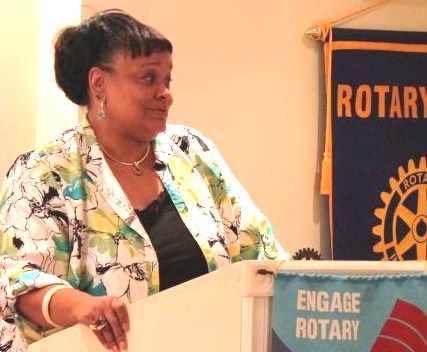 A small group of 10 Rotarians gathered at Bolongo Bay Resort and listened intently as McCollum proudly outlined Kean's successes in the last couple of years.
One of the more striking accomplishments is the school's consistent and dramatic increase in the yearly total of scholarship money received by Kean graduates. When McCollum took the principal post in 2003, Kean was receiving scholarship funding somewhere between $300,000 and $500,000.
"I pretty much gave marching orders to the counselors and teachers that we have to significantly improve that," McCollum said.
By 2012, Kean graduates received a total of $4 million in scholarships. The class of 2013 received $4.5 million, she said.
"I am never satisfied that we repeat what the class before has done," she said, adding that the new class had orders to break $5 million. "And I'm pretty sure that they will do it."
Kean's nationally recognized aquaponic farm, based on a system developed by the University of the Virgin Islands in St. Croix, also made the list of school successes.
The program, which began in 2012 with a $22,000 funding from the Legislature, caught the attention of first lady Michelle Obama, and was featured on her Let's Move blog as part of her campaign to raise a healthier generation of children.
McCollum also talked about student successes, including Kean's JROTC Program cadets who were among the finalists in the Academic Team competition of the JROTC's Junior Leadership and Academic Bowl (JLAB) in June. The Kean team was among the 24 out of the 1,731 JROTC teams that competed in the 2013 academic bowl division of the JLAB.
"Our reward is seeing their success," McCollum said, relating how she told the JROTC team that they are winners just by being finalists in the Army's nationwide leadership competition.
McCollum mentioned Kean teacher Faye Richardson, who was honored as St. Thomas-St. John District Teacher of the Year. Richardson, a Kean graduate, has taught at Kean for 26 years, and currently teachers Virgin Islands history and advanced placement psychology.
Speaking about challenges, McCollum emphasized that Kean's major challenge at this point is not so much fiscal as contractual.
"We have staffing challenges across the board," she said, explaining that in addition to teachers in different areas, the school also needs volunteers to compensate for the absence of two librarians, one who found employment outside the territory and one who is temporarily on sick leave.
While widespread cuts in funding across government agencies take their toll, according to McCollum, she will not know the exact appropriation figures for Kean until the 2014 fiscal year kicks in on Oct. 1.
When asked about her wishlist for the high school, McCollum responded that the list changes because the school is "a fluid situation."
"But my wish is that relationship with Rotary never ends," she added. "All of the other things will come. It's the relationship that's important, because it will bring the things that are beyond that list."
McCollum and Rotary East are not strangers to each other when it comes to collaborative efforts. Kean High School was adopted by Rotary East in 1992, and McCollum began working with the Club in 1995, when she was just assistant principal.
One of the major Rotary projects at IEKHS is the arboretum, a forestation project of a one-acre stretch of land on school grounds.
"My house overlooks the school," said Rotary East administrator Leslie White. "I would always look out at that bare yard out there and say, 'We really need some trees.'"
At the time, Rotary East was considering options for a centennial project that would be physically visible in the community, per Rotary International guidelines. Rotary East took on the arboretum project, which began in 2004 through Rotary International's Urban Forestry Grant.
As a result, Kean has "one of the most beautiful campuses in the territory," McCollum said.
Another priority of her administration, McCollum stressed, is linking the school to the community."We tried to build as much of a relationship as we could," she said. "You don't need to make an appointment to see us; just come. And you don't need catch us when we're good because we're good everyday."
In challenges and successes, McCollum applauded her administrative staff, who "pretty much work around the clock, seven days a week," working with the students during regular work hours and dealing with management matters after hours.
"But we have to do this," she said. "We are the light at the end of the tunnel and, for many of these children, the hope and the path beyond what their circumstances are."