In quiet ceremony Tuesday, Gov. John DeJongh Jr. signed a memorandum of agreement with the St. Thomas Historical Trust that would allow the restoration of some historic structures on St. Thomas and Hassel Island.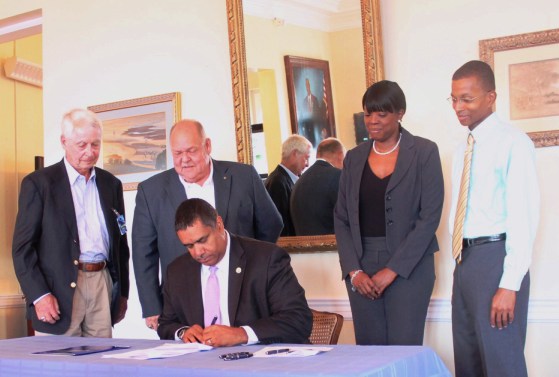 The agreement, signed in front of some 15 people at Government House, clears the way for the Historical Trust to perform repairs and restorations on historic sites that fall within V.I. government property, including Fort Christian on St. Thomas and three sites on Hassel Island.
"We have lots of people who want to help do it but, without the agreement, we cannot do it," said Ronald Lockhart, president of the Historical Trust.
The agreement was forged through Department of Planning and Natural Resources, which, according to DPNR Commissioner Alicia Barnes, is mandated to preserve the territory's built cultural and historical environment.
"This public-private partnership with the trust moves forward in fulfilling that mandate in a very real and tangible way," Barnes said.
Hassel Island sites included in the Historical Trust's list are Fort Willoughby, also known as Prince Frederik's Fort, and the Garrison House, which is currently undergoing roof restorations. Both sites were sold to the V.I. government in 1977 under conditions that they be maintained as historical monuments available for public access and that they become part of the territorial park system.
Some cleanup and securing work was also done at Creque Railway, Lockhart said.
In the near future, the Historic Trust hopes to work on Cowell's Battery, according to Charles Consolvo, head of the Historic Trust's Hassel Island Task Force. Cowell's Battery, which sits at the island's southern end, was deeded to the V.I. Port Authority.
The agreement on Tuesday also allows Historical Trust to work on Fort Christian, a National Historic Landmark. The Fort Christian Conservation and Stabilization Project began in 2005 but had to stop because of difficulties in contract administration.
Both the Historical Trust and the government hope that the new agreement would facilitate minimum repairs to the visitor service areas, which would make Fort Christian safely accessible, allowing residents and visitors to visit the site and view restoration work at the same time.
"Fort Christian, everyone knows, has been waiting for someone, I guess, to come along and help out," said Lockhart. "Pretty soon we hope to have it open up so we can have visitors and locals alike using the fort, seeing the things that we were able to when we were younger."
The Historical Trust emphasized that restorative work on historical sites was already afoot before the Tuesday agreement. Lockhart recalled the trust's 2006 collaboration with the National Park Service, owner of about 95 percent of Hassel Island, which resulted in the clearing of tourist trails and the stabilization of historic structures.
"We did start work out on the point," added Lockhart. "We secured a building so it wouldn't slide down to the sea. We shored it up and did some restorative work on it, or we would not be able to reconstruct it."
Historical Trust already executed some restoration at Fort Christian including that of the familiar clock on the building's façade. With donated material from Hughes Electric and labor funding from A.H. Riise, Historic Trust was able to get the clock working.
When asked when Fort Christian might actually be opened to the public, Lockhart answered, "This is just the first day, but hopefully as soon as possible. By the end of the year, I trust, we will be able to get at least some tourists going through there."