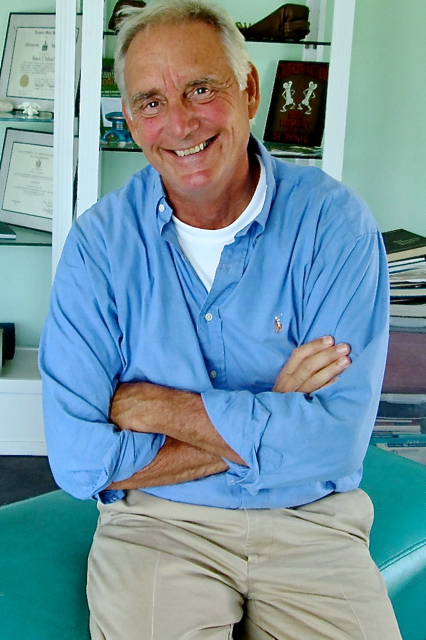 With a stellar view and equally wonderful tropical breezes, Dr. Robert DeBonis' chiropractic office, The Island Life Chiropractic Center provides a relaxing environment for healthful care.
"One with nature," DeBonis, 63, said.
The focus at his center, situated at Cocoloba Shopping Center in Coral Bay, is to restore and maintain the health of individuals by fixing minor misalignments of the spine.
"When a body is functioning correctly, that is the definition of health," he said.
Coral Bay is a far cry from DeBonis' previous Upper West Side New York City practice, but DeBonis said the problems his patients face are the same.
"Construction workers, little children that fall, car accidents, workers who sit in front of computers far too long," he said.
He said he does see the occasional tourist who overdid it on the windsurfer, and some of his New York patients book an appointment during their St. John vacations.
He was born in New York City, grew up in Queens, and graduated from Queens College with a bachelor's degree in psychology and education. While working on a master's degree in childhood development at Queens College, he said he was advised to change careers because he wouldn't find a job except to test students so they could be pigeonholed into a "system that doesn't work."
DeBonis said his own chiropractor urged him to try that field. He did and graduated from New York Chiropractic College. He said he and two classmates immediately opened the Upper West Side practice, where he stayed for 28 years.
"We had a burning desire to serve people and became an instant success," he said.
Along the way, he served 15 years on the New York State licensing board, with two of those spent as chairman. And after the Sept. 11 attacks on the World Trade Center, he said he worked at getting volunteers from around the country to provide chiropractic care for those at Ground Zero.
He and his wife of almost 40 years, Susan, started visiting St. John in the late 1990s to get some relief from New York's cold weather. He said he had been in a horrific car accident, and the cold weather made the effects of his injuries worse.
The couple, who have three sons and two grandchildren, went on vacation to St. Thomas, visited St. John on a day sail and joined the timeshare presentation at the Westin Resort and Villas. They were hooked, eventually buying a house and then another house in the Coral Bay area.
In April 2006 they made the move permanent. After taking a few years off, DeBonis just about replicated his New York lifestyle by practicing in three different locations in St. John and St. Thomas. After his wife asked him if they moved to St. John to be as busy as they were in New York, he opened the office at Cocoloba.
"I see a few patients a day. It's very laid back," he said.
There have been adjustments. He said there's the factor of three when it comes to accomplishing tasks. It might require three times the time, three times the effort or three times the money, it all takes more than it does in the states. For example, he said, he waited months to get a telephone.
And he said that since he only works part time, he makes the effort to stop what he's doing to open the office for patients who made an appointment, only to have them not show up.
"That's somewhat frustrating," he said.
He said he likes the equality he sees on St. John. He said the people sitting on either side of him at a bar might be clad almost identically, in shorts, a T-shirt and flip flops. But one of them might be a millionaire and the other a "guy who sleeps on his boat."
"People are willing to accept each other," he said.
He's gotten busy in the community, attending public hearings, working on the island's aluminum-can recycling program, speaking at the Coral Bay Job Club, and serving on the board of the Coral Bay Community Council.
DeBonis has also settled into the St. John lifestyle. He said that while the island is beautiful and he takes advantage of the ease of exercising, it's the people who live on St. John who make it special.
"People ask how you're doing and they really mean it," he said.
DeBonis can be reached at 1-340-626-0000.