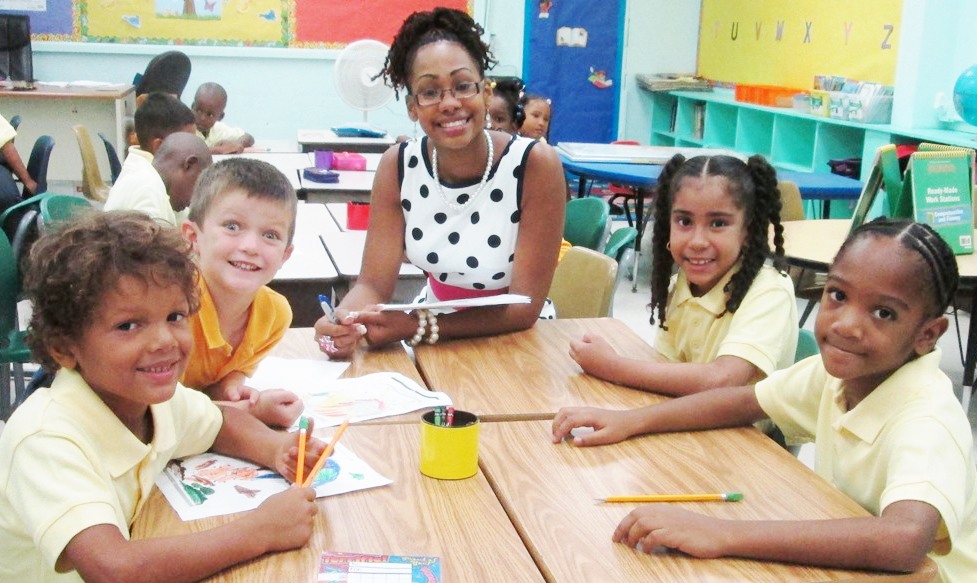 Tuesday was a day of promise and anticipation as students and teachers at St. John's two public schools returned to school after summer vacation.
"I love their energy," said Kamilah Johnson, a newly minted first-grade teacher at Julius E. Sprauve School.
A University of the Virgin Islands graduate who said she always wanted to be a teacher, Johnson said she was ready for the school year.
There was an air of enthusiasm at both schools as students caught up with old friends and eyed those who could become new ones.
"I love the excitement of them coming back and hearing the kids chatter," said Sprauve clerk typist Ivy Scatliffe-Lyncoln.
At Guy Benjamin School, third-grade teacher Brenda Brown said she was happy school was up and running again. She acknowledged there are always challenges but said there were lots of positives.
"Most of what I see are kids eager to learn," she said.
Sprauve has 282 students and Guy Benjamin has 59.
Sprauve School Principal Dionne Wells will oversee activities at both schools until Guy Benjamin Principal Brenda Dalmida returns from sick leave. Wells said she'll spend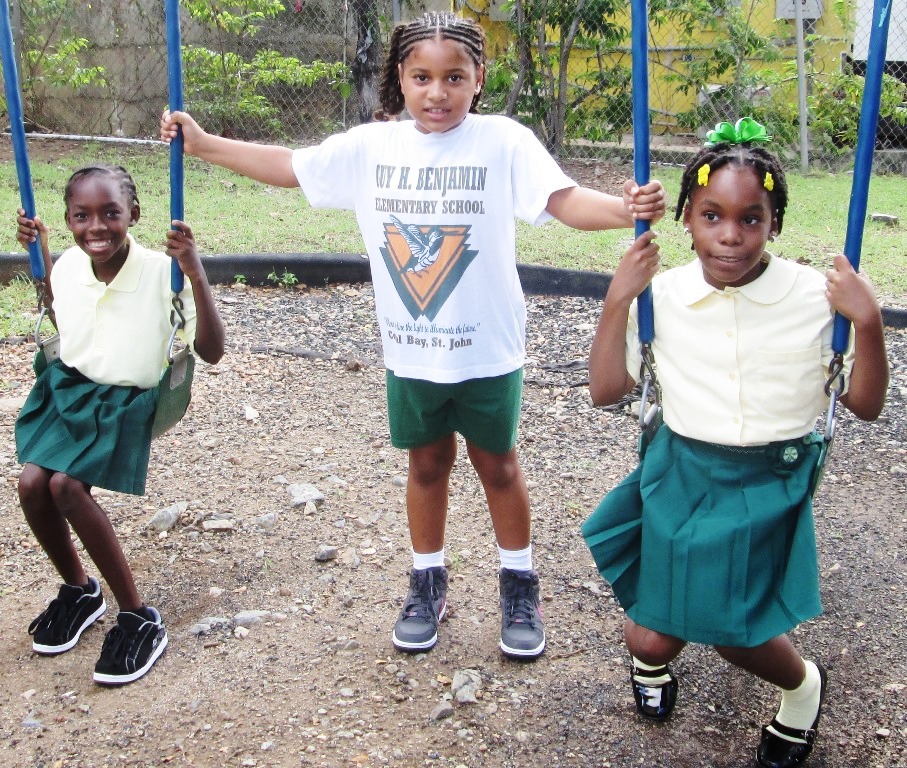 Monday and Wednesday mornings at Guy Benjamin with the rest of the time at Sprauve.
She said there are a few minor maintenance issues and some teacher shortages. Wells said both schools do not have special education teachers and elementary Spanish teachers. There was no secondary math teacher at Sprauve, but Wells said she did some "restructuring" and reassigned another teacher to that spot. Both schools are also missing nurses, but Wells said firefighters, whose stations happen to be adjacent to both schools, tend the students when the need arises.
At Guy Benjamin, the small number of students enrolled in kindergarten and first grade – as well as a last-minute departure of Sprauve's second-grade teacher – pushed the Education Department to consolidate kindergarten and first grade at Sprauve. One former Guy Benjamin teacher is now at Sprauve.
Wells had strict words for students and parents who attended a welcome assembly at Guy Benjamin. She told the parents to make sure the contact number worked because there were times when the school needed to call parents only to find out the number was not working.
As for electronic devices in schools, Wells said that they will be taken away if students use them during the school day.
"When you come to school, you come to learn," she said.
Bus behavior is another big issue. She said she was "appalled and shocked beyond words" when she watched a video of St. John students on the bus. She said they were out of their seats, using profanity and eating on the bus.
Guy Benjamin parent Keiva Rogers said her daughter, 8-year-old Kevanuan Matthew, was excited about the chance to ride the bus from Cruz Bay to Coral Bay.
"I've done the safety rules with her," she said.
At Johnson's Sprauve kindergarten class, Tyree Mercer, Aidan Ewell, Yoanna Ojeda and Phari Hubert were sitting at one of the class' small tables. When asked what they expected to learn this year, they had a plethora of answers.
"Everything," said 5-year-old Aidan said.
His classmates had responses like learning anything, listening and pictures.
Eighth-graders in Phoebe Smith-Charles' computer class were enthusiastic. Darcaja Thomas, 14, said she planned to study hard so she could graduate and go to high school. Lion'ess Bruce, 12, said science was her favorite because she likes to mix chemicals together. Kamica Bell, 14, said she wanted to be either a marine biologist or a wedding planner.
As school started for the 2013-14 year, there was a smattering of fathers among the mothers who brought their students to school for the first day.
"We want to know what your daughter is up to and what she's up to every day," said Bas Coppens, whose daughter, Kim, is in Guy Benjamin's third grade.
Jeh Roberts was on hand with his daughter, second-grader Roshan Kalantarian, and said he had high expectations for her Guy Benjamin education.
"I want for her to grow into a respectful human being with strong self-esteem," he said.