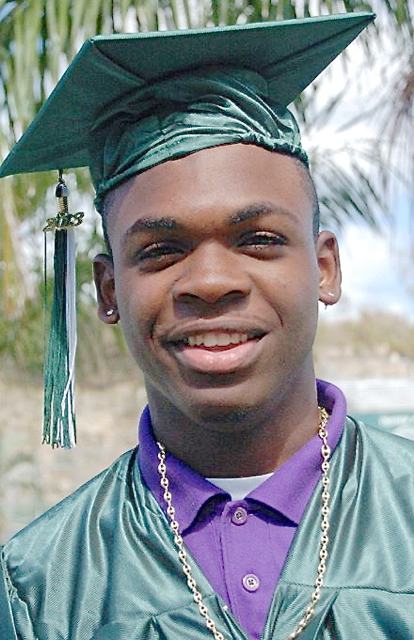 A few months ago, Careem Albert, 18, was Gifft Hill School valedictorian, culminating a school career where he knew everyone and everyone knew him. Now he's on a big campus and "a nobody."
But that won't last long. Albert has a bright future planned for himself.
"I want to be an entrepreneur one day. I want to be my own boss," he said.
Albert is studying business administration at the University of Tampa in Florida, a big change from Gifft Hill School.
"I'm ready for a new challenge," he said.
He worked hard, kept the faith and never gave up to be the first in his class.
"I'm also smart," he added.
While he doesn't know the direction his life will take once he's done with college, but Albert said he plans to remain in the states, probably the Orlando area, because he has family there.
"I like Florida because it's not cold," he said.
There are differences between Florida weather and St. John's, he said. Both are hot, but St. John has a breeze. He said that's not the case in Florida.
He'll also make frequent trips back to St. John to see his mother, Helen Jones, and sisters, Deniesha Davis, 21, Sheniqua Davis, 19 and Deshawana Davis, 12.
His mother is very proud of her son. Jones said she wanted him to go to the University of the Virgin Islands so he'd be closer to home, but Albert was determined.
"He set his mind to do what he wanted to do," she said.
She said that her son saw the less desirable paths that some of his classmates at Guy Benjamin School followed, and he was determined not to do the same. Jones said Albert never gave her any problems.
And he plans to give back to the community. He said he hopes to set up a scholarship fund to help others the way scholarships helped him. He said with a scholarship to Gifft Hill, he wouldn't have attended school there. He also has scholarships, including the $1,000 Board of Education Scholarship given to all valedictorians, to help defray college expenses.
Born at Myrah Keating Smith Community Health Center on St. John, Albert went to Guy Benjamin School in Coral Bay until he was in the sixth grade. He switched to Gifft Hill, where he said he found the first year tough. He said private school was a "whole different scenario" than public school.
Thanks to help from the Gifft Hill teachers, he thrived. However, there were issues along the way, including the death of his best friend, Nekwan Sprauve, from sickle cell anemia while they were in the ninth grade. And in the 12th grade, his grandmother, Marcella Jones, died of cancer.
Gifft Hill opened doors for Albert, and he said an eighth-grade class trip to Washington, D.C. was the first time he had been anywhere other than Florida.
The school's guidance counselor, Meghan Duffy, said Albert endeared himself to every student and adult at this school and in the community.
"His intellect is a given, but it is his character that will forever stand out. His even-keeled nature, the respect he shows everyone whose path he crosses, no matter their walk of life, his quiet, powerful ability to lead, his 'cool under pressure' approach," Duffy said.
School years were busy for Albert. In addition to his studies and playing basketball with his friends, he worked at the Lime Inn restaurant in Cruz Bay. He got the job by knocking on the doors of various St. John businesses, and lucked out with the Lime Inn.
He said he started as a bus boy but when the salad chef quit, he worked two days a week busing tables and two days as the salad chef.
"It was school and work," he said.
He did have time to spend with his girlfriend of three years, Shavoni Chichester, and made good friends at Gifft Hill. He said he and his seven senior classmates plan a yearly reunion trip.
"The first trip will be to California," he said.