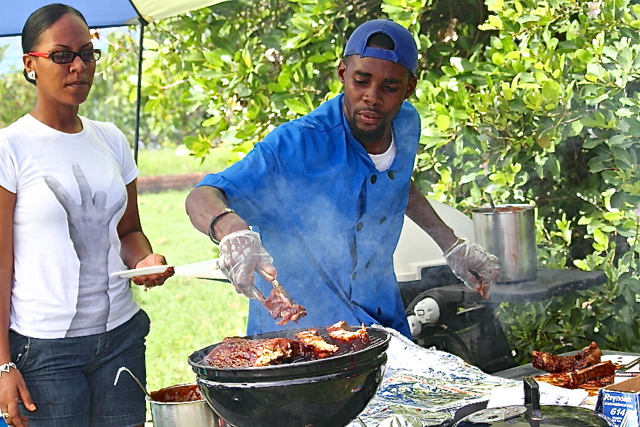 Chris Jordan, representing Hotel St. Croix, was crowned St. Croix's king of pork Sunday at the annual Krewe de Croix rib cook-off at Above the Wall.
A sizable crowd gathered on the North Shore to sample the island's best rubs and sauces. Chefs from eight restaurants worked feverishly at their grills, flipping fat racks of meat over smoking coals. With every juicy plate of ribs the chefs served up stories as well, telling the curious where they came across their prized recipes.
Crista Baker, representing Pirate's Tavern, bathed her baby back ribs in bourbon apple butter barbeque sauce.
She said the recipe was passed down from her grandmother who owned an apple orchard. She said she thought apple butter – a fall staple in her home state of Ohio, but a rarity in the Caribbean – would make her ribs stand out.
"We figured we were going to see a lot of local fruit – a lot of tamarind, a lot of mango, a lot of passion fruit – so I figured I'd bring something from my home state," she said.
Jamal Miranda from Rum Runners, on the other hand, made a splash by tackling a unique ingredient that even he had little experience with. Throughout the afternoon, his tent was packed with curious patrons wanting a taste of his alligator ribs.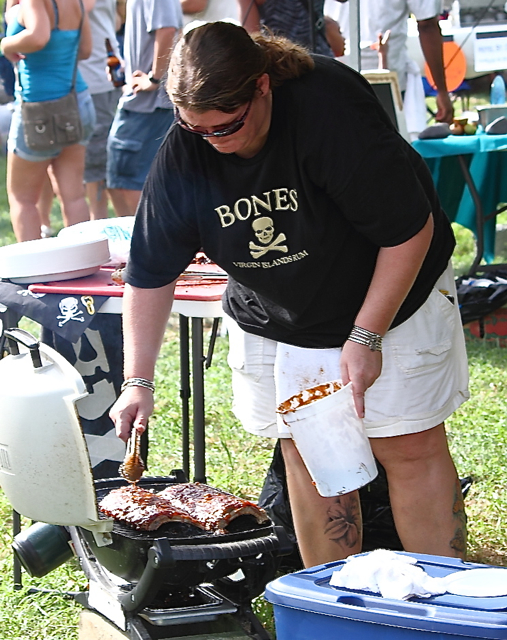 Miranda, last year's champion, said he felt like he needed to "step up my game a little" if he was going to pull off a repeat. He brined the Florida-raised gators for several days to tenderize the meat and then finished them off with a Caribbean spice rub.
The gator ribs went fast and Miranda, all smiles, seemed happy with the splash he made in the competition.
"I had to defend my title," he said.
For Jordan, his ribs were the culmination of a quest.
He said that as a young man he had sampled ribs from barbecue joints all over Texas, but none compared to the City Market Barbeque in the little town of Luling. The taste stuck with him.
"I've been trying to replicate the dry rub and the sauces they serve there most of my adult life," he said.
Jordan said he thought his current recipe, a 14-ingredient dry rub, was pretty close.
"This is the final and hopefully award winning incarnation," he said.
At the end of the cook-off, Jordan got his wish. The votes were tallied and his ribs won the day by a comfortable margin.
Maria's Cantina took second place and Blue's Back Yard Barbecue came in third.
The event was hosted by the Krewe de Croix and proceeds go towards putting on the organizations other annual events, like the Mardi Croix parade and the boardwalk dog parade.
A raffle was also conducted to raise funds to purchase an automated external defibrillator. Val Stiles, a member of Krewe de Croix, said there was no such device in the popular tourist area of the North Shore east of the Carambola resort. The AED would be stored in the Cane Bay area.
Stiles said she was happy with the turnout of cooks and attendees. Asked why the event always proved to be a popular fundraiser, she gave a simple and honest reply.
"People love ribs," she said.