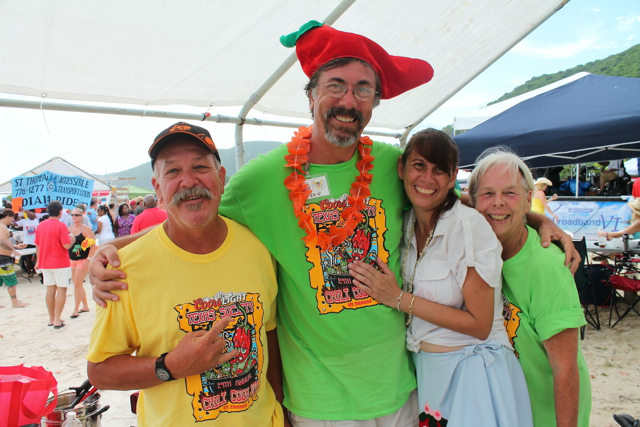 About 5,000 people packed Brewer's Bay Beach Sunday to cook chili, sample chili, or just chill as the Texas Society held the Virgin Islands' 29th Annual Chili Cook-off.
Cook-off organizers said the crowd made the cook-off the second largest event on St. Thomas, trailing only Carnival. The entire stretch of beach accommodated white-topped chili tents, set up by participants as early as 6 a.m., and a stage for live performers, including Becca Darling and 13-year-old violinist Alana Davis.
This year, about 70 cooks signed up to have their recipes tested. Separated from the crowd, 90 judges spent four hours critiquing chili in numbered cups, following a strict set of criteria in a double-blind judging system.
The cook-off was split into two major categories. The Chili Appreciation Society International (CASI) category is open to local and visiting entrants. The CASI category winners get trophies and CASI points that can help them move toward the international CASI competition.
The Local/St. Thomas category is further split into four: beef, vegetarian, large showmanship (for groups of 10 or more) and small showmanship (for groups nine or fewer.) In addition to trophies, local winners share a pot of $20,000 dollars worth of prize certificates donated by local business, ranging from gas to haircuts to jewelry.
Locals chili cooks who get the highest ranking in the CASI category also get free airfare to San Antonio, Texas, to represent the territory at the Terlingua International Chili Championship in November.
Betsy Sheahan, of the iconic Betsy's Bar, whose colorfully decorated stall won in the showmanship category for eight years in a row, not only offered chili samples but also danced and strutted with her customers.
The cook-off continued to attract chili cooks from afar. Texan Ron Baker won a trip to this year's Chili Cook-Off by besting more than 150 chili cooks at the Cowtown Chili Pod at Forth Worth, Texas.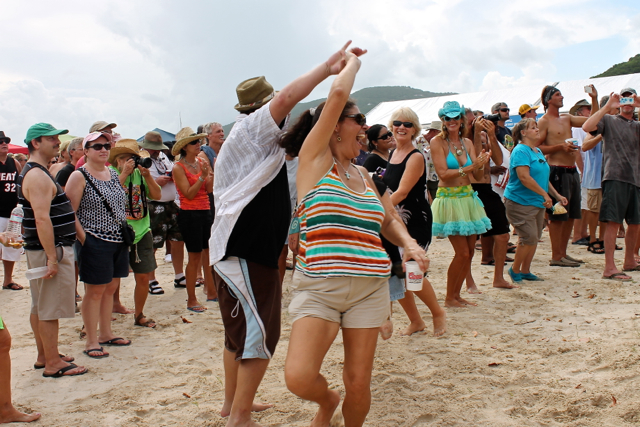 When asked how Virgin Islands chili compared to Texan chili, Baker responded, ""We make our chili a little spicier than the ones I've been tasting today."
In a chili competition that included a chocolate-and-coffee-flavored variety, differences in opinion abounded. Baker, who comes from a state that had chili cook-offs on a weekly basis, readily commented on what makes really good chili.
"It's really the smooth consistency of meat and gravy," he explained. "You have to get it almost perfect to win a competition. You have to do it just right: smooth gravy and meat, no lumps and no vegetables."
Baker later bagged first place in the CASI category.
Amid the throng, head organizer Erik Ackerson recalled the first St. Thomas chili cook-off, which was little more than a group of 20 people gathered in a North Side backyard. Storm damage attracted construction crews to the island, he related, many of them from Texas.
"As Texans have a reputation of, bragging ensued," reminisced Ackerson. "So many people came that it got so popular that the next year they hosted it at a popular beach at Compass Point."
By the third year, the first cook-off organizers decided to adopt Queen Louise Home for the Aged as their first beneficiary. As the chili cook-off swelled in popularity, the number of beneficiaries also increased.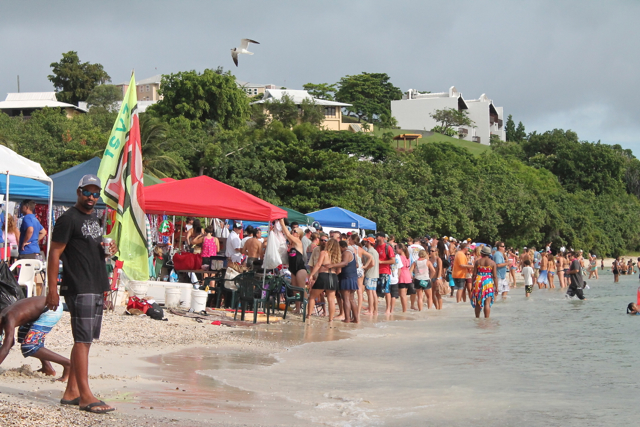 Ackerson drew attention to his team of roughly a dozen dedicated volunteers, including 20-year veteran volunteer Lori Abbots and Kandi Brewer, who still flies in to volunteer for the annual cook-off despite having moved to New York three years ago.
"I've got people here as directors who haven't gotten paychecks in six months," he said. "They show up every day and they're here right now."
Abbotts, who later won second place in the CASI category, summed up the essence of the big annual event: "It's all about the local charities."
Ackerson agreed.
"I cry every year when I write checks," he said. "It's very emotional. When we write checks, it makes our day. We're saving lives, bettering people's lives. That's what it's all about."
Winner of the 29th Annual Chili Cook-Off are:
CASI – Chili Appreciation Society International Category:
First place: Ron Baker
Second: Lori Abbotts
Third: Rob Carlin
Fourth: Wendy LaFranchise
Fifth: Heidi Erwig
Sixth: Shay Brittingham
Seventh: Jim Jamison
Eighth: Doug Stewart
Ninth: Donald Pomeranz
Tenth: June Wyatt
Local Beef Category:
First Place: Ric Weaver
Second: Lori Abbotts, STT.
Third: Heidi Erwig, Water Island.
Fourth: Rob Carlin
Fifth: Erik Ackerson
Sixth: Gregory Sumas
Seventh: Donald Pomeranz
Eighth: Trish Hardy
Ninth: Kat Cashion
Tenth: Mathayan Vacharat
Local Vegetarian Category:
First Place: June Smith Wyatt
Second: Ben Currence
Third: Leah Watson
Large Showmanship Category (Groups of 10 or more)
First Place: Betsy's Bar
Second: Hooter's
Third: Biker John Galeano
Small Showmanship Category (Groups of 9 or fewer)
First Place: Pinups in Paradise's Peppery Perfection
Second: RIP
Third: Dr. Mark Livingston Chili