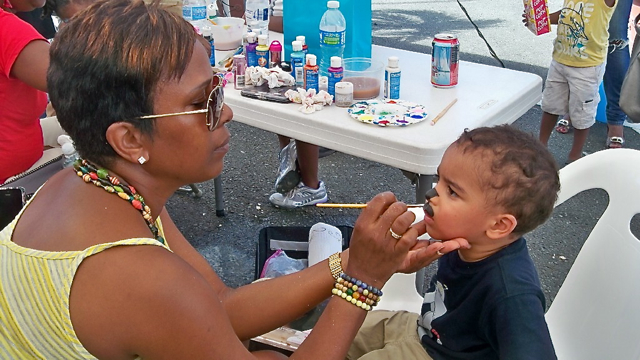 Kids got one more shot at some summer fun Saturday before heading off to school in two weeks, thanks to the sisters of the St. Croix Alumnae Chapter of Delta Sigma Theta Sorority, who held a Kiddie Carnival in La Grande Princess.
"We wanted the kids to have a fun time before they go back to school," chapter president Desirée Illidge, said. "We wanted to end the summer in a fun way. We always hear the outcry that there isn't enough here for kids to do."
A lot of children aren't fortunate enough to go to Disney World or go on vacation, she said, and the carnival was one way for the group to give back to the community.
There were plenty of activities for the local youngsters to participate in.
The Lyme (Old Nissan) parking lot in LaGrande Princesse was full of blow-up bouncers and a blow-up maze. The National Guard provided a huge slide bouncer that appeared to be a big attraction.
"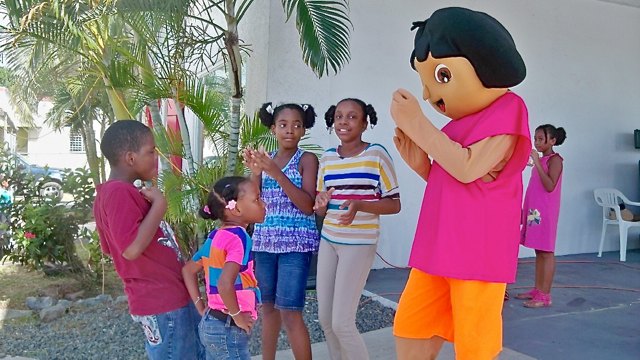 I like the big slide the most," 10-year-old Aaron Connor said. "It's been a lot of fun here."
The sun and heat was intense Saturday afternoon, but there was plenty of shade under tents.
The children decorated their own cupcake with colored sprinkles, jelly beans, gummi worms and marshmallows. Dulce Cupcakes and Sweet Freedom provided the cupcakes.
Laurnelle Gordon, 11, said her favorite activity at the carnival was the cupcake decorating.
Kids of all ages played games, including musical chairs, musical squares and a lime and spoon team relay race. The children won movie tickets and IHOP gift certificates.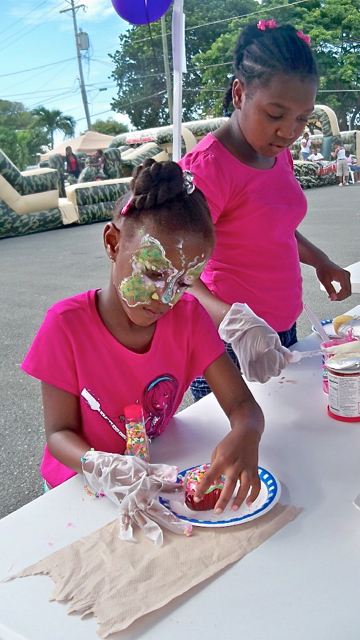 Of course faces painted and there was music for dancing. Like most carnivals there were balloons, cotton candy and popcorn. Dora the Explorer was there dancing and cavorting with the children.
"I loved the bouncers," Pearla Lloyd, 10-years-old said. "This was a fun thing to do today."
Students from St. Croix Educational Complex, St. Croix Central High School and St. Joseph's High School helped out and earned community service hours.
Adults paid a small entry fee and children were free. There was food and drinks for purchase. Petra Matthew, sorority member at the entrance, estimated around 200 people attended.
"This was fun and gave us something to do today," local mother Gianna Schjang said.
Sponsors of the carnival were, One Love Gas Station, Plaza Extra, Cruzan Environmental Services, V.I. National Guard and Gentlemen of Jones.
Proceeds from the carnival will go towards the sorority's annual Rita Weber Scholarship Award and programs benefiting youth in the community. Illidge said they give two $1,500 scholarships to deserving senior girls graduating from public or private schools.
The sorority hosts events and specialty programs focused on children. Its signature programs, the Delta Academy and the Delta GEMS, are designed to educate and mentor young girls by preparing them for leadership roles in the future. The newly initiated EMBODI program will focus on mentorship training for young boys.
The sorority was founded by 22 women on the campus of Howard University 100 years ago. It has a sisterhood of more than 250,000 predominately black college educated women committed to public service with more than 900 chapters worldwide.