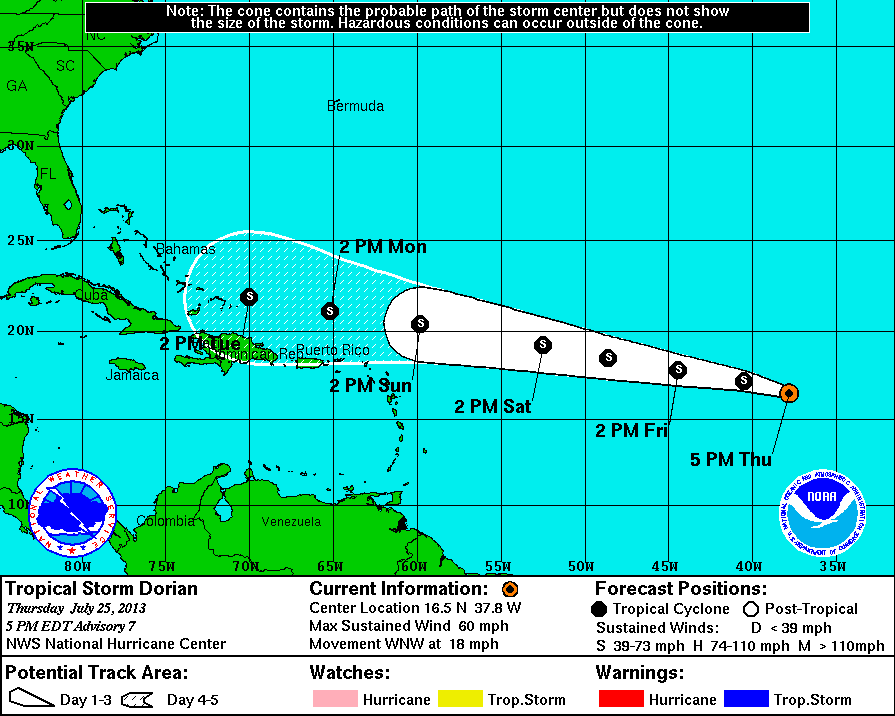 Tropical Storm Dorian is blowing at 60 mph, up 10 mph since its formation Wednesday, but the storm's track has inched a bit to the north. Forecasters now think the storm's center will pass about 180 miles north of St. John around 8 a.m. Tuesday. Tropical storm force winds extend outward 60 miles from the center.
Dorian's predicted northerly track doesn't mean the territory will get off Scott free, however.
"Twenty miles per hour of sustained winds is not out of the question," meteorologist Walter Snell at the National Weather Service in San Juan said Thursday.
He said it's likely the territory will see some rain and possibly thunderstorms.
However, Snell said Dorian is pushing an envelope of moist air ahead of it, so the territory should start to see showers Sunday afternoon.
And since the storm is several days away from the area, the situation can still change.
The real path won't be known until its closer to 50 or 55 west longitude, Snell said.
As of the 5 p.m. update, Dorian was centered at 16.5 degrees north latitude and 37.8 degrees west longitude. This puts it 1,742 miles east of St. Thomas.
The storm is moving west-northwest at 18 mph.
The barometric pressure stands at 999 millibars.
Snell urged residents to keep a watchful eye on the weather and, if they haven't already done so, to stock up on hurricane supplies.
"Batteries, flashlights, a chainsaw," he said, adding food and water to that list.