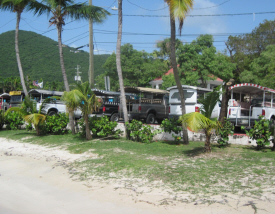 A regular Source feature, Undercurrents explores issues, ideas and events as they develop beneath the surface in the Virgin Islands community.
Four years in the making, the V.I. Taxi Commission will unveil its comprehensive professional development program for taxi drivers next week.
Judy Wheatley, executive director of the commission, said she expects that eventually about 1,500 drivers throughout the territory will complete the course and be certified.
"We're having a sort of dress rehearsal July 18 and 19," she said. The commission is inviting representatives of various segments of the community that regularly interact with the taxi industry, such as government and private sector tourism advocates, to the program launch. It is designed to fill a day and a half.
Over the years, Tourism has sponsored workshops for drivers, and the University of the Virgin Islands has also provided ongoing education. But, Wheatley said, those efforts have been limited in scope, generally to customer service.
Drivers need a lot more, she said.
The latest program will include presentations by the U.S. Attorney's Office and by Archie Jennings, managing attorney for the Disability Rights Center of the Virgin Islands, about compliance with the Americans with Disabilities Act to provide full service to disabled passengers.
There will be a presentation by the Red Cross on safety and health issues, including first aid; a session on history and culture led by Glenn Davis, and a presentation by the V.I. Police Department. There will also be a session on customer service, giving drivers tips on how to better market their services.
For Wheatley, it's been a long haul.
"We've been working on this since 2009," she said. "We've been meeting and meeting … It just has to happen. The franchises (agreements between the Port Authority and five different taxi associations for service at ports) require it."
Linguistics are a bit tricky, however.
"Mandatory training (for drivers) is prohibited by law," Wheatley said. "That's why we don't call it training. It's professional development."
Perennial Challenge of Hurricane Season
This year's first serious reminder of hurricanes past is in the air, tweaking the anxieties of island residents. With not a lot expected from Tropical Storm Chantal as of Monday afternoon, some grocery store customers took a few minutes to share their thoughts.
Most said they weren't shopping for storm supplies, just doing the regular grocery shopping. No one voiced fear. But here and there a smile ended in a certain tightness of the mouth, and an initially confident reply turned introspective as details were elicited.
"I'm always concerned when it's to the south," said Steve Richardson, because those systems have a tendency to slip a little more north than expected. "You can't go by the weatherman. You just have to be prepared."
"I don't wait (to shop for supplies) 'til a storm is coming," said Mary Ryan, who was picking up a few non-storm-related items. She said she's not worried by Chantal. "God is in control. He takes care of everything."
Dewayne Bridges was equally calm. But he had taken some precautions.
"I've got my boat captain ready" to do whatever may need to be done to secure his boat. "We'll probably watch TV closely tonight" to monitor the weather, he said.
"It's always a possibility if you live here," said Joseph Mayo, who moved to St. Thomas from New York a dozen years ago, having missed the worst of its storms of recent memory. Shrugging off talk of weather, he was more concerned about getting back home to his visitors whom he left for a "quick run to the store" that turned into an hour-and-a-half trek across the island hunting for the item he wanted.
"I didn't know anything (about Chantal) until this morning," said a woman named Jane, who did not want her last name used. "It's got me very concerned."
She had just decided to order hurricane shutters from the mainland and now realizes she may have waited too long. Even though she probably won't need them this week, they still may not arrive in time to be much protection in a season that is off to an early start.
Turning thoughtful, she said, "That's why they keep telling us to be prepared."