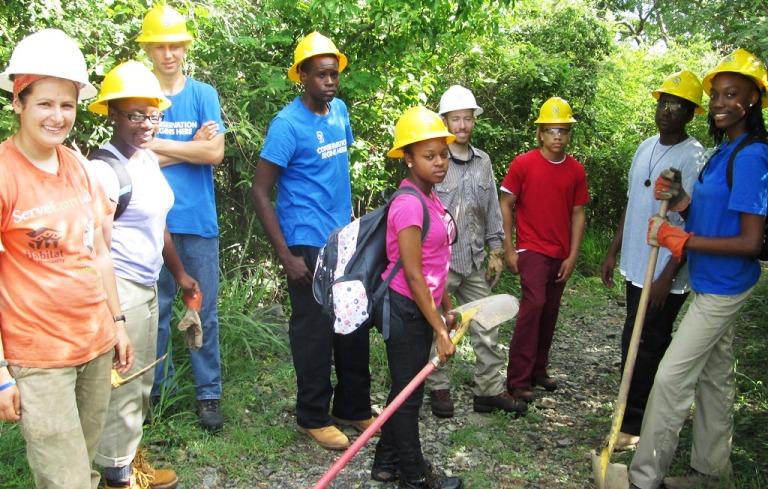 Neither rain, nor mud nor blazing sun has deterred a group of eight youths from St. Thomas, St. John and Georgia from tackling V.I. National Park trails to help keep them in shape. They're part of the national Student Conservation Association program that works at parks around the country during the summer.
"Even if it's raining, we have to get out in the rain," said Me'Shaun Wilkinson, a 17-year-old Ivanna Eudora Kean High School graduate from St. Thomas who is headed to Morgan State University in Maryland in the spring.
His preferred job was smashing rocks because he said it was the easiest thing to do.
In previous years, the Friends of V.I. National Park-sponsored program had the youths staying at Cinnamon Bay Campground. The program included youths from both the mainland and the Virgin Islands, with most of the local youths hailing from St. Croix. This year, the Friends shifted its emphasis to a day program.
"We wanted to focus on St. John kids," said Friends program manager Karen Jarvis.
The two youths from Georgia have roots in St. John and are staying with family.
The students earn $7.25 an hour for the six-week program. Jarvis said about 30 students went through an interview process to get the job.
"These were kids that had the desire to be part of the program," she said.
The team is led by crew leaders Aric Devons and his wife, Gwen Jacobson. The two, who headed to St. John from their last job in Cambria, Calif., are professional crew leaders who worked previously for SCA and other organizations.
"A large value of the program is getting local kids involved in an environmental experience," Jacobson said.
None of the students who were on hand Tuesday said they planned a career working for a park or in a conservation field but most said they enjoyed the environmental focus of the job.
"I like working outdoors and I like to do something different every summer," said Daniel Qualls, a 16-year-old Antilles School student from St. Thomas.
Many of the students knew each other from school, a plus as far as 15-year-old Lateisha Hendrickson, a Kean student from St. John, was concerned.
"We all get along pretty well," she said.
While there are lots of pluses in doing the job, she admitted there are also minuses beyond the weather. "The hardest part is getting up in the morning," Hendrickson said.
Marquis Pilgrim, a 17-year-old graduate of Parkview High School in Lilburn, Ga., who is headed to Georgia Southern University in the fall, said he really dislikes packing his lunch in the morning. He said he prefers to buy lunch, which is not an option because the students are working far down the trail.
"Today's it's lukewarm spaghetti and meatballs," he said, adding that he heated his meal in the morning but, by lunch, it will have cooled off some.
For 15-year-old Secoya Hendrickson, a St. Thomas resident attending Kean High, the hardest part was hiking up Ram Head's steep trail to get to the spot where they were working.
The youths also had a variety of reasons for taking the summer job.
Pilgrim's cousin, Abari Meade, is a 16-year-old student at Grayson High School in Grayson, Ga. He said his mother is taking some of the money he earns to put away for college.
"And I'm hoping to buy a car," he said.
LaQuoia Charles, a 17-year-old Kean graduate who is headed to the University of the Virgin Islands in January, said she wants to help improve her communication skills.