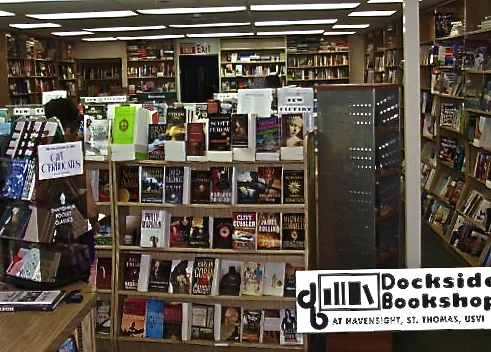 A few local factors – such as the cost of shipping and high electric rates – played a role in the decision to close St. Thomas's popular Dockside Bookshop, but ultimately, international trends such as the shift to e-books and digital marketing make it hard for booksellers across the nation to survive.
Book giant Borders was forced to close its stores in late 2011, selling out to competitor Barnes and Noble, which, according to news reports, continued to turn a profit after investing in digital and e-products while pulling back on the now semi-obsolete CDs and DVDs.
While there have been exceptions – such as the famous Strand Bookstore in New York City – generally, smaller, independent, family owned "brick and morter" book sellers, actual physical bookstores, have been struggling and, according to business watchers, should expect to continue fighting an uphill battle. The Small Business Development Center's 2012 bookstore report showed that bookstore industry revenues were expected to fall 1.1 percent, while there was another two-percent nationwide decline in the number of book stores.
But on St. Thomas, the percentage decline won't be two percent. When Dockside closes for goodsd, it will take out 100 percent of the island's bookstores, from one to zero.
"With us, the expenses were greater than our sales," said Dockside owner Jonathan Gjessing. "We're losing money and I'm behind on payments to publishers, wholesalers and the landlord. We're starting into the quiet season now, so there is also no real way to catch up. Things are just not getting better."
Gjessing said Dockside lost a good amount of business during the economic recession, with customers making the switch to Amazon.com or electronic books, which he said are cheaper. Typically e-books run between 99 cents and $9.99, and many of the classics are available for free.
According to the SBDC, e-book sales grew exponentially from 2008 to 2010, with publishers making a net $878 million from e-book sales in 2010. And recent articles on Amazon's website says the company's secret to being "more profitable" is just to "sell less physical stuff."
"The Internet retail giant that once specialized in moving books and other physical items quickly is increasingly trying to do the same in the digital world, where profit margins are higher, partly because e-books, music and video files are transmitted electronically at high speed," according to an article by the international news agency Reuters. One of the highlights of its strategy is to sell its original e-reader, the Kindle, at a cheaper price than its competitors.
"Whether selling Kindle e-book readers and Kindle Fire tablets cheaply, or bundling on-demand streaming video with subscriptions to other services, Amazon has bet that it can keep people once it has their attention," the Reuters article said. The company has also branched out into creating original video content, such as television shows, that can also be picked up on the tablet.
"But all of that takes money, and for someone to invest more into a business, money and time-wise, you have to be able to know that things are going to get better, that you're going to turn the corner somewhere and start making money again," Gjessing said Monday. "But we have to buy new air conditioning, a new computer system and we're not making money for that. Retail is down throughout the U.S., you can get things online cheaper and it is also very expensive to do business here so before things get worse, it's better to close now and try to pay off as much debt as possible."
Dockside is the only general bookstore on St. Thomas, and has been in the Havensight area since 1978, with Gjessing's family taking over in the early 1980s.
Gjessing said the financial landscape of the territory has changed greatly over the years and now, businesses are not only struggling to pay the power bills, but also rent and gross receipts taxes.
"We also have to ship our books in from the states, and that's another big cost," Gjessing said. "The construction (ongoing highway construction in the Havensight area) is also certainly a factor – all they (Public Works) needed to do was put in a couple of turning lanes, but the entrance kept moving from one point to the next and people were frustrated."
Looking to close at the end of July or August, Gjessing said anyone interested in buying the store would also have to take over the debt, might have to move into a smaller and cheaper space, and might have to look at taking out some of the book sections.
"Moving is a possibility, but rent is expensive and we haven't found anywhere cheaper yet," he said. "There is a big risk, moving into a new space, when you don't know if business is going to improve."
In the meantime, residents have been flocking into the bookstore over the past week and expressing their disappointment at the thought of it finally closing.
"It is a cautionary tale," Gjessing said. "To really succeed, you'd have to find something that you can't get online, and something that will keep your costs, especially WAPA, down as much as possible."