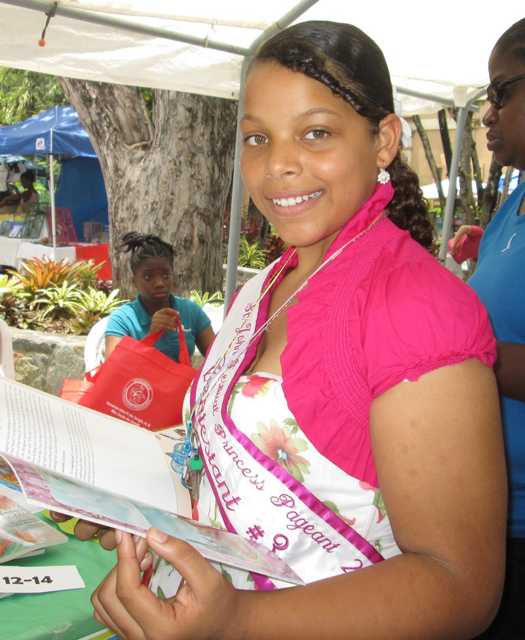 As Sunday's Food Fair activities swirled around them, youths from both St. Thomas and St. John headed for a table set right in the middle of the action to collect their fifth annual Governor's Summer Reading Challenge book.
"It helps your vocabulary, and you can really have a brighter future," Liliana Remington, 11, of St. Thomas said as she perused the offerings.
Liliana, who had to rush off to take her place on the stage as one of the St. John princess contestants, said she reads a lot because she loves to read.
Later, a shy Makayla Plaskett, 7, of St. Thomas also said she likes to read.
Gov. John deJongh Jr. made note of the Summer Reading Challenge in his Food Fair remarks, urging the students to participate.
Reading Challenge participants who keep track of their reading and complete five or more books will be invited to a Fun Day with the governor at the end of the summer to recognize their achievements.
The students went home with age-appropriate books with local themes and written by local authors.
"How refreshing it is to see your world in those books," author and publisher Mario Picayo said.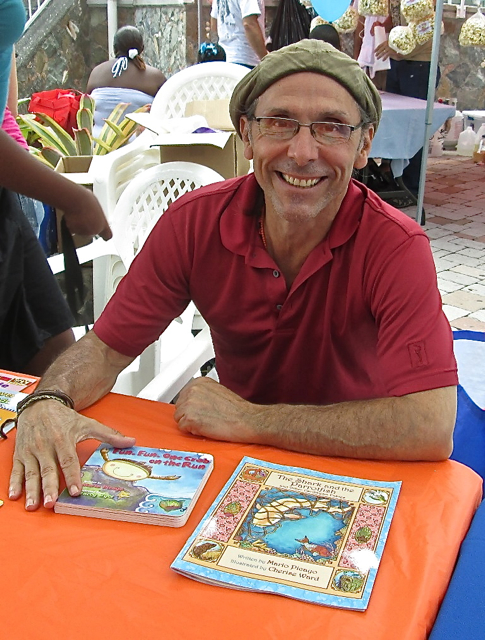 The New York-based Picayo, who lived many years on St. Thomas, said it was important for children to have local role models.
He had two books on the table – " Fun, Fun, One Crab on the Run" and "The Shark and the Parrotfish." The others were "Izzy and the Hurricane" by Lisette Lime Hermon, "Kallaloo" by David and Phylis Gershator, "Sand, Sea and Poetry," by Ashley-Ruth Moolenaar Bernier, and "The Mocko Jumi Majorette," the last of a trilogy by Alscess Lewis-Brown.
"This is the first time the Virgin Islands has published a book for teenagers," Picayo said of Lewis-Brown's books.
Picayo had an important message for young readers.
"Read for pleasure. Reading is fun," he said.