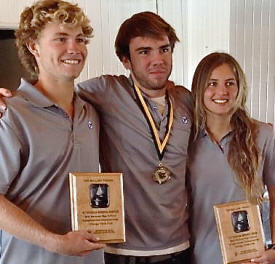 The high school sailing team from the Antilles School on Sunday hoisted the Mallory Trophy, the oldest trophy in school sailing, at the end of the Interscholastic Sailing Association's Mallory Championship event in Chicago.
The sailors from St. Thomas are no strangers to the Mallory. They won it in 2011, when the event was held on Lake Travis in Texas, and finished third in 2012 on Seattle's Lake Union.
Chicago lived up to its reputation as the Windy City during the two-day event. Sailors competed in double-handed dinghies in a two-division format on wind-whipped Lake Michigan. The 20 top high school teams from around the country competed after qualifying from their individual districts.
When Antilles won the 2011 competition, it was a cakewalk, with Virgin Islanders easily outpacing the competition. But this year Antilles – led by Ian Barrows, Agustina Barbuto and Ian Coyle, who together dominated A-Division – was in a dogfight, a seesaw battle that wasn't decided until the loast race of the two-day event.
Saturday's opening round saw winds shifting from southwest through northwest with big oscillations, according to the ISSA report, demanding sailors keep on their toes to stay ahead of changing conditions. Winds topped out at a blustery 22 mph around noon. By 2:30 p.m., it settled in the upper teens, but continued shifting, and a handful of boats either flipped or suffered damage. Then temperatures plummeted into the 40s, and by the end of the day's competition the wind had completely died out.
Antilles School led the fleet with a score of 62 points to runner-up Cape Cod Academy's 88. But the Massachussetts team battled back the next day amid difficult conditions, and the title was up in the air until the last moments, the ISSA reported.
Wind chills were in the mid-30s at the 8 a.m. call, hardly conditions sailors from the Caribbean are used to. During the day's racing the wind continued to box the compass as Antilles School and Cape Cod Academy jockeyed back and forth in first and second.
By midday, Cape Cod had opened a 107-119 lead, but Antilles fought back, winning two of its three final races and finishing second in its final, to hold off Cape Cod by just four points. The Hotchkiss School from Lakeville, Conn., finished in third place.
The team consists of coach Kim Murtha, Serena Cipullo, Coyle, Kyle Brego, Taylor Ladd, Isabelle Teare, Barrows, Jordan Ladd, Alec Tayler, and Barbuto.