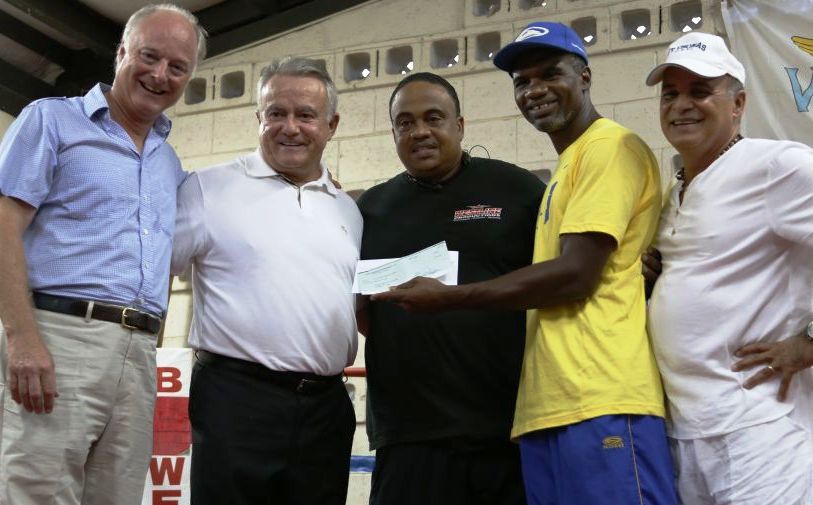 The floors are cracked, the equipment is fraying and the floor of the boxing ring in Paul M. Pearson Gardens Housing Community on St. Thomas is patched with tape, but the smiles on the athletes gathered there Thursday were bright with excitement as USVI Amateur Boxing Federation officials received $10,000 from a private donor looking to provide a much needed boost for the program.
Once the headquarters for the district's Police Athletic League, the boxing gym is now home to some of the most decorated athletes in the territory. The territory's professional boxers – John and Julius Jackson – can be found there most afternoons, training on the same bags and wearing the same gloves as they did when they were amateurs.
Up-and-comers Clayton Laurent, Tiffani Reddick and Jose Peguero work out nearby, practicing to win more gold and silver medals at competitions all over the world.
Most days, the money is tight, but Boxing Federation officials Jose "Tony" Rosario and World Boxing Hall of Famer Julian "the Hawk" Jackson do little complaining. What they focus on more is helping to develop the youngsters that come in to the gym, teaching them the discipline needed for competition but also those life lessons that will help them excel in school, do better at home and succeed in the future.
The benefits of the boxing program were touted Thursday by representatives from Auven Therapeutics, a territory-based international company that helps to develop disease-fighting medicines while they are still in their early stages. The company's founders, Peter Corr and Stephen Evans-Freke, said their donations are usually made in the areas of education (such as the Ivanna Eudora Kean High School tilapia farm) and both agreed Thursday that the boxing program was more than a worthy cause.
The "education" in this case lies in what is imparted to the students by their trainers: everything from learning how to behave properly to abiding by society's rules.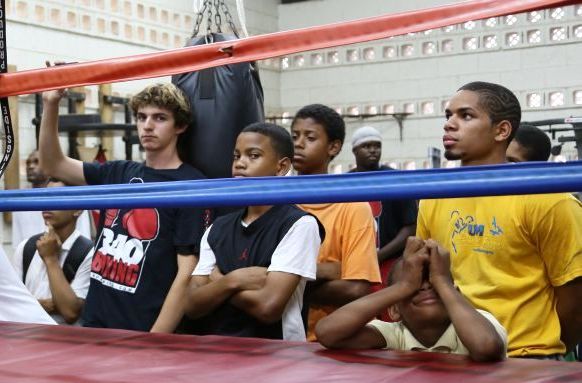 "I've heard so much about what V.I. boxing has done thanks to the effort of Tony, Julian and others," Corr said during the brief check presentation ceremony. "I hope what you've done here multiplies and multiplies and we will be your partner in making that happen."
Corr said the company was able to find out more about the program through its office manager, Francisco Rivera, who started coming to the gym about a year ago to get some exercise. Rivera said Thursday that the trainers' philosophies and routine with the students is what initially caught his attention and, from there, he helped push the two sides together.
Around the same time, Evans-Freke was also hearing about the program from his son, Roland, a mixed martial arts amateur who has also spent the last few months training with Jackson and Rosario.
"When Tony and Julian first came to me, I thought it was to talk about my son Roland, but we had a different conversation altogether," Evans-Freke said Thursday. He added that the conversation made him think back to when he first migrated to America and how he learned to take advantage of the opportunities that were given to him.
"A lot people like to think that they don't have that opportunity," Evans-Freke added. "They blame the environment they are in, they blame what they say are disadvantages, but just look at what you have here. What you are being taught in this gym is not about boxing. It's about the art of living and how to be a successful person in life. We cannot tell you how proud we are to be contributing to that success for each and every one of you."
Rosario said the money would be used to revamp what's called the "homework corner," a computer and Internet hub inside the gym where students can finish up their assignments or any other work they need to do before going home. Fixing up the ring and getting some new equipment are also on the top of the priority list, Rosario said.