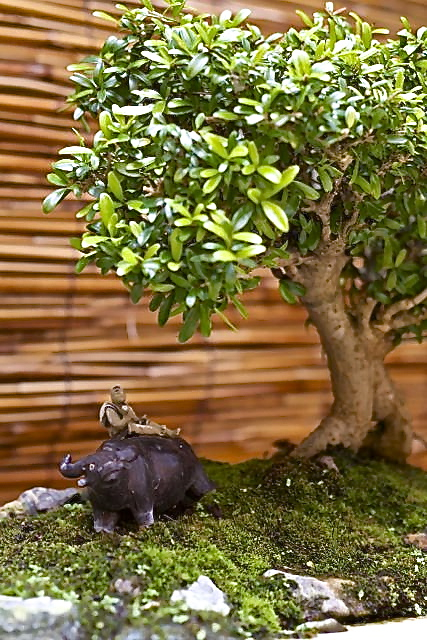 Discipline, dedication, and artistry were on display at the 18th Annual Bonsai Exhibition at Cruzan Gardens Nursery over the weekend.
Bonsai is an art form in which gardeners meticulously train trees to take striking, miniature forms. Members of the St. Croix Bonsai Society exhibited dozens of tiny trees at the show, some of which members had been training for more than a decade.
At the entrance to the show, club president and co-founder Rudy O'Reilly demonstrated the art of bonsai by carefully repotting and pruning a small ficus tree.
"Normally when we start with something like this, we're just creating the skeleton for the rest of the tree to grow on to. The trick is to find the line that you want to work with at this point, and then grow the tree from there on," he explained while cutting away many of the tree's branches.
He said he was hoping to train the plant to grow into a triangular shape, which is a classical bonsai form.
"That represents the relationship between mankind, heaven and earth," he explained, gesturing to the places on the plant where he expects the triangle's points to form.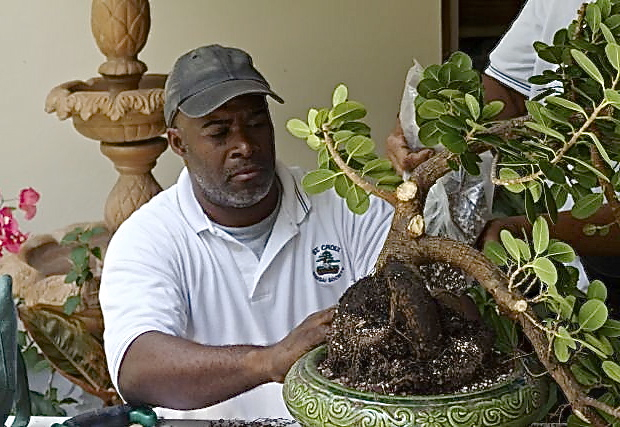 O'Reilly said he originally got involved in bonsai more than 20 years ago while he was living in New Jersey. He said when he came home, most of his original plants died because they weren't suited to the tropical climate. Now he and the members of the society work almost exclusively in plants that are native to the Caribbean.
Visitors to the show were surprised to find a Guavaberry tree tamed to a size no larger than microwave oven. Black Cherry trees, Desert Roses, and African Jades were also on display.
Jan Fabio pruned her Neea, which stood no larger than one foot tall, into an inviting, bushy shape. Below it, she cultivated moss to create the illusion of grass and placed a small sculpture of a farmer resting beneath the tree with his ox.
She said enjoyed forming landscape scenes with her plants because they express a sense of calm.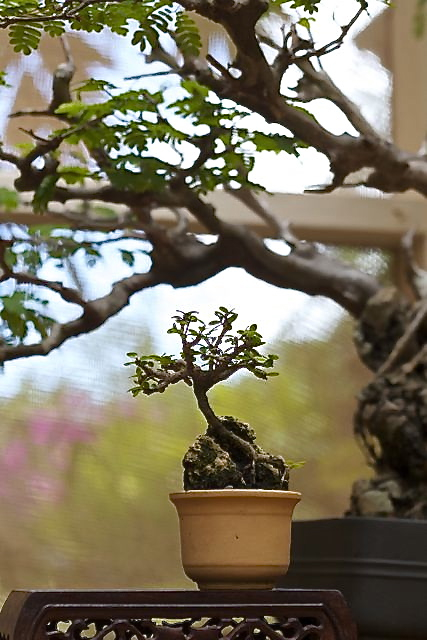 "To me that says the whole thing. You're under the tree cooling out in a beautiful landscape setting," she said.
O'Reilly said bonsai was not a good hobby for people who desire instant results. Just getting a plant presentable can take months while masterpieces can takes years of pruning. And since trees are a "living canvas," practitioners must constantly work on their plants to maintain their forms.
"The only finished bonsai is a dead bonsai," he said.
The bonsai society meets every second Sunday at UVI and is always seeking new members. At meetings, members learn all aspects of bonsai, from shaping the trees to how to mix your own soil or build your own pot.
Veronica Parker, a member since 1996, said she found bonsai to be a "comprehensive and rewarding hobby," one that encourages practitioners to grow and hone their skills. In that way, she compared the club to the trees they work on.
"When it comes to the club, everyone is one natural bonsai," she said.