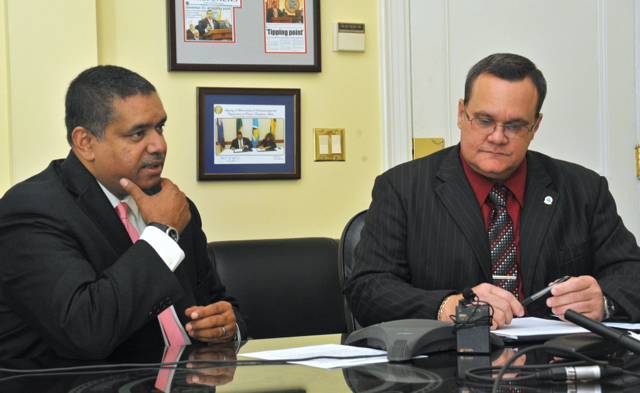 Gov. John deJongh Jr. nominated acting V.I. Police Commissioner Rodney Querrard to fill the post permanently, he and Querrard announced in a telephone press conference Tuesday morning.
At the top of Querrard and deJongh's agenda will be a "top-down review" of the V.I. Police Department and a continued and heightened focus on gun trafficking, working together with all local and federal law enforcement in the territory, deJongh said at the press conference.
"He has begun a top to bottom assessment of the department and I can tell you all aspects of the V.I. Police Department are currently under review," deJongh said.
The department is going to review officer assignments, its firearms policy, work on satisfying a federal consent decree on use of force training and expanding the use of federal resources to combat crime, deJongh said.
"He has my commitment the department will be spared to the greatest extent possible the budget cuts we have been forced to implement," deJongh added.
Querrard was Thomas-St. John police chief from 2007 until he retired in April 2012. He left retirement at deJongh's request to become acting police commissioner when former commissioner Henry White Jr. resigned in January.
He joined the VIPD in 1987. While on the force, Querrard served nearly nine years as a member of the High Intensity Drug Trafficking Area Task Force, and held supervisory positions at the Muriel C. Newton and Leander Jurgen commands on St. Thomas and St. John. During his assignment in HIDTA, Querrard earned the rank of police lieutenant.
Querrard said he was glad deJongh had called him out of retirement.
"I have to admit, retirement was great. But when the governor called me back, it was not a difficult decision," he said.
Querrard said he would reach out to both local and federal agencies to increase cooperation and to urge everyone to do everything they can to combat the trafficking of weapons.
"More initiative needs to be shown by all police and law enforcement officers, no matter what agency they are assigned to," Querrard said. "I will be reaching out to all the agency heads for their support in this endeavor."
He said he also will continue to work on meeting all the requirements of a federal consent decree concerning police use of force policies.
"With the full cooperation of all stakeholders, we can fulfill our mandate and also serve the people of the Virgin Islands in a more professional manner," he said.
Querrard thanked deJongh and said he would ask deJongh to nominate acting St. Croix Police Chief James Parris to take on that position permanently. Parris took the position in an acting capacity after St. Croix Chief of Police Chris Howell was injured by gunfire in the line of duty last year.
Howell remains out on medical leave. While the VIPD supports Howell, it "has to continue forward no matter what," Querrard said.
Born and raised in Frederiksted, Parris attended local public schools, graduating in 1964 at the age of 17, and enlisted for a two-year tour of duty in the U.S. Army. He returned to join the ranks of the V.I. Police Department in 1967. Parris was promoted to the rank of police sergeant in 1978, and was assigned the post of traffic commander.
In 1980 Parris graduated from FBI academy training and, in 1982, he was promoted to lieutenant and assigned to the Ancilmo Marshall Command as a shift lieutenant and Special Weapon and Tactics commander.
He was ultimately responsible for all specialized training for the unit, but opted to have them attend the U.S. Marshalls Special Operation Group Training in Fort Polk, La., in 1985. That same year, Parris was promoted to captain and made commander of the Wilbur Francis Command. Shortly thereafter, he was made director of the Crime Prevention Bureau.
In 1990 Parris became St. Croix district commander, retiring in 1994. Since then, he has headed up a private security company, overseen operations at one of the venues of the 1996 Summer Olympics in Atlanta and headed up the St. Croix Division of the V.I. Housing Authority Police.
He returned to the police department in 2009 as a cold case agent, working to help close selected older cases that have new evidence or tentative leads, making them potentially solvable. He was tapped to be St. Croix deputy police chief in June.
Parris was also part of the team that made the arrests in the murder of Police Corporal Wendell Williams.