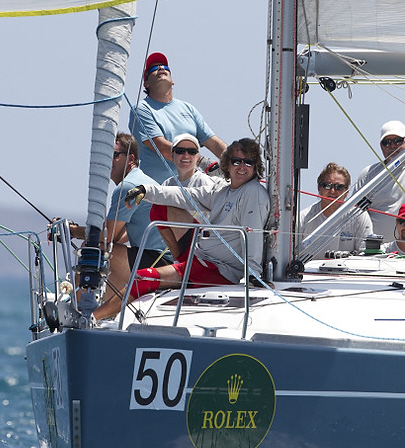 Breezes barely blowing 10 knots added an extra tactical twist to the first day of racing in the 40th International Rolex Regatta (IRR).
Sixty-three boats – all but the nine-boat one-design Melges 32 class that sailed its own course in Pillsbury Sound – took their start at 11 a.m. with sunny skies and calm seas for a race downwind into the Charlotte Amalie Harbor. Once there, the fleet beat back upwind to the finish off the island's southeast coast at the host St. Thomas Yacht Club.
The sun set with Miami's Rick Wesslund's J/120, El Ocaso, leading the pack in CSA Racing 1 with a perfect score of two bullets. Like ducks in a row, Puerto Rico's Sergio Sagramoso's J/122, Lazy Dog, trailed with a pair of seconds while Marion, Massachusetts' Jack Desmond's Swan 56, White Rhino, ended with a duo of thirds.
Northern Child, a race-charter Swan 51 based out of the UK that competes in seven Caribbean regattas during the winter-spring season, followed with a couple of fourths.
"She's a heavy old girl that doesn't do well in light winds," said skipper Christian Reynolds, of Northern Child. "Unless we have 25 knots and heavy seas, we don't really have a chance of winning. Still we had a lot of fun and the weather was beautiful. Many of our crew are from New York and glad to be out of the cold and snow."
In CSA Racing 2, St. Croix's Robert Armstrong's J/100, Bad Girl, proved she was good enough to the lead the class. The BVI's Kevin Rowlette's Olson 30, Rushin Rowlette, and Puerto Rico's Jonathan Lipuscek's J/105, Dark Star, are tied for second one point behind Bad Girl. While St. Thomas' Marston Winkles' J/30, Comfortably Numb, wasn't at the top of the leaderboard, Winkles and his crew certainly enjoyed an exciting day.
"Our finish in the harbor was quite entertaining," he said. "The IRC class was starting, crowding the favored side, just as we were finishing on the same side of the line. There were a lot of near misses, but thankfully no accidents."
Winkles' story is even more thrilling if you consider that the five boats in the IRC class range from a 52- to an 80-footer, or nearly twice to three times the size of most vessels in CSA Racing 2. The UK's Jeremy Pilkington's Baltic 78, Lupa of London, is leading the class with two first-place finishes.
Three Harkoms, an Oceanis 440, is in a three-way tie for first in the CSA Non-Spinnaker class with Puerto Rico's Jerome O'Neill's J/39, Crystal, and Campton, New Hampshire's Thomas Mullen's J/95, Shamrock VII.
St. Thomas' Chris Thompson, who is skippering Three Harkoms, said, "We had a bad start in the first race, but we won the start in the second race. We're sailing a heavily modified boat that goes very well to weather. That helped us to beat the boats that give us time and moved us into the money. It's very close."
Competition was so close in the one-design Melges 32 class you could almost hear the squeaks as some finishes were less than a boat length after an hour's race on a double windward-leeward course.
Leading the pack is 21-year-old Great Lakes sailor, Dalton DeVos, at the helm of Delta. "Every boat in this class in capable of winning," explains two-time Olympic sailor and gold medalist Jonathan McKee, who is calling tactics on Delta. "It's all about who gets hot on a certain day. We got the breaks today and we were lucky we got the good moves. The Melges 32 class is so much fun because they are fast, powerful boats and all the same. It's a super one-design."
The biggest class in the 2013 IRR is the one-design IC-24 with 16 boats. St. Thomas' Phillip Shannon is out in front by four points aboard his Magic Bus. From Puerto Rico, Gregory Fink's Boost Sailing Team/Kuilagus II, is mid-fleet in 9th, but poised to move up thanks to the prowess of seasoned skipper Keki Figueroa.
Figueroa, who has placed well in national and international Hobie 16 regattas, explained why he jumped ship to a monohull: "The Hobie 16 class is down in Puerto Rico," he says. "I wanted to get back into competitive one-design racing."
Finally, in the Beach Cat class, St. Croix's Tom Ainger, aboard his Inter 20, Caribbean Auto Mart, is tied for first with St. Thomas' Mark Chong, driving his Nacra 20, Blame it on Rhea. "I have an advantage over the Hobies in winds less than 12 knots, especially upwind," says Chong. "But I like sailing in heavy winds better. So for me, I win no matter the wind!"
Racing continues Saturday when most of the fleet will race south of St. Thomas' east end. The IC-24 and Beach Cat classes will race near to shore in Great Bay and Jersey Bay, respectively, on Saturday and Sunday, and the Melges 32 class will continue to sail in Pillsbury Sound. Racing starts daily at 11 a.m.
The St. Thomas Yacht Club-hosted IRR is the oldest regatta in Rolex's portfolio of international sailing events and dates back to 1974.