This is part one of an ongoing series examining the Virgin Islands Water and Power Authority's net metering program and how its increasing popularity will shape (and possibly terminate) the program in years to come.
When Dr. Stacia Jung decided to open her own veterinary office on St. Croix in 2008, she did so with an eye trained squarely on her future energy bills.
"The whole concept was, since we were building from the ground up, to build a facility that was as green as possible," she said.
Throughout the Sugar Mill Veterinary Center you can see signs of her efficiency ethos. The air conditioning comes on only when necessary and the sparingly used light bulbs in the lobby are LED, a green step beyond the compressed florescent "swirly" bulbs of the last decade.
"We're still hanging our laundry out to dry when there's sun," she adds.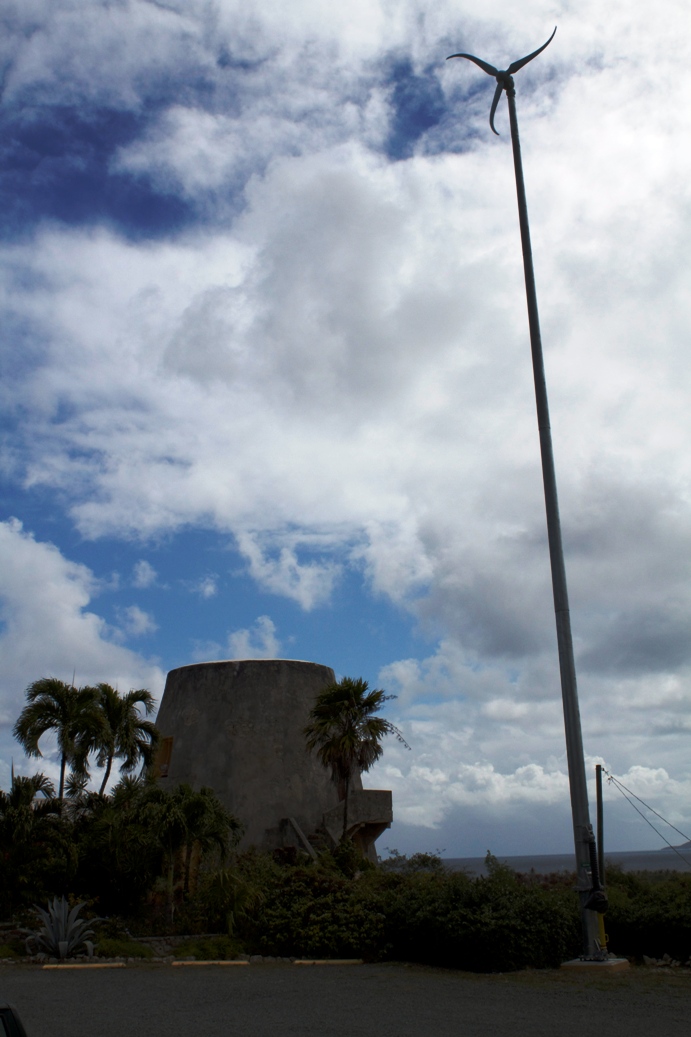 But no matter how disciplined you are, energy conservation only takes you so far, especially when your businesses is running seven days a week, so Jung decided to be more proactive with her energy plan.
She installed two 2.9-kilowatt wind turbines on her property, their blades emitting a constant, quiet hum over the office. On her roof, Jung squeezed in as many solar panels as feasible, contributing an additional 11.5 kWs of renewable energy to her system.
Jung is not off the grid, however. She said she researched that approach early on, but found the cost of batteries too onerous. Instead, the Sugar Mill Veterinary Center is one of a growing number of businesses participating in net metering – a program whose rapidly increasing popularity may soon lead to challenges.
The concept behind net metering is simple. Homes and businesses with solar arrays or wind turbines enter into a two-way relationship with the V.I. Water and Power Authority.
When their systems are producing more energy than the property needs, like on a sunny day or when the wind is high, the excess power is dumped onto the broader energy grid so other consumers can use it. In exchange, the net metering customer receives a credit.
At times when their systems aren't working, like at night or when the wind dies down, the property draws energy from WAPA's power plants.
Special meters are installed at these properties that move in both directions to keep track of their consumption and credits. If at the end of the month they've contributed more energy to the grid than they've consumed, they owe WAPA nothing for their energy and their remaining credits roll over to the next month.
Jung's system does not zero out her bill. She says 25-30 percent of her energy still comes directly from WAPA, but in this regard her business may be in the minority.
Larry Aldrich, chief operating officer of V.I. Solar Depot, says that seven out of 10 of his customers scale their systems to cover all of their energy needs.
So why isn't everyone doing this?
The classic impediment to small-scale renewable energy production is the upfront cost. Aldrich says that even a residential-sized system can cost upwards of $15,000. Larger systems that could run a restaurant or a grocery store cost substantially more.
After installation fees, Aldrich says, a good cost estimate is $4,000 a kilowatt, though larger projects can get a better rate.
Aldrich says high energy cost have always made the cost-benefit analysis for installing renewable energy systems better in the Virgin Islands than on the mainland, but the recent spike in the levelized energy adjustment clause (LEAC) has convinced many who were on the fence to sign up.
When the LEAC jumped approximately 25 percent in October 2012, Aldrich says his business boomed, and other solar providers in the territory have reported a similar increase in sales. Aldrich says that before the increase his business was installing one or two systems a month; now he does two a week.
He says for his customers, it all comes down to saving money. "It's such a lucrative thing, that if they can do it, they do it," he said.
In recent months, the dialogue on energy costs within the territory's business community has become more urgent. After the St. Croix Chamber of Commerce swore in its new president, Mark Eckard, earlier this year, the chamber decided that reducing energy costs would be its sole strategic goal over the next three years.
At a breakfast meeting with Gov. John deJongh Jr. in February, Eckard said the business community needed to see real progress in the near future.
"Our energy crisis poses an immediate life or death threat to our business community and, frankly, we're running out of time," he said.
Chief amongst the chamber's list of demands from the governor was a sense of predictability. Eckard said that in order for businesses to make plans for their future, they need to have some reasonable understanding of what they're electricity bills will be over the course of the year.
This is one aspect that makes net metering so seductive for the business community. The LEAC is adjusted by the public services commission four times a year, and the amount it increases or decreases can be substantial. This makes it almost impossible to plan for.
A financing plan for a solar array or wind turbine, on the other hand, represents a fixed monthly expense, and one that's increasingly tolerable.
Energy rates for commercial users have reached 53 cents per kilowatt-hour. Aldrich tells his prospective customers that, if they factor the cost of a renewable energy system over 25 years, they end up paying about 8 cents per kilowatt-hour, commiserate with what companies pay on the mainland.
"It costs you 55 cents to buy it or you can make it for 8 cents. It's a no brainer, a slam dunk," he said.
Jung would agree. She said it would be hard for her to run her office without the cost savings she sees through net metering.
"I feel grateful and comfortable knowing that we're in the situation that we're in currently," she said. "It puts me in a stronger position to move forward more proactively rather than reactively."
But while net metering is proving to be a boon for some, the benefits of the program won't be felt by everyone – not because some can't afford to join, but because there is a limited amount of space in the program and it is filling up fast.
A law passed by the V.I. Legislature in 2009 capped the total amount of energy produced by net metering systems at 15 megawatts (15,000 kW), 10 of which are reserved for the St. Thomas-St. John grid, the other five for St. Croix.
That means that at some point in the not-too-distant future, possibly as soon as two years from now, the net metering program will stop accepting new members, and some businesses and homeowners will be left on the outside looking in.
Just when we will hit that cap, and what we do after, is a question on the lips of many in the energy industry.
In the next installment, we'll take a closer look at the net metering cap and hear from leaders in the energy industry about possible changes to the net metering program to better manage the space that's left.