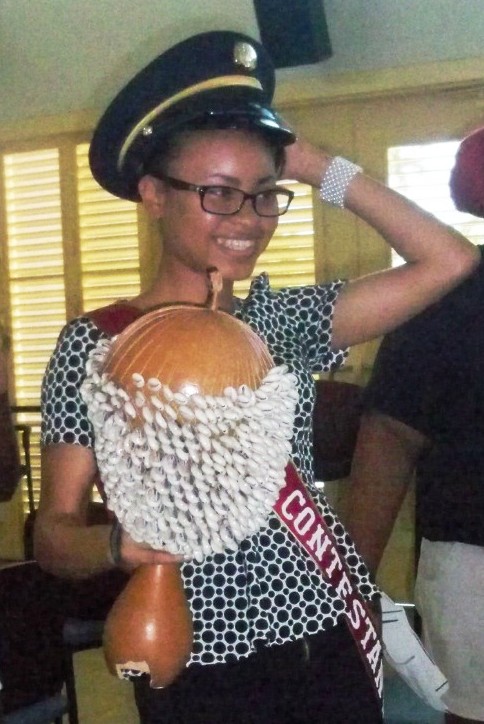 February at the University of the Virgin Islands St. Croix campus ended on a fun musical note Thursday for students at the "Black History Month Audio Challenge," which started with a parade down Palm Drive to the cafetorium where the lunch crowd got involved.
Rashidi Clenance, local radio personality and master of ceremonies, got the crowd of more than 100 people engaged with his lively antics.
Organizers of the challenge, in its second year, say the event is an educational and interactive way to get the students engaged in Black History Month. Marybell Martinez, an assistant at the office of the dean of student affairs, said that since they had such a good response to last year's event, they decided to hold the challenge annually.
The students were challenged to name the artist and song title after they heard a 30-second sound bite. All different types of black music from various generations were included in the challenge.
Some students even showed off their singing abilities when they knew the song. There was also lip syncing, a dance off and Black History trivia questions.
Clenance got members of the audience involved, urging them to get up and dance and to just get crazy. Laughter filled the room as Clenance made a mask from two Styrofoam cups and proceeded to dance and strut around doing his version of the "Harlem Shuffle."
He encouraged Janisha John, TV news reporter and a past Miss UVI, to do Gangnam Style dance moves with him.
Members of the UVI Voices of Inspiration Choir, under the direction of Josephine Thomas-Lewis, performed for the students and faculty.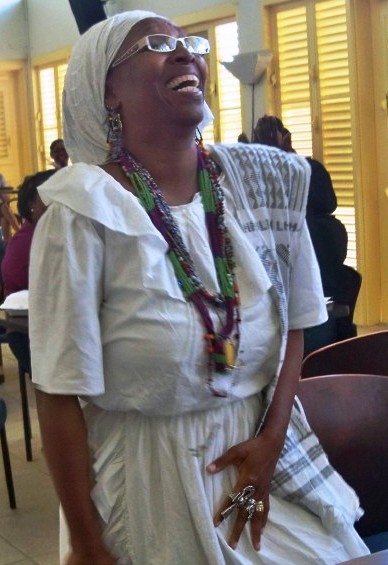 Chenzira Davis-Kahina, director of V.I .Caribbean Cultural Center at UVI, and Kevin Dixon, president of student government, spoke about black history.
Lori Jeffers and Rokeyah Connor read poetry by Maya Angelou and Tupac Shakur.
Deceased local educators Delta Dorsch and Evelyn Williams were remembered for their contributions in education and storytelling.
UVI dean of students Miriam Osborne-Elliott was recognized for her dedication to the students and her work.
"My purpose is to prepare students for their destiny," Osborne-Elliott said. "I love my work and making education fun. I love my life." Osborne-Elliott said the audio challenge was spontaneous fun and it was engaging and enlightening.
Denicia Suarez, Miss UVI queen contestant number three, said she was glad she attended and got involved in the activities.
Earlier in Black History month, students enjoyed a showing of "Roots" and they took part in a six-mile hike to Jack's and Isaac's Bay, Point Udall and Goat Hill.