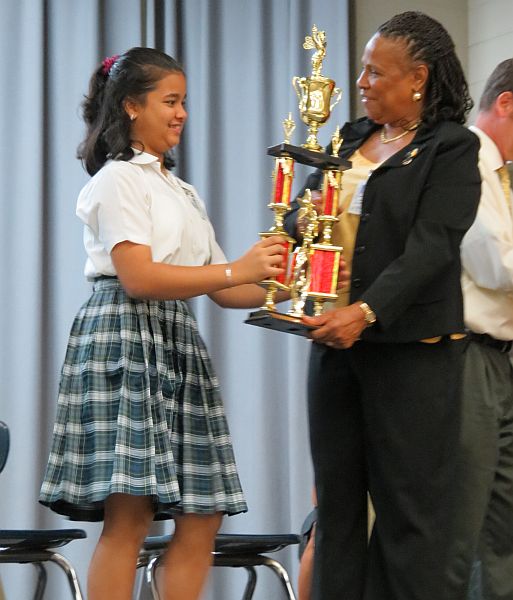 After seven quick rounds of competition on Friday, All Saints Cathedral School's Roshni Lalwani was the last student standing at the St. Thomas-St. John District's Intermediate Spelling Bee. Lalwani won in the seventh round, after correctly spelling the word "gymkhana," which is defined as a sports or athletic meet with various contests.
"This was such an awesome experience," Lalwani said after receiving her first place trophy. "I have been wanting to compete in the bee since I was in fifth grade, and after practicing with my coach and my family, I was able to do it, and I am so excited to be here and go on to the territorial bee."
All Saints coach Michelle Braley was just as excited after the event, and said that while Lalwani's practice did pay off, it was her student's extreme determination and perseverance that put her over the edge. Braley has coached Lalwani for the four years and has watched as her student focused on overcoming difficult words – particularly those derived from different languages.
Second place finisher Nawell Jamil from Lockhart Elementary School made it up to the sixth round Friday, correctly spelling words such as "menhaden," "parapet" and "babushka." Jamil fell in the sixth round after incorrectly spelling "soliloquy."
"Nawell has been so dedicated in practicing for this event," Lockhart coach Rebecca Gonsalves said after Jamil picked up her second place trophy. "From all the way back in December, right up to yesterday, she has given up her lunch hour to practice, and we've worked after hours, talking about the words and the different strategies laid out in the spelling bee booklet. She has definitely been one of my most dedicated and faithful students."
Jamil will still be joining Lalwani next month in representing the District at the Territorial Bee, along with: Ty Massaquoi from Gifft Hill School, Manav Thadani from Antilles School, Shymar Bazar from Gladys A. Abraham Elementary School and Jaden Baron from Weslyan Academy.
Meanwhile, the St. Croix School District celebrated 40 years of successful spelling Friday at Juanita Gardine Elementary School, bringing in students from public, private and parochial schools to compete.
The competition was fierce, with only three — N'buri Alexander of Church of God Academy, Yad Bass from John H. Woodson Junior High, Aaron Harris of St. Patrick's School — out of 23 students left standing after the first half hour.
Harris and Bass went head to head in the end, battling it out for another half an hour before Harris correctly spelled the word "discreet" and took the spelling championship trophy back to St. Patrick's.
Harris and Bass are no strangers to one another – the two met at last year's bee, with Harris winning the St. Croix District competition and Bass eventually going on to win the Territorial Bee and representing the U.S. Virgin Islands at the Scripps National Bee.
Joining Harris and Bass at the Territorial Bee are: Indeyah Todman of Lew Muckle, Tyanna Johnson of AZ Academy and Amina Wallace of Elena Christian Junior High School.
Other competitors in the 40th Anniversary Spelling Bee on St. Croix were Aliyah Frontal, Free Will Baptist; Jenna Honore, Evelyn Williams Elementary; D'Shaun Charles, Eulalie Rivera; Khaien Donawa, Claude O. Makoe Elementary; Lisa Perdono, Charles H. Emanuel Elementary; Jakeel Jackson, Alfredo Andrews Elementary; Thea Xavier, Alexander Henderson; Deon St. Jules, Arthur A. Richards Junior High; Maliyah Sinaran, Christian Academy; Haley Durant, 7th Day Adventist; Dominique Elizee, Good Hope; Noor Abdelghani, IQRA; Ian Morris, Juanita Gardine Elementary; Lyon Payne, Manor School; Avision Lang, Pearl B. Larsen Elementary; Nayeli Osaughressy, Ricardo Richards Elementary; and Thea D'Erno, Country Day.
Sponsors for the district spelling bee include VIDE; V. I. Daily News; Houghton, Mifflin Harcourt; Scholastic Inc.; Discovery Education; Frederiksted Twin City Lions Club; St. Croix Lions Club; St. Croix Central High FBLA; Lion Brian Leung; Lion Susanna Simmonds; Patricia Jerimah-Pittman; Jan Michelle and Larsen Studio; and Renaissance St. Croix Carambola Beach Resort and Spa.
The Territorial Bee will be held next month on St. Croix.